6. Dottore o John Smith? (03×09 – "The Family of Blood")
Il Dottore sta viaggiando con una nuova companion, Martha Jones. Viene a scontrarsi con una razza aliena nemica, "La Famiglia" che vuole a tutti i costi sterminarlo per impossessarsi della tecnologia dei Signori del Tempo. Ma il Dottore elabora un piano che lo porta a perdere la memoria pur di nascondersi da questa razza aliena, ed affida i suoi ricordi ad un orologio. Quando Martha Jones cerca di fargli ricordare chi è realmente, il Dottore, ormai convinto di essere il professor John Smith, non riesce a credere di essere un individuo straordinario che preferisce la solitudine all'amore, ma anzi prova disgusto per un uomo del genere. La scena in cui assistiamo al suo  tormento mentre cerca di convincersi di essere normale e che anzi non vuole tornare ad essere quello che invece è davvero è una delle scene più tristi dell'era Tennant: il Dottore vorrebbe essere normale, umano, per poter vivere una vita come chiunque altro, ma sa che non può, che il suo destino è essere immortale, salvare il mondo per l'eternità e farlo da solo.
7. Il Dottore e il Maestro (03×13 – "Last of the Time Lords")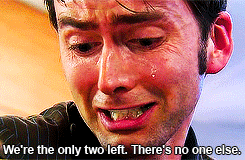 Il Dottore e il Maestro sono gli unici due Signori del Tempo sopravvissuti alla Guerra del Tempo e questo legame supera l'odio e il rancore. Il Decimo Dottore vuole a tutti i costi redimere il suo vecchio amico e viaggiare con lui per scoprire l'Universo insieme, così da non essere più solo. Ma il Maestro muore tra le braccia del suo amico d'infanzia lasciandolo ad essere l'ultimo rimasto della propria specie nell'intero Universo.