Doctor Who è una serie che trascende tempo e spazio e non solo perchè il protagonista può viaggiare per l'Universo a bordo di una navicella. L'esperienza visiva e spettatoriale di Doctor Who è qualcosa di particolare, per niente paragonabile ad una normale maratona di serie tv: avendo un protagonista che può cambiare volto e personalità, le emozioni sono sempre diverse e ad ogni stagione ci si ritrova a stupirsi ed a meravigliarsi. Tra gioie e situazioni divertenti però non mancano mai i momenti tristi o spesso tragici. Che si parli dell'era Davies o dell'era Moffat (un'era che sta per giungere al termine), ciò che è sicuro è che in Doctor Who si piange, e tanto.
E' stato difficilissimo selezionare i momenti peggiori, ma ecco una carrellata di 50 momenti davvero davvero tragici in cui Doctor Who ci ha letteralmente fatto a pezzi il cuore.
1. La rigenerazione del Nono Dottore (01×13 – "The Parting of the Ways")
La rigenerazione del Dottore è un processo che suscita sempre una doppia emozione: da un lato la profonda tristezza di vedere andare via il personaggio che si ama e dall'altra l'eccitazione di scoprire la sua nuova faccia. Nel 2005 (dopo l'interruzione della serie nel 1989) è con Christopher Eccleston che lo show più longevo della tv riprende il suo corso, ed il suo Nono Dottore suscita nei fan emozioni spesso discordanti: è stato il primo Dottore della Serie Nuova ed è durato una sola stagione, quindi in molti tendono a non considerarlo come parte dello show. Ma la verità è che nonostante il poco tempo a disposizione, lo abbiamo amato fin da subito, con le sue orecchie a sventola, il suo accento del nord e il suo "Fantastic!". La sua rigenerazione è quasi formale, lui cerca di essere freddo e distaccato con Rose, quando invece sappiamo benissimo che soffre al solo pensiero di non rivederla più. Ed anche noi.
2. L'incontro tra il Dottore e Sarah Jane Smith (02×03 – "School Reunion")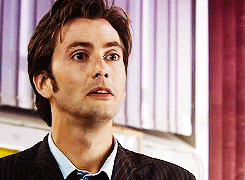 Sarah Jane Smith è una delle vecchie companion del Dottore e lo ha seguito durante la sua terza e quarta rigenerazione. Ma il Dottore purtroppo lascia dietro di sè coloro che ama per paura di vederli morire, e Sarah Jane ha subito lo stesso destino. Ma si dice che due anime affini che si perdono sono sempre destinate a ritrovarsi e quando il Decimo Dottore incontra per puro caso la sua vecchia amica che ora non lo riconosce più, riusciamo a percepire la magia di quel momento, come se il tempo non fosse mai passato.