Come in ogni sceneggiato che si rispetti, anche Game of Thrones segue delle regole precise, tra le quali quella più importante di tutte: niente accade mai per caso.
Game of Thrones è famoso, d'altronde, per la sua meravigliosa capacità di eliminare senza scrupoli grandi personaggi, che fino a qualche momento prima credevamo inarrestabili oltre che fondamentali.
Ned Stark, Oberyn Martell, Robb e Caitlyn sono solo pochissimi esempi che non rendono abbastanza l'idea. Ciascuno di loro è morto con onore, in un modo tanto indimenticabile quanto traumatico.
Ma che ne è stato di tutti gli altri? Tutte quelle vittime del destino la cui morte nel bene e nel male ha modificato il corso della storia?
Ecco che in questo articolo voglio rendere onore a quei morti dimenticati di Game of Thrones: alcuni li abbiamo odiati, altri ci sono stati indifferenti, ma a qualcuno di loro ci siamo davvero affezionati, anche se solo per pochi momenti.
#1 Jon Arryn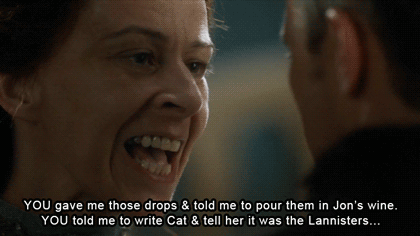 Ebbene, è forse lui il più dimenticato di tutti, anche perché in fin dei conti l'abbiamo conosciuto solo in versione cadavere.
In realtà bisogna ammettere che senza di lui, o meglio, senza la sua morte, Game of Thrones non sarebbe mai iniziato.
Ci abbiamo messo anni a cercare di capire chi si fosse davvero macchiato le mani del suo sangue, e per anni siamo stati convinti ci fosse lo zampino di Cersei Lannister (cosa che in effetti non ci avrebbe stupito). Alla fine abbiamo poi scoperto il vero colpevole e il mondo ci è crollato addosso.
Oddio, che Ditocorto fosse davvero malvagio non ci sconvolge, ma che ci fosse davvero lui dietro a tutta la faccenda ha qualcosa di diabolico.
Questa morte è stata fondamentale, si potrebbe definire la Morte Zero da cui, in una funesta reazione a catena, derivano inevitabilmente tutte le altre che vediamo in Game of Thrones.