In Game of Thrones le morti sono la costante, e i personaggi principali della serie non solo non ne sono esenti, ma sono anche i protagonisti delle più eclatanti. Se alcune di queste ci hanno traumatizzato e segnato come poche, non possiamo negare che alcune altre sono state immensamente soddisfacenti. Una di queste, che riesce a contendersi la corona con la morte di quell'odioso sociopatico di Joffrey Baratheon, è indubbiamente quella del sadico Ramsay Bolton.
Non solo la morte di Ramsay Bolton è stata una delle più cruente di Game of Thrones (e forse la più ironicamente poetica, seguita a ruota dalla morte di Walder Frey), ma è stata così soddisfacente che i fan avrebbero voluto poterne vedere di più.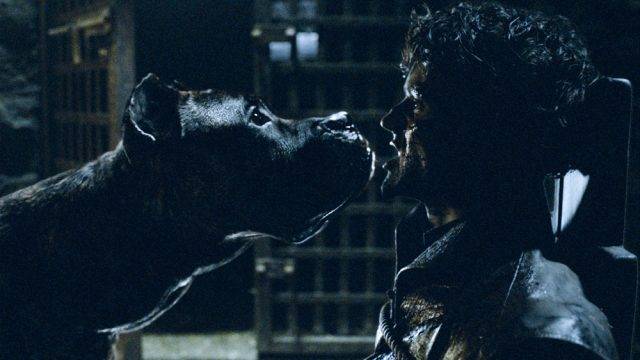 Come ben ricorderete, Ramsay Bolton è morto alla fine della 6×09 di Game of Thrones, episodio interamente dedicato alla Battaglia dei Bastardi. Dopo che Jon gli ha cambiato i connotati a suon di pugni in faccia, il bastardo dei Bolton è stato rinchiuso in una cella, dove ha ricevuto una visita di Sansa. È lei a uccidere Ramsay, liberando i mastini che lo sbranano famelici dopo che li ha lasciati a morir di fame per sette giorni.
Durante una conversazione con David Benioff e D.B. Weiss all'Austin Film Festival sulla morte di Ramsay, un fan ha ammesso che avrebbe voluto vedere mentre questo veniva sbranato vivo dai suoi mastini. Benioff e Weiss hanno spiegato che i mastini erano stati realizzati totalmente con l'utilizzo di effetti speciali, e tenerli sullo schermo più a lungo del necessario avrebbe fatto troppo cartone animato.
C'è da dire che per quanto macabramente appagante avrebbe potuto essere vedere Ramsay mangiato vivo dai suoi stessi cani, la scena è incredibilmente potente. In quanto a impatto emotivo non le manca assolutamente nulla. Le grida di terrore di Ramsay e il sorriso vittorioso di Sansa trasmettono perfettamente la carica di uno dei momenti migliori di Game of Thrones.