L'attore Micheil Huisman (che abbiamo visto anche in Hill House) ha preso il posto di Ed Skrein, che nella quarta stagione interpretava Daario Naharis. Ma come mai Game of Thrones ha voluto cambiare attore? A cosa è stata dovuta questa scelta di recast? Daario ha avuto un ruolo importante nella serie della HBO come uno dei principali alleati di Daenerys Targaryen. L'abile combattente e comandante dei Secondi Figli disubbidì ai suoi capi e promise la sua fedeltà a Daenerys.
Accanto a Verme Grigio e Jorah Mormont, Daario riuscì a conquistare la città di Yunkai e Meereen, ma Daenerys alla fine della sesta stagione ha deciso di non portarlo nel continente occidentale. In un'intervista a EW, Ed Skrein ha parlato del suo ruolo: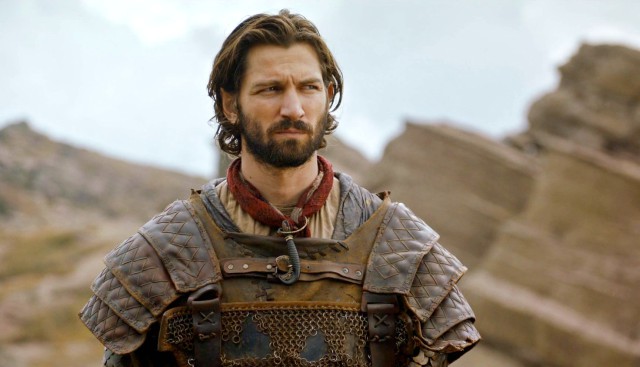 "Questo è ciò che è stato riportato dalla stampa, ma è stato molto più politico di così: il mio piano era quello di restare in Game of Thrones per il lungo periodo, questo è sempre stato il piano, mi sarebbe piaciuto molto. È stata un'esperienza meravigliosa, ma la politica ci ha portato a separarci e ho pensato: "Ok, guarda avanti, sii positivo, mantieni la calma e vai avanti". Questa è la mia mentalità quando le cose vanno bene, quindi rimango con i piedi per terra e non sono sopraffatto dall'hype, ed è la mia mentalità anche quando i piani cambiano".
Secondo Skrein, il suo piano originale era interpretare Daario Naharis in Game of Thrones per un lungo periodo ma le riprese del film Transporter glielo hanno impedito. Rimane solo da chiederci: Daario Naharis rimarrà a Meereen o raggiungerà il resto delle truppe dell'esercito di Daenerys a Westeros? Sarebbe emozionante vederlo ritornare, prendere parte alla Battaglia di Winterfell al fianco della donna che ama, come Jorah. Non vediamo l'ora, ormai manca solo un mese!