Ne abbiamo parlato più di una volta, ma come accade per tutte le cose belle anche per il finale di Sons of Anarchy c'è sempre qualcos'altro da dire. Nuove suggestive immagini o pensieri che non si possono non condividere con chi, come noi, ha lasciato il cuore a Charming.
Il finale di Sons of Anarchy è una sinfonia di emozioni. Dalla rabbia alla paura, dal dolore all'amore. Rimanere impassibili davanti agli ultimi istanti di vita di Jax, uomo del quale conosciamo turbamenti e conflitti come fossero i nostri, è impossibile. Del resto gli ultimi 77 minuti del nostro viaggio nell'anarchia sono perfetti. Impeccabili e struggenti sotto il profilo narrativo e attoriale.
C'è solo un particolare, una scelta registica di dubbio gusto che potrebbe apparire come un neo, ma che nell'insieme non fa altro che rappresentare l'imperfezione che sottolinea la perfezione. L'eccezione che conferma la regola dell'eccellenza di Sons of Anarchy.
E in questa sede lasciamo a voi il giudizio finale: il finale di Sons of Anarchy è perfetto senza QUELLA brevissima scena?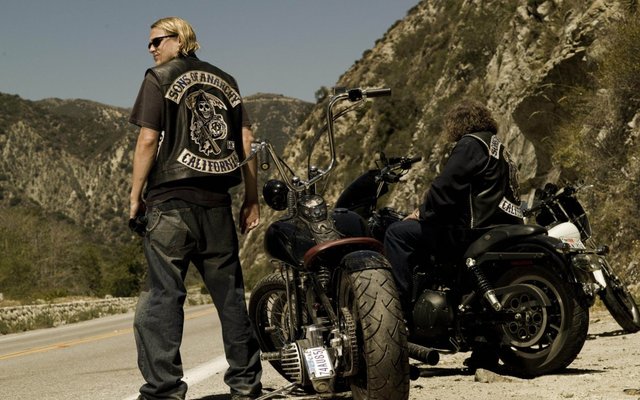 Stiamo parlando della fine. Jax è su quella strada maledetta, inseguito da decine di auto della polizia che non lo superano, non lo fermano sebbene lui non stia correndo troppo. Lo lasciano proseguire e si affollano dietro di lui come fossero una scorta. È impossibile dimenticare il sorriso di Jax in quel frangente. Il sorriso di chi non ha più nulla da perdere e gode del vento sul suo viso e del rombo della sua moto.
Nonostante ognuno di questi ultimi, concitati, attimi fosse perfetto nella sua dimensione narrativa, ciò che non riesco a comprendere è la decisione del regista di avvalersi del chroma key (o green screen) per mostrare Jax di schiena mentre si avvicinava al camion, per poi staccare sui corvi. Sapevamo bene ciò che Jackson avrebbe fatto. Sapevamo che quella sarebbe stata la sua ultima corsa. Ma perché avvalersi di questa tecnica per mostrare quei pochissimi secondi in più che tuttavia non aggiungono nulla al finale.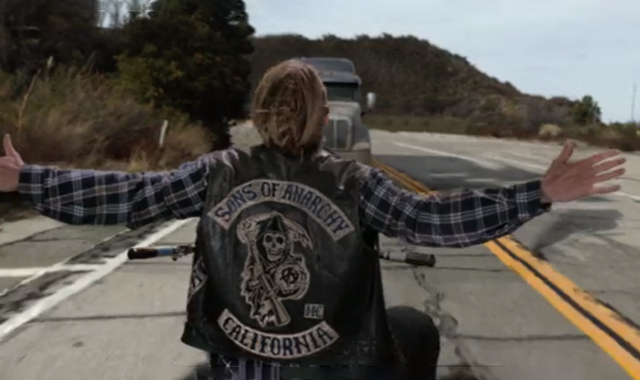 ll green screen, mediante la sovrapposizione dell'immagine del camion che si avvicinava e quella di Jax di schiena e con le braccia aperte, ci ha consentito di vedere la corsa finale fino a un secondo prima dell'impatto. Ma era davvero necessario?
Quella frazione di secondo aggiuntiva ha contribuito a creare tensione oppure non ha conferito nulla di più a un finale che era perfetto senza e resta perfetto a prescindere?
Questo particolare apparentemente insignificante agli occhi di molti è sembrato un pugno nell'occhio superfluo e dal tono artefatto. C'è da dire che il tenore di Sons of Anarchy, durante le sue sette meravigliose stagioni, è stato quello di mostrare tutto, anche le scene più cruente. La regia ha sempre scelto di non lasciare nulla all'immaginazione dello spettatore.
Ricordate la morte della figlia di Tig? O il modo in cui Big Eight ha deciso di chiarire che non avrebbe detto una parola alla polizia? Queste due scene cruente, insieme a numerose altre, sono state mostrate chiaramente e interamente allo spettatore. Nulla è stato fatto semplicemente intendere. Ma posto che mostrare il momento dell'impatto vero e proprio di Jackson contro il veicolo sarebbe stato impensabile (e terribile!), quel frangente in più è risultato ridondante.
Come la specificazione di qualcosa che si era già reso palese ed evidente.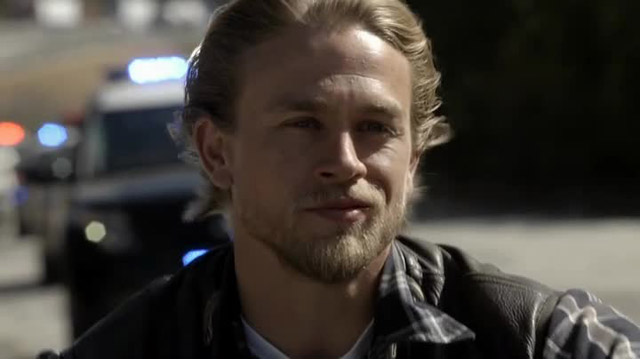 L'intento alla base dell'utilizzo di questa tecnica potrebbe essere stato quello di dare la reale impressione che Jax stesse volando, ma il risultato è stato più che altro un singolo istante di apnea per lo spettatore. L'impatto era imminente e serrare i pugni è stato inevitabile in quel momento per me. Lo stacco sui corvi che si muovevano al rallentatore nel silenzio totale e poi il rumore dello scontro tra la moto e il veicolo pesante hanno rappresentato la straziante chiusura di un cerchio.
Ma se quei brevi attimi di green screen non ci fossero stati sarebbe stato ugualmente perfetto e forse non avrei lasciato i segni delle unghie sui palmi delle mie mani. Chiariamolo, in questa sede nessuno vuole intendere che ci sia qualcosa di deludente nel finale di Sons of Anarchy. Anzi, si può dire che l'utilizzo della chiave cromatica sia qualcosa in più. Ciò che ci chiediamo è: serviva davvero? Volevamo davvero vedere Jax fino a un secondo prima dell'impatto? A voi la risposta.
Un saluto agli amici di To be a samcro – Sons of Anarchy nell'anima