In una serie come Sons of Anarchy lo spettatore viene sin da subito introdotto in un mondo spietato e assetato di sangue: gli omicidi che si susseguono puntata dopo puntata non dipendono solo da faide e regolamenti di conti tra gang rivali, ma anche da tradimenti interni che portano alcuni personaggi a pagare con la propria vita per la voglia di potere di qualcun altro.
Vedendo nel caso particolare chi uccide chi e per quale motivo, sarebbe molto difficile trovare personaggi completamente innocenti: lo stesso protagonista, Jax, riconosce in se stesso le caratteristiche che lo rendono, all'interno della nostra società, un criminale e un assassino. Determinati comportamenti, però, risultano giustificati dal tono e dal contesto della serie che non disdegna scene violente e vendette personali.
Per questi e altri motivi, la lista delle morti che si sono succedute nelle 7 stagioni è infinta. Ci sono alcune vittime, però, che hanno suscitato rabbia e risentimento in tutti, personaggi e spettatori.
Ecco dunque la classifica delle 5 morti di Sons of Anarchy che ci fanno ancora ribollire il sangue:
5. Bobby Munson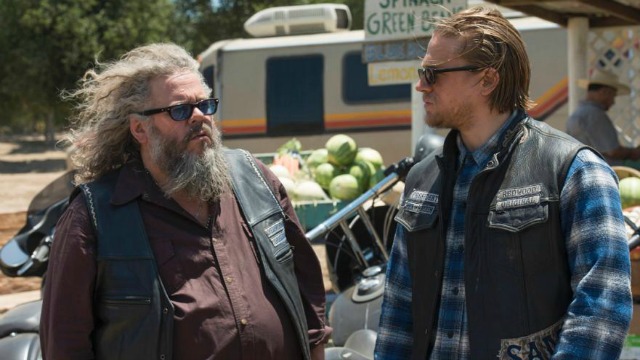 Bobby è stato uno dei mentori di Jax: riflessivo e astuto, ha più volte cercato di proteggere il ragazzo dal fare scelte avventate e controproducenti.
Per un periodo è stato anche il tesoriere e il vicepresidente per i Sons, dimostrando di essere estremamente intelligente: ciononostante, non si è mai tirato indietro dal compiere atti violenti per salvaguardare il club.
Il suo, in poche parole, è stato uno dei personaggi più amati della serie ed è per questo motivo che la sua morte ha avuto un impatto potentissimo. Non solo ha dovuto subire continue torture – perdendo un occhio e le dita di una mano – ma viene ucciso proprio sotto gli occhi dei suoi amici da August Marks. Questo omicidio avviene dopo un riscatto sostanzioso e mette in discussione la tregua appena ottenuta, portando Jax a compiere nell'ultimo episodio la propria vendetta in pieno giorno, disposto a tutto per vendicare l'amico.
4. David Hale
Non tutti in Sons of Anarchy accettano la criminalità che il club motociclistico rapprsenta nella cittadina di Charming.
David Hale è uno di quei personaggi che parte con l'obiettivo di scoprire e smantellare le operazioni criminali dei Sons of Anarchy: a differenza del suo capo Wayne Unser non vuole lavorare con loro per mantenere lo status quo. Nell'arco degli episodi, però, capisce che la situazione è molto meno semplice di come sembra.
Il suo ruolo protettivo nei confronti di Tara e la sua voglia di rispettare la legge in tutto e per tutto lo rendono simpatico agli occhi dello spettatore, ma non rientra sicuramente tra i preferiti della serie. Ciò che fa davvero arrabbiare è la tempistica di come viene ucciso: durante il primo episodio della terza stagione i SAMCRO decidono di onorare Coglione solitario con una veglia funebre. È in questo momento di lutto e raccoglimento che un furgone arriva all'improvviso e inizia a sparare sulla folla: Hale non esita neanche un secondo e inizia a rispondere al fuoco, difendendo le persone presenti. Mettendosi in prima linea viene ucciso mentre i responsabili scappano dalla scena del crimine, lasciandolo a terra in una pozza di sangue.
3. Opie Winston
Opie viene sin da subito presentato come un personaggio positivo e allo stesso tempo molto sfortunato: dopo aver provato a mantenere economicamente la sua famiglia in maniera legittima e lontana dall'illegalità, viene attirato di nuovo dalla vita criminosa del club e dai pericoli che ne conseguono.
Sempre pronto ad aiutare Jax e a trattarlo come un fratello, la sua morte è sicuramente una delle scene più strazianti e sconvolgenti di tutta la serie (è inclusa anche in questa classifica). Opie si offre volontario per salvare i suoi amati fratelli. Avendo alle spalle una storia piena di dolore, di lutti e di traumi, la sua scelta può risultare logica, ma è anche vero che il suo personaggio stava iniziando a intravedere la luce: la relazione con Lyla e l'unione tra le loro due famiglie era l'inizio di un nuovo capitolo.
E invece Jax – e con lui tutti gli spettatori – ha dovuto assistere, senza poter fare nulla, al pestaggio disumano che la persona più cara che aveva ha dovuto subire, morendo tragicamente.
2. Piney Winston
Se Opie ha potuto scegliere di morire per salvare il club e la sua famiglia, la stessa cosa non si può dire esattamente per il padre Piney. Nessuno all'inizio di quella puntata si aspettava davvero la sua morte.
Membro fondatore dei Sons of Anarchy, Piney è sempre stato un personaggio che condivideva con Jax l'idea che la vera strada da intraprendere era quella verso la legalità e l'abbandono di determinate pratiche pericolose come il traffico di armi. Avendo da sempre cercato di proteggere il club dalle mire espansionistiche di Clay, la scoperta delle lettere del padre di Jax da parte di Tara ha posto un bersaglio sulla sua schiena: avere tra le mani le prove che confermavano che l'incidente di John Teller era in realtà un omicidio ordito da Gemma e da Clay Morrow lo poneva in una posizione molto scomoda. Sapendo del rischio che Tara poteva correre, decide di attirare l'attenzione dei due assassini su di sé per confondere le idee.
La sua morte rimane comunque un momento sconvolgente perché rappresenta il tradimento in piena regola da parte di un altro socio fondatore. La rabbia per questa tragica fine può soltanto raddoppiare davanti alle reazioni del figlio Opie e di Jax, e triplicare addirittura di fronte al modo in cui Clay, in un primo momento, sembra passarla liscia anche in questo caso.
1. Donna Winston
La prima vera vittima innocente della serie, la morte di Donna Winston fa arrabbiare per molteplici motivi.
In primo luogo il suo personaggio rappresenta una persona normale che, dopo aver dovuto crescere i suoi due figli sola mentre suo marito scontava una pena in carcere, cerca solo una tranquillità e stabilità economica. La paura di vedere Opie ritornare in carcere la porta a disprezzare il club motociclistico perché, con una lucidità che a posteriori la rendono paragonabile alla Cassandra della mitologia greca, sa che continuare a vivere nell'illegalità può solo portare altre tragedie. È anche una morte che arriva al culmine di una serie di equivoci e di una situazione frustrante creata a tavolino da quelli che dovrebbero essere i "buoni": l'agente dell'FBI Stahl fa credere ai Sons of Anarchy che Opie ha fatto la spia e li ha denunciati. Per questo Clay convince Tig a "occuparsi" dell'uomo, ma nella sua macchina c'è in realtà Donna.
L'operazione viene compiuta di sera in mezzo a un incrocio e invano il presidente del club cerca di fermare l'esecuzione: gli eventi che culminano nell'omicidio sono carichi di una palpabile tensione che esplode nelle puntate successive e mette in moto una delle vendette più spietate di tutta la serie. La sua morte merita il primo posto non solo per la sua innocenza, ma anche per l'enorme impatto che ha sulle dinamiche interne tra i personaggi e sulla trama generale.
Sono molte le morti che avvengono per soddisfare la sete di vendetta e giustizia sia dei personaggi che degli spettatori, ma è importante sottolineare anche quelle ingiuste e strazianti. Sono quest'ultime che illustrano bene il vero calibro della serie e il tema di fondo che rende Sons of Anarchy un prodotto così complesso, profondo e destinato a diventare un cult.