In una serie come Sons of Anarchy lo spettatore viene sin da subito introdotto in un mondo spietato e assetato di sangue: gli omicidi che si susseguono puntata dopo puntata non dipendono solo da faide e regolamenti di conti tra gang rivali, ma anche da tradimenti interni che portano alcuni personaggi a pagare con la propria vita per la voglia di potere di qualcun altro.
Vedendo nel caso particolare chi uccide chi e per quale motivo, sarebbe molto difficile trovare personaggi completamente innocenti: lo stesso protagonista, Jax, riconosce in se stesso le caratteristiche che lo rendono, all'interno della nostra società, un criminale e un assassino. Determinati comportamenti, però, risultano giustificati dal tono e dal contesto della serie che non disdegna scene violente e vendette personali.
Per questi e altri motivi, la lista delle morti che si sono succedute nelle 7 stagioni è infinta. Ci sono alcune vittime, però, che hanno suscitato rabbia e risentimento in tutti, personaggi e spettatori.
Ecco dunque la classifica delle 5 morti di Sons of Anarchy che ci fanno ancora ribollire il sangue:
5. Bobby Munson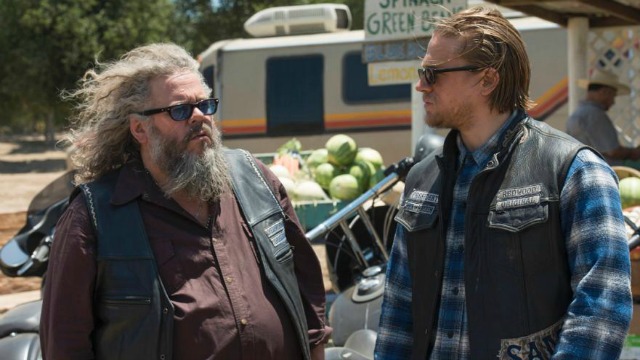 Bobby è stato uno dei mentori di Jax: riflessivo e astuto, ha più volte cercato di proteggere il ragazzo dal fare scelte avventate e controproducenti.
Per un periodo è stato anche il tesoriere e il vicepresidente per i Sons, dimostrando di essere estremamente intelligente: ciononostante, non si è mai tirato indietro dal compiere atti violenti per salvaguardare il club.
Il suo, in poche parole, è stato uno dei personaggi più amati della serie ed è per questo motivo che la sua morte ha avuto un impatto potentissimo. Non solo ha dovuto subire continue torture – perdendo un occhio e le dita di una mano – ma viene ucciso proprio sotto gli occhi dei suoi amici da August Marks. Questo omicidio avviene dopo un riscatto sostanzioso e mette in discussione la tregua appena ottenuta, portando Jax a compiere nell'ultimo episodio la propria vendetta in pieno giorno, disposto a tutto per vendicare l'amico.