Non farlo Jax…
Ti ho visto scrutare nelle venature di un passato prima dimenticato, poi riesumato, poi rinnegato. Ti ho visto piangere, soffrire, desiderare di morire e di strapparti via il simbolo dei Sons of Anarchy. Ti ho visto dare fuoco agli appunti di quel passato eppure ti ho anche visto cercare tra le macerie di un cuore distrutto. A quale scopo? Per quale oscura motivazione vaghi tra le ceneri e i detriti? Il fuoco ha spazzato via tutto… basta un niente ora. Un'ultima disperata fuga. Un'ultima fuga da tutto.
Prendi tutto e scappa Jax! Non guardarti indietro! Non indugiare, sorvola su queste oscure rimembranze e nefasti pensieri…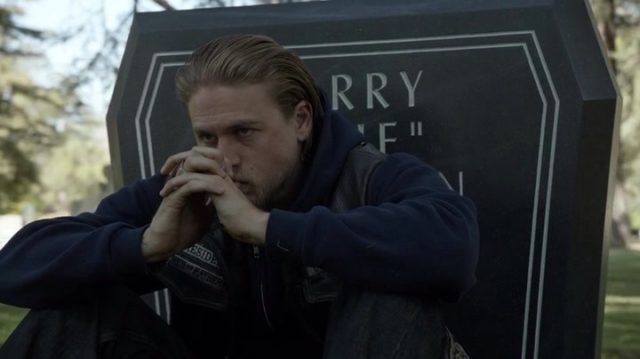 Togliti quegli anelli e donali in tributo a coloro che hai perso. Al tuo migliore amico, quello delle scorribande adolescenziali, quello degli abbracci e dei pianti, quello che hai dovuto rincorrere e che a sua volta ti ha rincorso. Quello che ti ha dedicato il suo ultimo respiro… nonostante tutto. A tua moglie, l'amore della tua vita. La donna che ha attraversato spazio e tempo al solo scopo di incrociare il tuo sorriso intriso di menefreghismo e repulsione. La stessa che ha barattato l'anima per donarti il suo corpo e la sua stessa vita. Che ha vissuto all'ombra dei Sons of Anarchy per assaggiare soltanto l'odore della libertà, una sensazione effimera. Prima di soffrire di nuovo e divenire vittima dell'ennesimo inganno perpetuato dall'altro tuo grande amore.
Che destino infausto quella moglie devota a cui ora dedichi una carezza, un bacio, un gioiello e nessuna parola…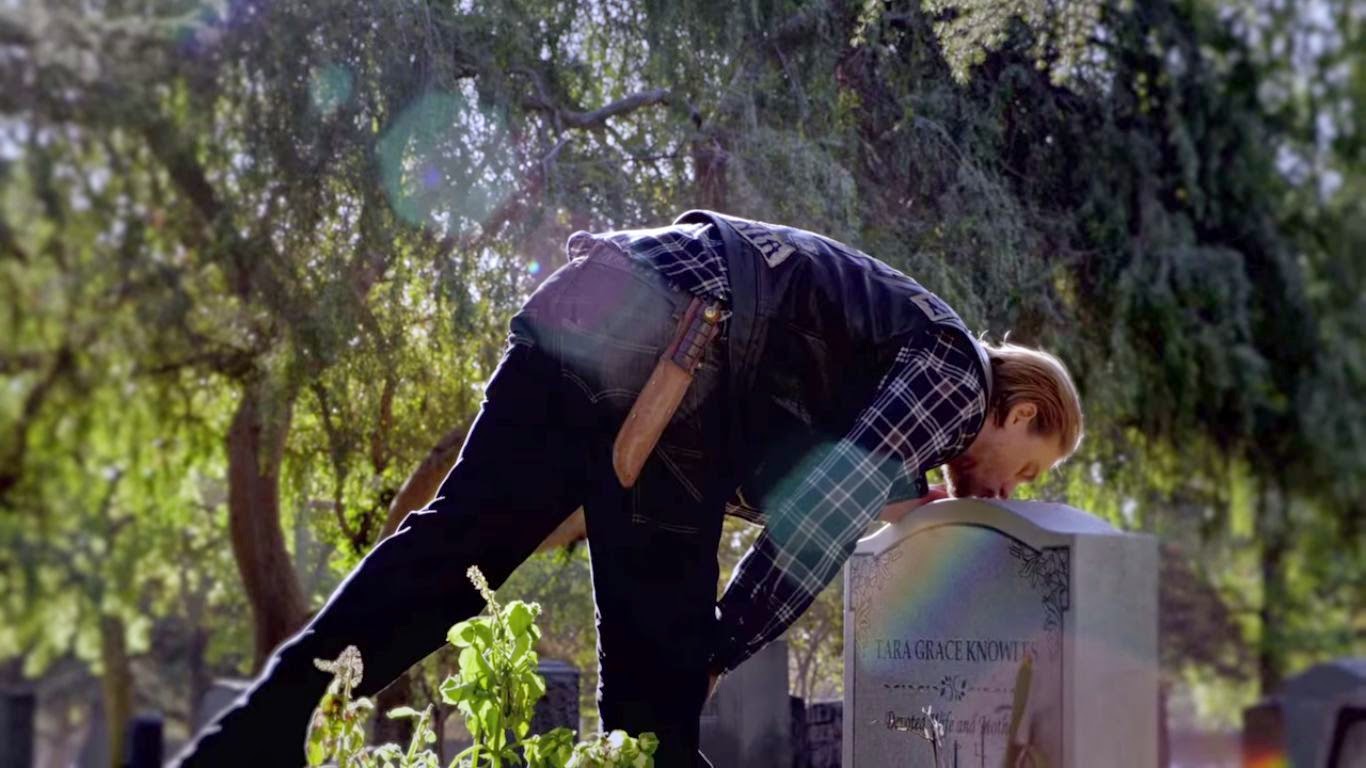 Una giuria emana il suo oscuro verdetto. Uno squadrone di angeli neri pronuncia parole di morte. Non vi è scelta. Il Mayhem è stato invocato. Non piangi, non rinneghi niente, anzi già guardi negli occhi un nuovo fratello. Il frutto di un cambiamento benevolo e necessario. Per te, ma non a te. Perché tu continuerai a essere la vittima. Dici di essere un leader perché hai imparato anche a fare le cose dolorose, ma qui non si tratta di dolore, si tratta di dilaniare un'anima. Di accettare di non essere una brava persona e di accollarsi tutto il male del mondo sulle proprie spalle. Sì, hai fatto i tuoi errori, hai perso ciò che amavi, senti di aver fallito come presidente dei Sons of Anarchy, ma hai l'ultima possibilità di diventare quel padre che tanto bramavi di essere, quel padre che non hai avuto.
Il mondo è senz'altro sbagliato, ma la colpa non è tua. Non meriti anche questo fardello. Il male che vuoi combattere in questo ultimo folle atto è il frutto di una malattia primordiale ben radicata nella natura umana. Non può essere per nessun motivo responsabilità di un Teller qualunque. Perché devi tu ripulire ciò che i tuoi predecessori hanno imbrattato? Sangue, rabbia, potere, avarizia, megalomania, egoismo, non possono essere raschiati via da un paio di proiettili. Non è quello che devi fare.
Devi racimolare gli ultimi brandelli di cuore che ti rimangono per provare ad accroccarne uno nuovo e vivere… vivere per il sorriso dei tuoi figli.
Devi toglierti quella casacca pesante come un macigno, quel dannato nome devi togliertelo dalla schiena, raschiandotelo via con il fuoco, soffrendo quanto più possibile per imprimere le conseguenze di ciò che hai fatto sul tuo corpo. Devi punirti, flagellarti, deturpare il tuo fisico, ma non devi fare quello che stai per fare. Non puoi salvare il mondo, non puoi cambiare la storia, non puoi cancellare il passato, ma puoi salvare poche persone… salvale. I cattivi perdono oggi, solo per oggi, perché vuoi pensarci te. Ma ciò non riallineerà l'equilibrio distorto e compromesso che contraddistingue questo stile di vita. Verrai pianto, verrai rimpianto. Ma non sarai redento.
Non capisco perché, figlio mio, ora vieni al mio capezzale. Non puoi permettere che questo grido solitario riecheggi nel nulla di questa tenebrosa oscurità da cui ti parlo. Vattene via, sei in tempo… forse.
Mi dici che è tardi, guardi quella roccia che mi rappresenta e piangi. Non ho più davanti il mio bambino, ma solo la conseguenza di ciò che io ti ho fatto. Sono stato un egoista, ho pensato che facendo quel che ho fatto potessi allontanarti per sempre dal mio destino e da quei dannati Sons of Anarchy. Pensavo che quell'oscura presenza che aleggiava su di me si sarebbe dileguata con me. Invece no, è lì con te, adesso.
Mentre pronunci le tue ultime parole, capisco tutto. La mia strada non si è interrotta con me. Il cerchio è ancora aperto e tu lo stai per chiudere. Ciò che io ho fatto non era la fine, ma l'inizio. L'inizio di un nuovo dolore… il tuo. La mia punizione non era la mia fine, ma la tua. Sento quindi le tue lacrime scottare sul tuo viso. Vedo i tuoi occhi ma tu non vedi i miei. Hai capito quello che ho fatto, sai perché l'ho fatto.
So anche io quello che stai per fare e perché…
Non posso fermarti… non posso fare niente ormai. Ti sarò vicino e continuerò ad amarti, per sempre. Vai figlio mio, non fermarti. Goditi quest'ultima brezza e ridi al pensiero di ciò che hai fatto per i tuoi figli.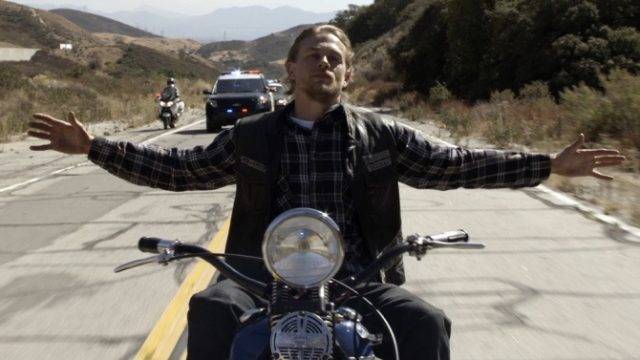 Ti ho seguito in questi ultimi istanti, ho provato  a dissuaderti in un ultimo ed egoistico gesto paterno. Ma poi ho capito che non sarebbe stata una cosa buona di papà. Quindi ti chiedo di non dubitare di me, piuttosto dubita che le stelle siano fuoco, ma non dubitare mai del mio amore
Spiega le ali verso il tuo destino e vieni da me nell'immensità dell'eternità.
Ti amo figlio mio…
Un saluto agli amici di To be a samcro – Sons of Anarchy nell'anima
Un abbraccio sincero e un grazie infinito al mio mentore, la mia fonte di ispirazione, il più umile dei maestri, Davide