Nel corso della settima e ultima stagione di Sons of Anarchy, Marilyn Manson ha avuto un importante ruolo da guest star. Tuttavia non tutti i fan ricordano quale fosse il ruolo del suo personaggio: Ron Tully.
Innanzitutto è bene ricordare che nonostante Marilyn Manson sia apparso in diversi film (come Lost Highway di David Lynch), Sons of Anarchy rappresenta la prima serie tv in cui ha avuto un ruolo abbastanza massiccio.
Ma chi è Ron Tully?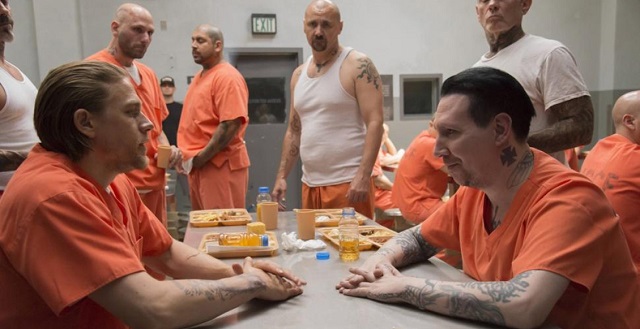 Ron Tully rappresenta la fratellanza ariana nella prigione in cui Jax viene rinchiuso insieme ad altri membri SAMCRO. La prima apparizione del personaggio avviene nell'episodio Black Widower, quando Jax ha a che fare con Tully per alleggerire le tensioni tra i loro club. I due stringono un accordo relativo al rubare eroina da Henry Lin. Ciò porterà a diverse conseguenze negli episodi successivi.
Successivamente, Tully abusa anche di un membro dei Sons of Anarchy: Juice. Riuscirà anche a combinare un incontro in cui Juice uccide Henry dopo aver ottenuto una confessione. Quando Juice viene spinto a uccidere anche Tully, lascia invece che sia questo a togliergli la vita. Tully, quindi, lo pugnala al collo. Visto che Juice aveva praticamente perso tutti i suoi amici una volta andato in prigione, nessuno cerca vendetta nei confronti dell'ariano.
Ancora prima di essere invitato a far parte del cast della settima stagione, Marilyn Manson era un grande fan di Sons of Anarchy. Inizialmente pensava gli venisse chiesto di scrivere una canzone per la serie, ma dopo aver compreso che il suo personaggio avrebbe avuto un ruolo ricorrente ha subito accettato il ruolo di Tully. Lo ha fatto anche per compiacere suo padre, grande fan dello show. Nel complesso, il lavoro di Manson nella serie è stato apprezzato e gli è anche stata riconosciuta l'ottima costruzione del villain che ha interpretato.