Quando ci si confronta con serie tv che hanno fatto la storia, è sempre difficile ricercare e trovare altri prodotti che, per gli aspetti più vari, possano considerarsi ad essi similari. Molto spesso infatti, prescindendo dal valore intrinseco della serie in sé, maturiamo una qualche forma di affetto verso il prodotto. Discorso che a maggior ragione vale quando, ad esempio, si cercano serie tv simili a Sons of Anarchy che, accompagnandoci per un arco temporale prolungato (dal 2008 al 2014), tendono a mescolarsi con quelle che sono le nostre esperienze di vita concreta.
Sons of Anarchy ruota intorno al club di motociclisti di Charming, città immaginaria della California. Kurt Sutter (che, oltre a essere il creatore, della serie fa anche parte del cast interpretando Otto Delaney) si è cimentato nel difficile compito di riadattare l'Amleto shakespeariano facendogli indossare delle giacche di pelle.
Kurt Sutter, inoltre, ha dato vita a uno spin-off della serie: Mayans M.C. incentrata sulle vicende del Mayans Motorcycle Club, due anni dopo gli eventi di Sons of Anarchy, un prodotto spesso sottovalutato che è un vero e proprio must per i nostalgici dei SAMCRO, anche solo per i numerosi easter egg (come questo che probabilmente vi è sfuggito) e per la partecipazione di alcune membri del cast di Sons of Anarchy.
Non tutte le serie o i film, sono capaci di travalicare i confini della finzione penetrando nel tessuto della vita vissuta. Molto spesso Sons of Anarchy riesce in tale missione. La profondità emotiva, l'empatia, la rabbia e l'odio dei SAMCRO si insinuano in sordina nelle trame del nostro inconscio e, quando giungiamo al capolinea, sentiamo squarciarsi nel petto con fragore tutte quelle emozioni accumulate e lasciate sospese. Jax Teller (interpretato da Charlie Hunnam) ci trascina in quel mondo di errori irreversibili, ci fa ragionare su chi siamo e su dove vogliamo andare. Ogni cosa ha un prezzo e ogni strada prima o poi giunge alla sua destinazione.
Trovare 5 serie tv simili a Sons of Anarchy non è stato semplice ma ci abbiamo provato, eccole qui di seguito:
1) Peaky Blinders
Peaky Blinders è una serie tv creata da Steven Knight. Al centro della narrazione troviamo la famiglia Shelby che porta avanti i loschi affari della gang "Peaky Blinders" (qui potete trovare un'interessante news sulla serie). Sicuramente questi sono i primi elementi che la rendono una serie tv simile a Sons of Anarchy.
Da un lato troviamo la gang dei Peaky Blinders, dall'altro il club dei SAMCRO. Le similitudini sono molteplici, nonostante una sia una serie tv inglese e l'altra americana. Infatti, mentre le vicende della famiglia Shelby hanno luogo principalmente tra le mura del loro ufficio a Birmingham, il club di motociclisti si riunisce a Charming nell'officina Morrow/Teller che porta il nomi di Clay Morrow e John Teller.
Come in Sons of Anarchy, anche in Peaky Blinders la famiglia è un elemento di fondamentale importanza, e nella stessa un ruolo cardine è riservato a due donne forti e controverse: Gemma Teller (interpretata da Katey Sagal, è vedova di John Teller e moglie di Clay Morrow) e Zia Polly (tesoriera e scaltra protettrice dei suoi nipoti).
Con le dovute differenze, anche tra i due protagonisti è possibile scorgere delle similitudini. Da un lato abbiamo Jax, dall'altro Tommy con i volti dei tanto diversi quanto affascinanti Charlie Hunnam e Cillian Murphy. Entrambi sono spietati manipolatori ma, allo stesso tempo, non possono fare a meno di provare dolore in bilico sul filo della morte. Perchè, in definitiva, il vero grande punto di contatto tra la serie di Steven Knight e quella di Kurt Sutter è la violenza e la morte nella sua forma più cruda e spietata. Morte che costituisce cardine e condanna sia di Jax Teller che di Thomas Shelby.
2) The Shield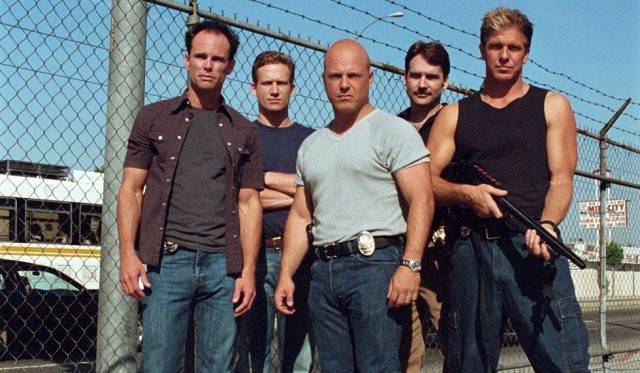 The Shield è una serie tv trasmessa da FX dal 2002 al 2008 e composta da 7 stagioni. Le vicende si svolgono nel distretto di polizia di Farmington, quartiere immaginario di Los Angeles in cui il crimine e la violenza la fanno da padrone.
I protagonisti sono quattro poliziotti corrotti: Vic, Shane, Lem e Ronnie. Il punto di vista non è più quello del criminale ma quello delle forze dell'ordine, anche se la sostanza continua a ruotare intoro ad affari sporchi e, soprattutto, corruzione. Il crimine è ancora una volta il personaggio principale della serie, i poliziotti si lasciano travolgere sempre più da quel mondo disonesto, un po' come accade a Jax Teller la cui morale si disgrega puntata dopo puntata.
Inoltre, per noi è inevitabile pensare a Wayne Unser lo sceriffo che, in Sons of Anarchy, è sceso più di tutti a compromessi per la sua Charming e per amore.
I quattro protagonisti della serie di Shawn Ryan sono particolarmente legati tra di loro, un po' come i SAMCRO: una famiglia che prescinde dal mero legame biologico.
Anche in The Shield i poliziotti hanno la propria "tana", una sorta di rifugio in cui si ritrovano e in cui prendono le decisioni più importanti. Il che ci ricorda le tante volte in cui abbiamo visto Jax e il suo club riuniti intorno a quel tavolo all'officina. C'è da precisare, però, che The Shield precede di ben sei anni la serie di Kurt Sutter.
3) I Soprano
Come nel caso di The Shield, è necessario sottolineare che è Sons of Anarchy a essere simile a I Soprano e non il contrario considerando che I Soprano è andata in onda dal 1999 al 2007 e Sons of Anarchy dal 2008 al 2014. La serie dell'antieroe per eccellenza che ha ispirato innumerevoli produzioni televisive.
La serie tv, andata in onda per la prima volta nel 1999, ha come protagonista Tony Soprano: boss italo americano che gestisce la malavita del New Jersey. I membri del clan sono assimillati a veri e propri familiari, al punto da essere chiamati zii. Anche i due protagonisti possono essere assimilati nonostante sia arduo per Charlie Hunnam reggere il confronto con la sontuosa interpretazione di James Gandolfini.
Entrambi i protagonisti devono affrontare le insidie e gli sgambetti dei familiari per salire al potere: Corrado Soprano e Clay Morrow. Così come sono tenuti a mantenere in equilibrio i rapporti con i vicini Lupertazzi e Mayans. In più tutti e due hanno un rapporto di dipendenza, amore e odio con delle madri indubbiamente ingombranti: Gemma Teller e Livia Soprano. Entrambe le serie si focalizzano minuziosamente sulla psicologia dei protagonisti, utilizzando l'espediente delle sedute con la dottoressa Melfi di Tony e i diari di Jax Teller. Due tipologie di flussi di coscienza che lasciano trapelare la sfera emotiva controversa e fragile dei due leader criminali. Anche per questo motivo le interpretazioni di James Gandolfini, Edie Falco, Charlie Hunnam, Katey Sagal e tutto il resto del cast, sono risultate fondamentali per il successo delle due serie.
Inoltre, vale la pena spendere qualche parola su un altro elemento che accomuna le due serie tv: la colonna sonora. È difficile trovare serie tv o film simili a Sons of Anarchy e a I Soprano da questo punto di vista. La combinazione di immagini e musica è sempre studiata nei minimi dettagli, da pelle d'oca.
4) Animal Kingdom
Animal Kingdom è una serie tv del 2016 tratta dall'omoninmo film australiano, che si distingue per la figura preponderante di una donna forte, il vero leader del gruppo: Smurf, chiamata a sostenere un difficile quanto inevitabile confronto con Katey Sagal. Un personaggio di cui i fan di Sons of Anarchy, abituati a Gemma Teller e Tara Knowles, si innamoreranno subito.
Il protagonista di Animal Kingdom è Joshua "J" Cody, costretto a vivere con la nonna in seguito alla morte della madre per overdose. Il giovane, si ritrova a crescere nell'ambiente selvaggio dei Cody in cui, ancora una volta, la famiglia è considerata sacra.
Ritroviamo la calda ambientazione calilforniana che si trasforma in una giungla in cui l'unica legge valida è quella del più forte. In Sons of Anarchy il traffico illegale di armi è il business principale del club, a causa del quale entrano spesso in conflitto con i vicini Mayans. In Animal Kingdom, i Cody sono prevalentemente dediti a furti più o meno grandi.
È una vera e propria rappresentazione degli aspetti più selvaggi dell'uomo, della pericolosità del branco e della violenza pura. Una serie che si avvicina a Sons of Anarchy senza, però, lasciarsi troppo andare in riflessioni più propriamente filosofiche e psicologiche. Inoltre, Jax cresce circondato dai favori del suo club che lo "alleva" e lo accetta come legittimo leader quando giunge il momento. Joshua, invece, deve lavorare sodo per essere accettato dal branco in cui piomba improvvisamente, accolto dalla nonna Smurf che, per sua fortuna, non può essere contraddetta da nessun altro.
5) Hell on Wheels
Hell on Wheels ci trascina indietro nel tempo, nell'America del XIX secolo. Ci fa capire che il lato più oscuro e sanguinario dell'uomo è una costante in qualsiasi epoca. Così, da un lato abbiamo rombo di motori e giacche di pelle, dall'altro un abientazione western.
Il protagonista è Cullen Bohannon, sopravvissuto alla guerra civile americana in cui combattè al fianco degli Stati Confederati d'America. La trama si articola intorno al viaggio intrapreso dall'ex soldato in cerca di vendetta per la morte della moglie e del figlio, uccisi per mano dei soldati dell'Unione. Hell on Wheels, infatti, non è altro che il cantiere itinerante di costruzione della ferrovia Union Pacific. Violenza e sete di vendetta sono gli elementi principali della serie tv adrenalinica, che la fanno rientrare di diritto nel catalogo delle serie tv simili a Sons of Anarchy.
D'altronde la vendetta è il motore dell'intera serie, ognuno ha i suoi scheletri nell'armadio e tutti non fanno altro che covare rabbia verso gli altri e verso se stessi. Gli esempi sono innumerevoli, da Clay Morrow a Opie Winston fino al grande protagonista Jax Teller. Insomma, se vi manca un personaggio di spessore e una storia all'insegna della violenza Hell on Wheels vi travolgerà con l'immortale e caotico fascino del western.