"Mai più" è un'angosciosa litania. Un memento che si ripete ancora e ancora e ancora. Non c'è altra risposta, non c'è compromesso. Il protagonista della poesia di Edgar Allan Poe cerca disperatamente di aggrapparsi a qualcosa. Spera di ottenere una consolazione, una vaga speranza. Ma l'unica, incontrovertibile, asfissiante risposta del lugubre corvo appollaiato alla porta è "mai più". Quella sentenza è scolpita nella pietra, marchiata nella carne del condannato. Mai più. Perché ora è il tempo del compiuto e nulla può andare diversamente. "Per me era troppo tardi": Jax in Sons of Anarchy se ne rende conto soltanto alla fine ma il suo "Mai più" ce l'aveva tatuato addosso fin dall'inizio.
Come ogni eroe tragico era condannato a perpetrare il destino del padre nell'impossibile fuga dal cerchio dell'eterno ritorno ("Human trap").
Il momento in cui "more", il "più", il cambiamento, è diventato "nevermore", l'irreversibile, per il giovane Teller è giunto troppo presto. Quando era solo un ragazzo. "È ciò che siamo", afferma Gemma prima di affrontare il suo destino. Jax "è ciò che è" da troppo tempo e non può "mai più" essere altrimenti.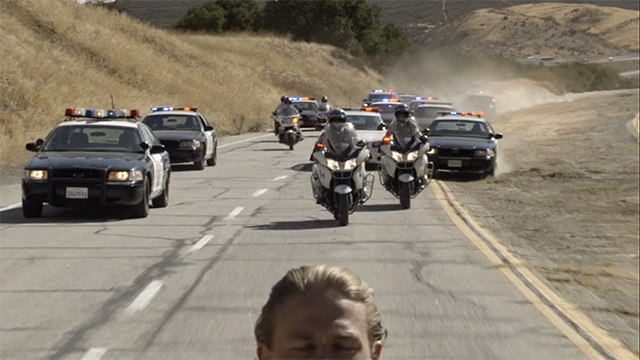 Ci ha provato e, come ogni eroe tragico che tenta di sottrarsi alla sua natura, ha finito paradossalmente e inevitabilmente per abbracciarla. L'eterno ripetersi. L'ineluttabile riattualizzarsi della storia in un ciclo senza apparente fine.
Quando il presente diventa "mai più" tutto è già scritto e nulla può andare diversamente. In quell'istante si manifesta il tempo del compiuto e un nero corvo ricorda incessantemente l'inevitabile esito. C'è una presenza oscura in Jax. C'è una presenza oscura in Sons of Anarchy. Attraversa segreta ogni momento decisivo, ogni passaggio essenziale. I greci la chiamavano Tyche e la consideravano più potente degli dei stessi. Di fronte a lei nessuno può nulla. Nessuno si sottrae al suo volere.
Eppure nella sofferenza e nella sconfitta l'eroe trova anche la vittoria.
Quando finalmente comprende la propria sorte e accetta il destino, solo allora, nella sua intimità, trova la finale liberazione. Così accade a Edipo nel bosco di Colono, così a Cristo che nel sacrificio e nella sconfitta della morte troverà piena realizzazione di sé. Jax apre le braccia, "accoglie l'omicidio" ("Join the Murder") come esito coerente, inevitabile ma anche salvifico.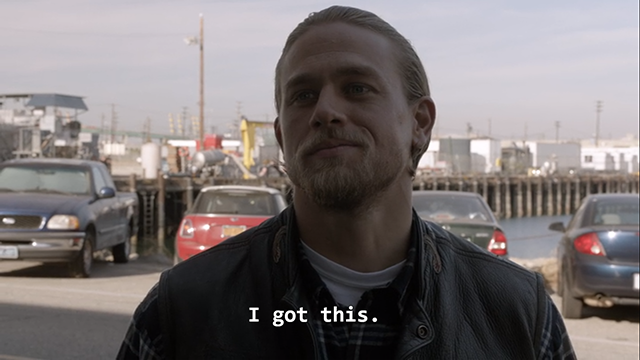 Dalla sua morte passa la liberazione degli altri. Del suo club (sottratto e deresponsabilizzato da ogni atto criminoso) e soprattutto dei suoi figli. "Ci penso io" ("I got this"), sussurra Jax. La stessa frase pronunciata dal fraterno Opie prima del suo sacrificio. Jax libera, come Edipo, la sua "Tebe" e la sua discendenza dalla maledizione. Attira su di sé ogni colpa tragica. Come Cristo nei Vangeli fa con i peccati dell'uomo.
Eppure, Jax è un Cristo ancor più perfetto e diabolico al contempo perché totalmente umano e totalmente peccatore. È un omicida, come Cristo non può essere. Per questo, il sacrificio non sarà compiuto da altri ma sarà lui stesso a mettersi sulla croce, aprire le braccia e darsi la morte, realizzando così pienamente la sua natura, quella professata da Gemma nel '"È ciò che siamo". Per questo un'oscura presenza accompagna sempre la sua vita.
Il corvo al posto della cristiana colomba.
Jax e Cristo pregano i padri prima di consacrarsi alla morte. Invocano quella stessa figura che li ha guidati e condotti al compimento della sua volontà. "Per me era troppo tardi", confiderà Jax al suo vecchio. Parallelamente, il Cristo, pur nella "tristezza e angoscia", in quell'umanissima paura della morte, si rimetterà al volere di Dio Padre.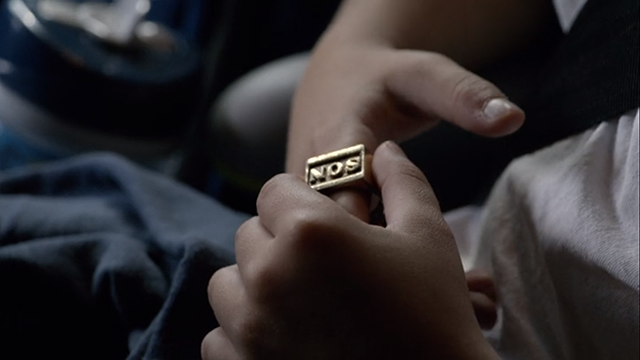 Jax che trascina dietro di sé la polizia è il Cristo che si fa carico delle colpe dell'uomo per liberarlo dal male. Tanto Jax quanto il Cristo, nel sacrificio estremo, riusciranno in questo. Sottrarranno i propri figli al ripetersi della storia. Per Abel il mai più non era ancora arrivato anche se sempre più prossimo, come dimostrava la sua crescente aggressività. Ora può stringere l'anello. Può ruotarlo attorno al suo dito, fargli percorrere un nuovo ciclo.
Non più son of anarchy. Ma solo "son". Solo "figlio". Abel è sottratto al club, sfugge al destino del padre, alla condanna dell'omicida. Non avrà il dovere criminale di Jax, cresciuto non come figlio ma come membro dei Samcro ("Figlio dell'Anarchia"). Sarà solo figlio, e del padre erediterà solamente questo "son", l'amore filiale. L'amore di Cristo per l'uomo.
"Ecco, l'ora è vicina", sussurra Cristo prima di essere arrestato.
"È il momento", affermava Gemma prima di morire. "È il momento", ripete la Tyche carica di Pietas di Sons of Anarchy, quella vagabonda che è la presenza nascosta ma costante nella tragedia di Jax Teller. In quell'istante tutto si fa chiaro. Il destino tragico dell'eroe viene rivelato. Jax finalmente capisce ciò che in fondo ha sempre saputo ma negato a se stesso ("You always knew, you never learn").
Il pane e il vino, il corpo e il sangue. Come una profezia, l'esito era stato già scritto, nel tempo del "mai più". In quel momento le fasce in cui era avvolto Gesù prefiguravano le bende del sudario. La grotta della natività quella del sepolcro. Gli omicidi di Jax il suicidio finale.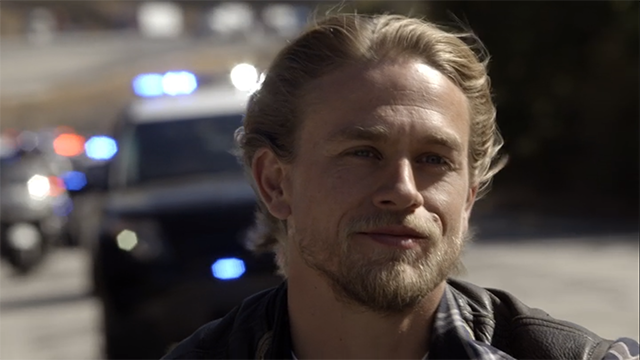 Mentre avanza, Jax apre le braccia, accoglie con tutto se stesso il suicidio. Il centurione vedendo il Cristo morire capisce, nella morte, che "era davvero figlio di Dio". Così il camionista vedendo Jax grida: "Oh Cristo!", indirettamente rivelando, con ironia tragica, agli spettatori il senso del suicidio. "The crow no longer sings to me". Il corvo non ripete più "omicidio". Il furore ("Raven's fire") che era dentro di lui si è spento. Jax è finalmente libero ("Freedom from human trap") dal suo club (Sam Crow). Dagli ideali di anarchia che lo avevano indottrinato ("Like Martin Luther or Pericles") e dalle sue colpe ("Murder") nell'unico modo che gli è possibile. Nell'unico modo possibile all'uomo, vittima impotente del destino ("human trap").
Il pane inzuppato del vino è beccato dai corvi, il sacrificio, cioè, è intriso di omicidio.
Ma il nuovo sangue, versato per amore, allontana i neri predatori della nostra anima. Il Cristo di Sons of Anarchy è un Cristo profondamente malato, colpevole e peccatore. E perciò stesso ancora più tragico. E perciò stesso ancora più umano.
Sta tutto in questa debolezza il significato del finale di Sons of Anarchy. In un uomo che ha abbracciato l'omicidio fino a farlo diventare la sua stessa pelle, fino alla fine e anche nella fine. Ma che pure ha affrontato da eroe tragico ("You'll touch the hand of God") il suo destino, scoprendo, nel sacrificio, l'amore salvifico per l'altro. L'unica libertà che ci sarà mai concessa da dannati, mortali esseri umani quali siamo. Il sacrificio d'amore.
LEGGI ANCHE – Sons of Anarchy: Non farlo, Jax