Se una Serie è infinita, struggente, indimenticabile ed eterna (come Sons of Anarchy) la curiosità troverà sempre il modo di tirar fuori delle sorprese. Questo articolo ha il nobile ed ingrato compito (qualora fallisse) di soddisfare l'elemento più prezioso del mondo : la sete di conoscenza. In molti articoli abbiamo sviluppato le tematiche esistenziali, la trama tragica largamente basata sull'Amleto, la forza di un'opera unica e il suo valore. Era indubbiamente giunta l'ora di stilare una lista delle curiosità più interessanti, appaganti e non ancora molto note al grande pubblico.
Breve viaggio nel mondo delle curiosità della Serie Sons of Anarchy..
1. La tragica morte violenta di Jhonny Lewis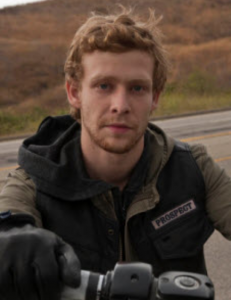 Quel "prospect" in fase di selezione dal poco nobile e lusinghiero epiteto, nominato dai Sons of Anarchy "Half-Sack" (Coglione Solitario) ha avuto un destino terribile sia nell'arco narrativo dello show televisivo (nel quale si immola per salvare Abel, figlio del principe Jax) e sia nella vita. L'attore Jhonny Lewis è morto in circostanze tragiche e brutali a Los Angeles nel 2012, alla verdissima età di 29 anni. La famiglia lo trovava irrequieto, nervoso e in pena da ormai un anno, ovvero dal momento in cui J.L. ebbe un brutto incidente in moto (un trauma cranico che secondo i medici non avrebbe destato molte problematiche future). La morte di Lewis è classificata come accidentale, e la morte dell'ottantunenne proprietaria della sua abitazione è forse da attribuirsi proprio a lui. J.L. non aveva abusato nè di droghe nè di alcolici ed aveva evidenti segni di strangolamento sul corpo. Estorsione, minacce e lite, non sapremo mai l'assoluta verità. Un fatto di cronaca nera che ha lasciato i fan impietriti, un epilogo che nessuno si aspettava per il simpatico Half-Sack.