[Spoiler Alert sul masterpiece Sons of Anarchy]
Sons of Anarchy è una serie infinita, struggente e difficilissima da definire. L'indefinitezza di quel famoso 'quid', ovvero quell'imprecisato termine latino indicante un poco chiaro 'plus', in soldoni, quel 'qualcosa in più di poco precisabile' che permette ad una cosa di essere migliore rispetto ad altre. Quel 'quid' giunge in nostro soccorso, pronto a spiegare perchè ci sono Serie, che non sono come molte altre. Ma sono molto di più, infinitamente di più. Un oggetto che richiama un ricordo, un'icona che simboleggia qualcosa di indissolubile, un momento che si stagna nella memoria, un'allegoria dal forte valore simbolico. L'articolo svilupperà queste situazioni e tematiche.
Il forte simbolismo di cui SoA è stracolma, dona risalto al valore segreto di quel 'quid' poc'anzi citato.
Sons of Anarchy è la serie FX dei record, la più vista ed amata del famoso emittente televisivo, una serie capace di sfidare a colpi di share BReaking BAd che invece, con TwD, ha fatto le fortune della Amc.
Il simbolismo di un'icona – Il logo dei Samcro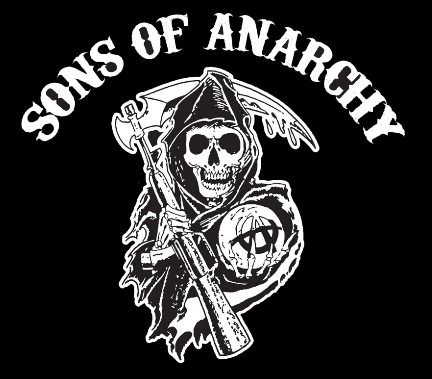 Facile, ma assolutamente sacrosanto, partire dallo stemma dei Sons of Anarchy. La signora oscura con la falce simbolo di morte che aleggia sulle spalle dei Sons, per mezzo del valore iconico del logo di questi bikers della California. L'oscura mietitrice nera con la falce ha nello stemma dei Samcro l'impugnatura di un fucile, morte e guerra sono gli unici settori che non conoscono crisi o recessioni.
Guerra, morte e anarchia sono le eterne alleate di questo logo strepitoso.
Lo stesso simbolo solcato nel legno del tavolo delle decisioni, dove i Sons si riuniscono. Se il simbolismo è valore iconico, il valore iconico è indubbiamente anche il valore del ricordo.