C'è qualcosa che accomuna tutti i fans di una determinata Serie Tv, come The Walking Dead. E' una legge suprema: quella Serie Tv non ci basta mai.
The Walking Dead non ci basta mai. 
Eh già. Ogni Serie Tv in fase di montaggio finale attraversa un brutto momento. Tante scene girate con armonia e passione dagli attori vengono giudicate "superflue" e per questo vengono scartate. E' un passaggio molto difficile, studiato e fatto per rientrare nei canoni 40-42 minuti previsti per ogni episodio. Il pubblico ovviamente è contrario; a tutti noi andrebbe bene avere 5 minuti in più ad episodio! C'è da dire anche che non sempre la colpa è di chi monta l'episodio. Talvolta può succedere che la casa emittente decida di censurare o tagliare determinate scene per diversi motivi sia nel paese di origine, sia in quello che replica.
Per cui c'è un lusso che viene concesso a chi vuole acquistare DVD, Extra, a chi si iscrive a siti autorizzati: vedere le scene tagliate. Difficilmente riusciamo a trovarle in rete, ma noi vogliamo raccontarvi tutto ciò che vi siete persi.
Alcuni passaggi sono assolutamente fondamentali.
Delle scene tagliate della prima stagione ve ne abbiamo già parlato (qui), oggi tocca a quelle della seconda.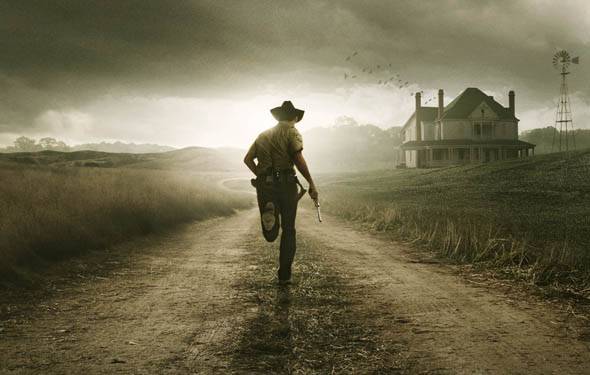 1) Il destino dei Vatos e la fuga da Atlanta 
Nel primo episodio della seconda stagione "La strada da percorrere" ("What Lies Ahead") ci sono parecchie parti che sono state tagliate. La prima di cui parliamo è forse una delle scene più importanti di The Walking Dead che sia mai stata cancellata. Uno degli errori più grandi degli sceneggiatori, probabilmente.
La prima stagione è finita. Rick e il gruppo si sono lasciati alle spalle Jenner, Jaqui e il Centro di Controllo delle Malattie, ma Atlanta è grande e non è facile uscirne incolumi. Il primo episodio della seconda stagione doveva aprirsi con Shane in fuga dagli zombie in una scena ad alta tensione, il ritorno dai Vatos, dialoghi e scambi d'opinioni pesanti tra i vari membri del gruppo e, solo successivamente, il dialogo di Rick e Morgan attraverso la radiolina.
11 minuti di pura adrenalina e forte tensione.
Tutto comincia con Shane. Shane che urla e corre verso il camper di Dale guidato da Rick, uno dei pochi mezzi sicuri che ancora il gruppo ha. Quando riesce ad entrare, Carl gli si getta al collo per abbracciarlo esattamente come aveva fatto con Rick al campo poco fuori da Atlanta. A quel punto Shane comincia con qualche considerazione sugli zombie.
"Sono lenti, ma non si fermano mai. Continuano a vivere"
L'uomo parla con la voce spezzata dallo sforzo della corsa. Sul camper tutti gli dicono che deve ringraziare Daryl perché è stato lui ad accorgersi del fatto che una mandria lo stava per accerchiare. Dopo qualche risata sul fatto che l'arciere avesse urlato come un "matto", il gruppo si concentra di nuovo su un punto cruciale. Che fare? Dove andare?
-"Rick ti è rimasta qualche idea?"
-"Una sola"
-"E' buona?"
-"Pensavo che abbiamo amici in città. Glenn, che ne pensi?"
Eh già. Si parla proprio di loro. Dei Vatos. Di Guillermo e della sua gente, dei vecchietti precari, degli stessi uomini che avevano rapito Glenn e minacciato Rick, Daryl e T-Dog.
"Siamo amici. Ci accoglieranno"
L'entusiasmo di Glenn contagia il camper che opta per l'unica opzione ancora disponibile. Quando arrivano nel luogo prestabilito, però, una brutta sorpresa li attende. Nel silenzio più totale notano che non c'è nessuno di guardia, che qualche zombie sta mangiucchiando pezzi di corpi senza vita, che tutte le porte sono aperte e che non c'è anima viva a rispondere ai loro richiami.
Con un sonoro "Andate all'inferno" Rick Grimes scatena i suoi uomini in un abbattimento generale di tutti gli zombie presenti nel complesso di Guillermo, poi li guida per l'esplorazione dell'interno. Nei corridoi ci sono cadaveri, bastoni per le flebo ancora pieni, pompe per i medicinali in disuso e un silenzio assordante. Mentre Daryl, Rick e Glenn controllano l'edificio per evitare sorprese, il resto del gruppo allestisce una stanza sicura in cui passare la notte per riposare e mangiare quel poco che si riesce a trovare. Daryl si imbatte in una camera allestita a Chiesa, sulla cui porta domina una scritta.
"La preghiera cambia le cose"
Il suo commento dà voce a quello di tutti.
"Non mi sembra che per voi abbia funzionato".
Quando controlla all'interno, il minore dei fratelli Dixon, comincia ad aguzzare il suo istinto da cacciatore e osservatore. Non tutti i corpi all'interno di quella struttura sono morsi o divorati; qualcuno, come la donna che guarda attentamente, ha solo un buco dritto in testa.
Mentre Carl stringe la mano di Sophia e la rassicura, Andrea fa supposizioni su quanto sia accaduto. Daryl la rimprovera, anzi, rimprovera tutti per non aver osservato bene la situazione.
"Non sono stati gli zombie. Loro sono arrivati quando qui era già tutto distrutto. Qualcuno ha attaccato questo posto, ha ucciso tutta questa gente e si è preso ciò che voleva. Hanno sparato loro alla testa, assomiglia a un'esecuzione. E voi avete paura degli zombie? Io avrei più paura di chi è entrato qui e ha fatto tutto questo"
Ecco quindi che in questi primi 10 minuti (tagliati) si aprivano mille porte sui temi dominanti della seconda stagione di The Walking Dead. La ricerca della speranza nella Fede, lo scontro con la razionalità, la riflessione su come ci si trasforma o su chi sia il vero nemico da temere.
Come una vera Famiglia appena formata, il gruppo, infine, si raduna per cenare. Una scatola di ceci, mezzo litro di acqua, una bottiglia di vino e sacchetti di patatine, omaggio del CDC. Dopo la cena, la riunione per decidere il da farsi. Fort Benning è la meta e, durante la strada, ci sono diverse cose da fare. Lasciare i mezzi inutili e prelevarne la benzina, dormire il più possibile in vista della partenza e..cercare di non complicare le cose con stupidi litigi.