Conoscere l'amore e conoscere ancor meglio la morte è il destino che fa da sottofondo macabro al rombo dei motori, allo scintillio logoro della pelle, allo scorrere denso del sangue rosso come le rose fresche, pungente come le spine. Conoscere e non capire nella macchinosità del male è il destino inciso a chiare lettere sulla pelle dei Sons of Anarchy.
E lo stesso amore, fatto di passioni e bugie, danza eterea controvento. Come foglie che giunte al termine del loro planare sono destinate ad abbracciare l'asfalto e la sua ardente freddezza.
Never feared for anything, never shamed but never free. A life to heal the broken heart, with all that it could.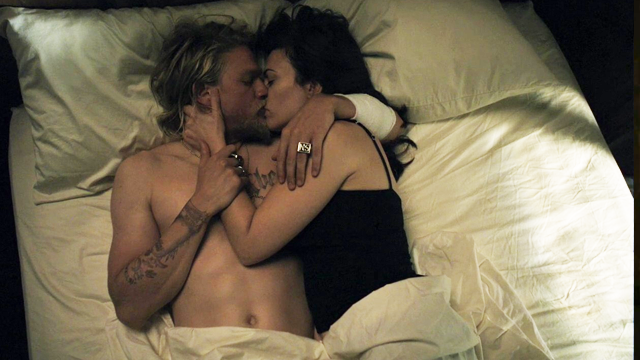 So Far Away è una canzone degli Avenged Sevenfold. Un amore diverso da quello che legava Jax Teller alla sua Tara ma che racconta, con la stessa sferzante crudezza, di una vita spezzata troppo presto tra le braccia del male e i sobborghi del buio.
Non sono le catene o le manette a porre il vero discrimine tra la libertà e la prigionia. Il libero arbitrio è una concessione fittizia, un'utopia che ci distoglie dalla costrizione dell'accettazione. È così, neanche un medico abituato a gestire i piccoli cuori dei neonati è capace di riportare la giusta luce nel cuore di un uomo destinato a essere un criminale.
Lived a life so endlessly. Saw beyond what others see, I tried to heal your broken heart with all that I could. Will you stay? Will you stay away forever?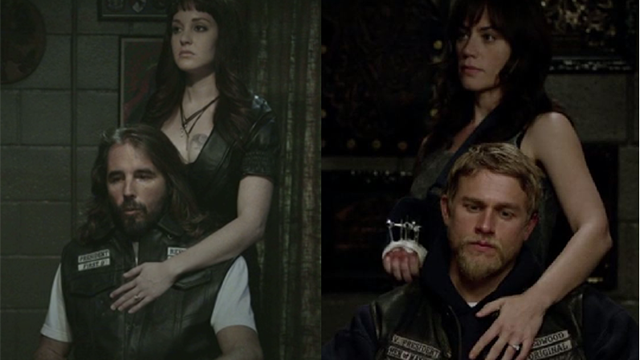 A Charming c'è un confine invalicabile che distingue la normalità sorda e la crudeltà spietata. Una patina trasparente che distanzia il bianco dal nero, fingendo e sperando che la trasparenza sia in grado di nascondere le ombre. Ma la verità non può essere nascosta e prima o poi risale a galla per presentare il suo conto salato.
La medicina non può curare un cuore in fiamme. Neanche l'amore può. Perché quando l'amore, nel suo fiero e iracondo cammino, incrocia la vendetta infinita, ciò che ne deriva è solo guerra e peccato che si insinuano indolenti tra le venature dell'anima. E allora, giunge il tempo di dire addio alla speranza. Saranno come ciechi che brancolano nel buio, forti delle loro convinzioni, fin quando non sarà troppo tardi per gestire l'irreversibile.
How do I live without the ones I love? Time still turns the pages of the book it's burned. Place and time always on my mind, I have so much to say but you're so far away.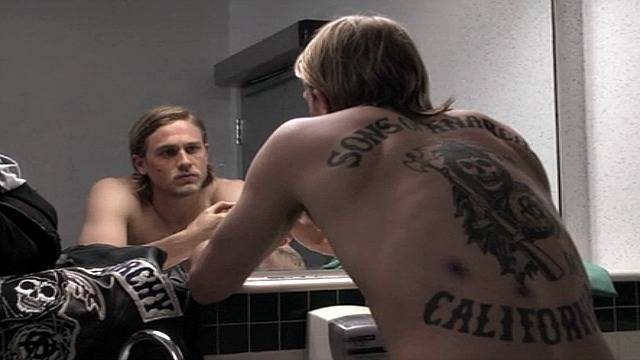 Quando si impara ad amare, quando si impara a sopravvivere, non c'è più via di scampo. Saper amare per un Sons of Anarchy significa dover ammettere di non essere stati scolpiti per la purezza dei sentimenti. Gli uomini della morte, con le loro anime macchiate di rosso non meritano il ricamo gentile del romanzo. La sete di violenza deve essere alimentata dal dolore. Quando vesti quella casacca e cavalchi quelle moto impari ad amare solo quando impari a soffrire per la lontananza dei sentimenti.
Così le bugie e le promesse infrante scavano nella pelle ferite che non cicatrizzano, monito infausto di tutte le cose che avresti potuto dire e che hai taciuto. Ma ora è troppo tardi, la ruota gira e la morte accorre silente a bussare alla tua porta.
Plans of what our futures hold, foolish lies of growing old. It seems we're so invincible, the truth is so cold.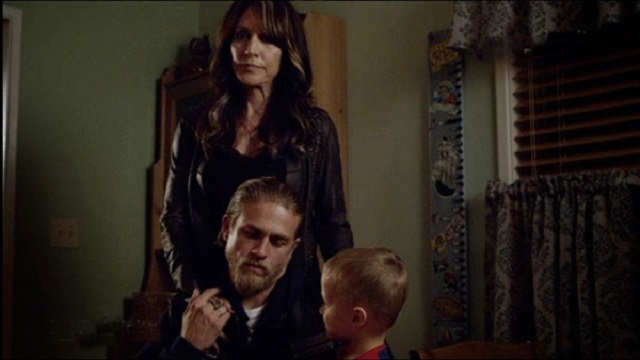 La vita di Jax non ha mai conosciuto la libertà, non ha mai conosciuto una scelta, solo imposizioni e verità sfigurate. Il suo punto fermo, la sua stella polare è una famiglia da difendere a tutti i costi. Ma come si fa a difendere la famiglia da se stessa? Come si estirpa la zizzania quando si è troppo miopi per riconoscerla?
La sua giacca, quel martelletto e la fiducia incondizionata verso i membri del club sono la sua fortezza. Credere nell'inespugnabilità della stessa era il suo unico vanto. L'amore rende invincibili, questo è quello di cui si convincevano a vicenda Jax e la sua Tara mentre intorno al loro abbraccio si sgretolava un muro dopo l'altro.
La vera libertà richiede sacrificio e dolore

John Teller
A un Sons of Anarchy è concesso amare, ma più forte è l'amore maggiore sarà la sofferenza e più fredda e caustica sarà la verità.
A final song, a last request. A perfect chapter laid to rest. Now and then I try to find a place in my mind where you can stay, you can stay away forever.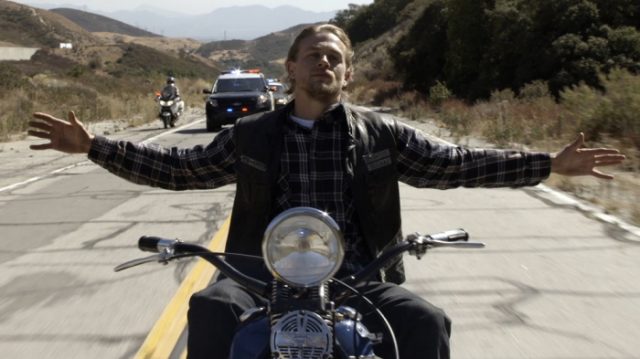 Per Jax Teller è troppo tardi ormai, il suo cammino è compromesso, ma scende a patti con la morte e con l'amore. L'ultima corsa, l'ultimo sentore effimero di libertà prima di mescolare la sua vita con l'asfalto. Deve rinunciare agli affetti che gli sono rimasti, deve rinunciare al sangue del suo sangue e spezzare definitivamente le catene della schiavitù.
Deve chiudere quel capitolo in maniera definitiva, deve farlo senza paura e senza esitazioni. Le speranze incise con l'inchiostro non sono state sufficienti per portare a termine il lavoro paterno, ma questa volta deve farlo per bene, in maniera irreversibile e decisiva.
Così, nel suo accelerare liberatorio porta via i rimorsi mancati, le cicatrici che continuano a bruciare e raggiunge finalmente il suo amore. Lui è come foglia seccata tardivamente: testarda e irascibile di fronte al vento ma consapevole che il suo progressivo scolorirsi la porterà verso la danza leggiadra e fatale, per bagnare lo stesso asfalto che ha accolto le foglie ancora verdi, ancora tenere.
È ciò che siamo
Non scegliamo quando né dove nascere, forse non riusciamo sempre a scegliere chi siamo o chi vorremmo essere. Ma nel bilanciare l'amore con la morte ci vuole l'ardire del sacrificio, nella consapevolezza della rinuncia.
Doubt thou the stars are fire;
Doubt that the sun doth move;
Doubt truth to be a liar;
But never doubt I love

William Shakespeare
LEGGI ANCHE – La settima stagione di Sons of Anarchy è il trauma dell'anima