Sons of Anarchy è una tragedia moderna shakespeariana. Non gli manca nulla per esserlo: la famiglia, la lotta per il potere, la guerra e persino la morte. Implacabile e violenta, che scatena altre guerre e miete vittime anche tra chi resta in vita.
Spesso ciò che muove i nostri antieroi, però, è l'amore.
Quello dirompente, inevitabile e travolgente che annebbia le menti dei Figli dell'Anarchia, dirottandoli su strade insidiose che spesso li conducono a isolarsi dal gruppo e a mettersi in pericolo.
E non necessariamente questo tipo di amore è rivolto verso una persona.
Basti pensare a Clay Morrow e al suo amore per il potere e per la sua corona. Quante volte l'ha annebbiato portandolo a prendere pessime decisioni a sfavore del gruppo?
O a quello di Gemma, madre devota pronta letteralmente a tutto per la sua famiglia. Che di questo gruppo di fuorilegge, legati l'uno all'altro da un voto solenne che pronunciano a ogni I love you bro che si dicono, è il cuore pulsante.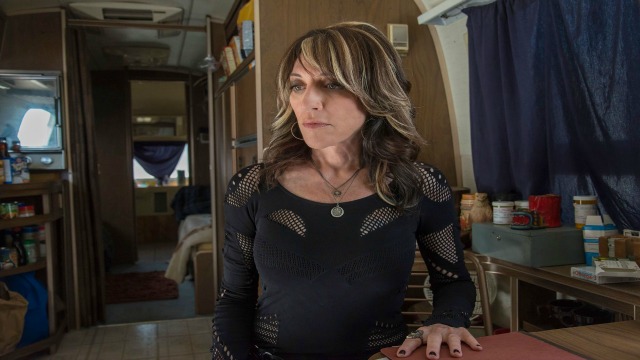 Un cuore che spesso batte così forte da assordare il suono dei pensieri, disorientandola e spingendola verso la deriva.
L'amore materno di Gemma, cieco e inamovibile, si trova inevitabilmente a scontrarsi con quello di Tara. Anche lei, al pari di Clay, scoprirà come complicità e sintonia possano tramutarsi in rivalità e predominio quando il proprio ruolo viene minacciato.
Inizialmente agli antipodi, incapaci di capirsi così come di accettarsi, per amore di Jax e dei bambini, le due donne finiranno per trovare un equilibrio. Tanto da diventare indispensabili l'una per l'altra durante le difficoltà, finendo davvero per amarsi come una madre e una figlia.
Questa storia però si chiama Sons of Anarchy e in questo racconto l'amore può tramutarsi in odio in poche puntate.
Anche Clay amava Jax come un figlio fino a quando non ha sentito il suo ruolo di capobranco messo in discussione dal carisma del giovane leader. Lo stesso vale per Gemma e Tara, che pur amandosi finiranno per lottare, fino alla fine, per rivendicare ciò che credono loro.
La famiglia di cui entrambe, volenti o nolenti, fanno parte.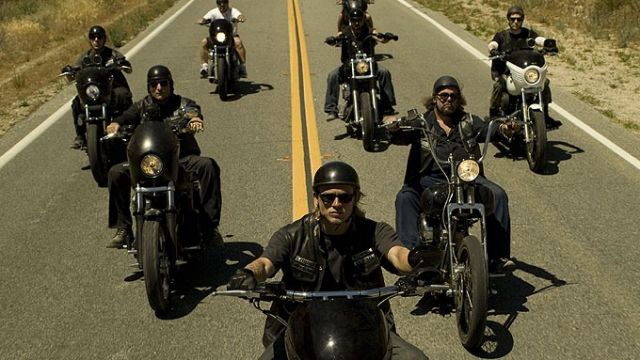 Una famiglia dal concetto esteso, non solo ai consanguinei ma anche a quelli con cui viene condiviso un altro tipo di legame di sangue. Quello che scorre in guerra, quello che macchia le mani e che a volte appartiene a chi non avrebbero mai voluto perdere.
L'amore che lega i SAMCRO è qualcosa che spesso trascende i doveri e le convenzioni. Il club prima di tutto, è quasi un mantra che i nostri antieroi portano tatuato sulla pelle tanto quanto lo scheletrico mietitore.
Sono un'unità il cui senso di appartenenza li muove, senza esitazione, a rischiare la vita l'uno per l'altro. Non importa cos'altro abbiano al mondo per cui combattere. A un fratello si guardano sempre le spalle. Punto. Così, con la stessa determinazione, in caso di tradimento sono pronti a recidere quel legame fraterno con la violenza che li ha resi famosi.
E che ne è della forma di amore più classica invece? Quella di coppia?
Le coppie ci sono anche nell'universo dei Sons ovviamente. A patto che le compagne dei SAMCRO riescano trovare il modo di accettare il club, perché il club definisce ognuno dei loro uomini più del ruolo di padre o di marito.
Solo Gemma, e per un breve periodo anche Tara, sembra l'unica in grado di sposare a pieno questa filosofia di vita. Filosofia che richiede implicitamente alla compagna di essere immancabilmente al secondo posto.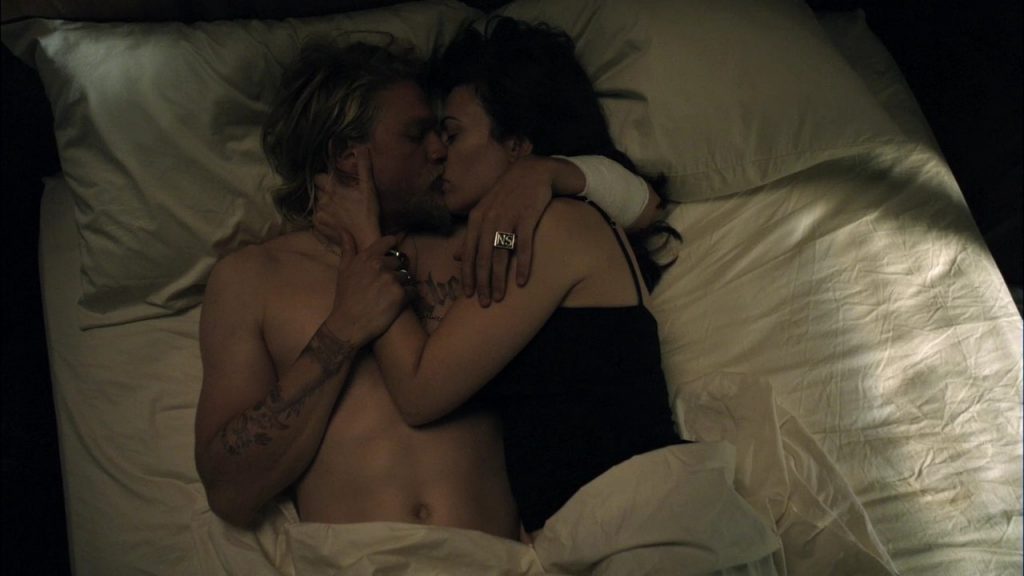 Le compagne dei SAMCRO non sono donne comuni. I Figli dell'Anarchia lo sanno e riservano loro un tipo di amore altisonante che spesso però cozza con la loro condotta lontana dalle consorti.
Perché l'amore è una cosa e il sesso è un'altra, e a volte il secondo viene usato come rimedio a molte cose. A una vendetta, per una distrazione o anche solo per scacciare la noia. Queste donne di ferro però conoscono il gioco e lo sanno giocare come i loro compagni.
Sicuramente però, la forma di amore che più ci colpisce in Sons of Anarchy è quella che sopravvive dopo il passaggio del mietitore che i ragazzi portano come un protettore sul giubbotto.
Jax è l'esempio più clamoroso. Prima con Opie e poi con Tara, ci dimostra come l'amore per un SAMCRO sia qualcosa che può innalzare o affossare, trascinare verso baratri oscuri o guidare su strade più sicure. Basti pensare a quando l'amore per Tara e per i bambini fece desiderare a Jax una vita diversa, regolare, pulita.
Il suo sguardo mentre consegna a Tara l'anello di fidanzamento con il progetto di un futuro diverso per entrambi si scontra con quello destinato all'assassino di Opie. E la sua morte e la mancanza di quel fratello tormenteranno Jax per sempre distorcendone la sua natura ma anche la sua capacità di amare.
Almeno fino a quando, proprio l'amore per quel gruppo e per i suoi figli, lo porterà a fare il sacrificio e l'atto di redenzione che metterà fine alla sua storia.