Sanremo, Italia, anno 2020. Un mese fa sul palco più importante della musica italiana si stagliava una tragedia annunciata: Marco vendetta Castoldi, in arte Morgan, decide di fare di un'esibizione televisiva uno show di rivincita personale ai danni del suo compagno in gara, Bugo.
Ringrazia il cielo sei su questo palco, rispetta chi ti ci ha portato dentro.
Gli rimprovera Morgan, certo in cuor suo che l'amico gli sia debitore di quella fama, di quel palco. Di madri devote e di figli ingrati ne è piena la storia, ma niente come How to Get Away with Murder mi fa venir voglia di leggere questa citazione come se fosse stata pronunciata non da un cantante brizzolato in completo leopardato… ma da Annalise Keating.
Depositario di questo ammonimento non sarà più un fuggiasco Bugo, ma i Keating Five: coloro i quali, più di tutti, dovrebbero ringraziare di essere su quel palco, ma ancora di più dovrebbero ringraziare chi li ha portati dentro.
Quella di How to Get Away with Murder è una storia torbida dove i cattivi non sono poi così cattivi (quantomeno negli intenti, sebbene lo siano nelle azioni) e i buoni non esistono. Annalise Keating è la nostra personale (anti)eroina e nonostante il suo cammino non sia sempre stato limpido ci troviamo ogni volta a parteggiare per lei, nonostante tutto.
Sacrifici mortali e giuramenti sanguinari costellano le vite dei protagonisti della serie, e per quanto non esista una versione univoca delle cose, quella che vi vogliamo mostrare oggi è la storia di una donna che quel palco l'ha meritato e condiviso con chi non l'ha mai ringraziata.
Nutriti, accuditi e cresciuti dai banchi della Middleton University fino alle aule di tribunale, tutto quello che sanno e tutto ciò che sono – nel bene o nel male – i Keating Five lo devono solo a una persona e il suo nome è Annalise Keating.
Prescelti per assisterla nei casi giudiziari di cui si fa carico, Wes, Laurel, Michaela, Connor e Asher si trovano fin da subito in situazioni che li portano al limite della sopportazione umana, dove il senso di colpa e le notti insonni sono solo l'antipasto di ciò che gli attenderà nei mesi e negli anni a venire.
Concentrati su loro stessi, i giovani allievi di Annalise combattono ogni giorno per una briciola dell'attenzione della loro mentore che, anziché coccolarli come farebbe una madre, li accoglie nella sua casa e nella sua vita con severità e distacco emotivo e con uno sguardo ben più lungimirante.
Non una madre, non un'amica ma una maestra di vita, che con professionalità ed esperienza saprà portare le carriere dei Five a livelli stellari anche se questo comporterà coprire qualche omicidio lungo il cammino.
Nel corso di How to Get Away with Murder gli omicidi compiuti dai Keating Five continuano ad affollarsi, tanto che nessuno di loro potrà mai dire di non essersi trovato con le mani sporche di sangue come nella migliore rappresentazione del Macbeth.
Annalise in ognuna di queste occasioni si prodigherà per difenderli come solo una leonessa farebbe con i propri ingrati cuccioli. Sotterrare il proprio marito e prendersi un colpo di pistola dritto nello stomaco sono solo alcuni dei sacrifici che l'avvocatessa sarà disposta a compiere pur di non macchiare la fedina penale e la vita dei suoi protetti, anche se quest'ultimo obiettivo sarà il più difficile da mantenere.
I Keating Five sono i materiali carnefici della maggior parte degli omicidi commessi e anche se questa è un'evidenza, sarà altrettanto limpido per loro incolpare Annalise di aver mandato in fumo la loro esistenza. Di averli nutriti, accuditi e cresciuti, ma di non averli mai preparati a convivere con i mostri della loro coscienza.
Sembrava un semplice corso di diritto penale, una semplice vita qualunque da aspiranti avvocati. Ma se d'un lato è indubbio che lo zampino di Annalise e della sua mente manipolatoria abbiano certamente reso la morte un'inevitabile costante nelle vite dei suoi allievi, è altrettanto vero che con il progredire dei mesi e degli anni l'omicidio è divenuto per i Keating Five l'unico modo per arginare ogni situazione, e questa è stata solo una loro scelta.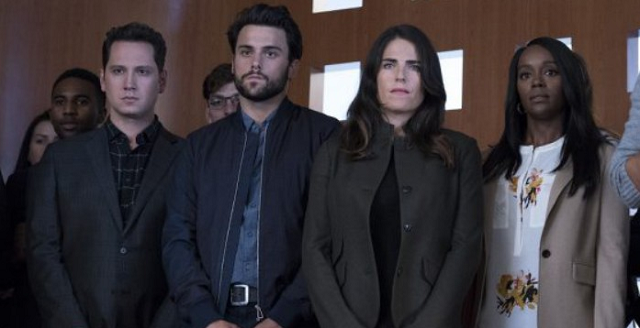 Un libero atto di volontà che li ha resi schiavi e allo stesso tempo artefici del loro destino, nonostante non abbiano il coraggio di ammetterlo.
Viziati a tal punto da non riuscire più a distinguere una necessità da un eccesso, i Keating Five hanno preferito far tacere il loro senso di colpa puntando le loro feroci dita verso chi per prima gli ha fatti salire su quel tanto ambito quanto crudele palco.
Come se già non avesse pagato abbastanza con la sua stessa vita, Annalise diventa per i Five il capro espiatorio dei loro delitti e dello loro malefatte. Noncuranti del dolore che si porta appresso la donna, i cinque allievi la caricano di ulteriori colpe e di sofferenza, interessati più di ogni altra cosa al mondo a rimanere a galla, anche se questo può significare portare Annalise a fondo.
Non un solo ringraziamento per quell'agognato palco finalmente raggiunto, solo rabbia e niente più.
LEGGI ANCHE:

Le brutte intenzioni la maleducazione, la tua brutta figura di ieri sera. La tua ingratitudine, la tua arroganza, fai ciò che vuoi mettendo i piedi in testa. Certo il disordine è una forma d'arte. Ma tu sai solo coltivare invidia. Ma questo sono io.