Uno dei punti di forza di How to Get Away with Murder è la caratterizzazione dei personaggi: background personale, evoluzione e psicologia, nessuno di questi aspetti è lasciato al caso, senza distinzione per personaggi principali o secondari. Spesso i riflettori sono puntati su Annalise Keating, che scopriamo e riscopriamo a ogni stagione: una personalità così sfaccettata è tanto interessante quanto ingombrante. Il rischio è quello di dare meno attenzione ad altre figure come Frank Delfino, che amiamo per molti motivi, oppure Michaela Pratt, che detestiamo per altrettante ragioni. Tra questi personaggi spesso messi in ombra dalla fantasmagorica protagonista troviamo Bonnie Winterbottom, una donna forte e fragile allo stesso tempo, con un passato turbolento alle spalle che ha contribuito in maniera preponderante al suo carattere nell'età adulta e, purtroppo, a un epilogo nefasto. Epilogo a cui, tuttavia, Bonnie sarebbe potuta sfuggire, se solo non fosse stata così fedele ad Annalise Keating.
Riscopriamo dunque Bonnie Winterbottom di How to Get Away with Murder analizzando come la sua fedeltà nella Keating (ma non solo) l'abbia trasformata in una vittima.
Nella prima stagione di How to Get Away with Murder, Bonnie Winterbottom viene introdotta come spalla di Annalise Keating, insieme a Frank Delfino. La donna, inizialmente, non sembra altro che una semplice assistente dell'avvocato, sebbene si intuisca che il legame tra le due affondi le proprie radici nel passato. Un elemento da non sottovalutare, perché è una delle principali ragioni alla base della fedeltà di Bonnie: ci sono situazioni vissute, esperienze condivise e paure superate che funzionano come cemento, saldano i rapporti di amicizia e creano dei vincoli inaspettati che è davvero difficile rompere.
Eppure, all'inizio delle avventure di Annalise e compagni, tutto questo è ben nascosto sotto la superficie. Bonnie appare come una donna normale, addirittura sbiadisce in confronto ad altri personaggi della serie che apparentemente hanno più spina dorsale. Ma Bonnie Winterbottom non è la donna calma e stoica dei primi episodi e già nella seconda parte della prima stagione svela nuovi aspetti di sé: non è fredda, non ha un cuore di ghiaccio come si sarebbe potuto immaginare all'inizio, infatti Bonnie intraprende una relazione passionale con Asher, uno degli alunni di Annalise Keating. Un rapporto che all'inizio stupisce, proprio per la differenza di età e di ruoli dei due. Ma quello che getta luce sulla vera identità di Bonnie è un altro fatto: l'omicidio di Rebecca.
Se alla prima impressione su Bonnie, il pubblico avrebbe escluso che la donna potesse far male anche solo a una mosca, il modo in cui si sbarazza di Rebecca – la ragazza di Wes che sapendo ormai troppo avrebbe rischiato di complicare la vita ad Annalise – le carte in tavola vengono rimescolate. Ma perché Bonnie Winterbottom, con una buona posizione lavorativa e una vita (sempre all'apparenza) pulita e tranquilla si sarebbe dovuta sporcare mani e coscienza così all'improvviso?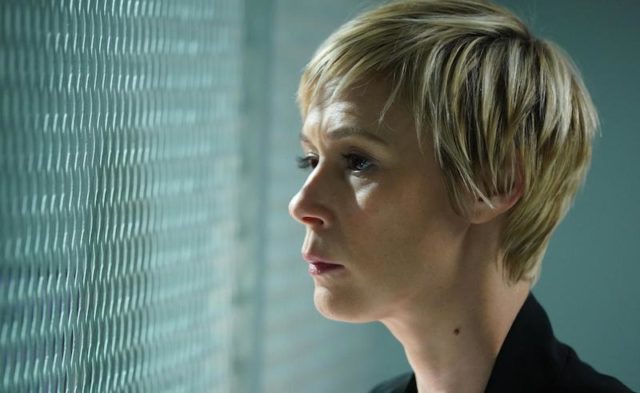 Qui entra in gioco il primo campanello d'allarme sulla pericolosità di questa fedeltà nei confronti di Annalise Keating: Bonnie ha agito principalmente per lei. E in un certo senso, la Winterbottom ha dato il via, senza rendersene conto, a una girandola di avvenimenti, bugie e coperture che l'avrebbero trascinata a compiere un passo dopo l'altro verso illegalità e delitti. Perché è vero che il pubblico sta dalla parte dei protagonisti di How to Get Away with Murder, è vero che nella maggior parte dei casi agiscono con l'intento di togliersi dai guai – e non di certo per fare del male intenzionale – ma i loro modi di agire e gli effetti dei loro gesti sono senz'altro discutibili. Anzi, deplorevoli.
Ma quindi chi è Bonnie Winterbottom? Una donna che si lascia trasportare in un mondo complicato da Annalise Keating?
No. Dietro c'è molto di più. La personalità di Bonnie è molto più sfaccettata e lo scopriamo stagione dopo stagione. Fondamentale per capire il personaggio della Winterbottom nella sua totalità è il suo passato, che viene svelato a poco a poco. E non si tratta di un passato facile. Quando Bonnie era giovane, lei e sua sorella Julie venivano periodicamente abusate dal padre e dai suoi amici. All'età di 15 anni, Bonnie è rimasta incinta. Il giorno del parto, suo padre le comunicò la morte del bambino – che in realtà era stato abbandonato da lui stesso in un altro ospedale. Ed è in seguito a questa vicenda – terribile e dolorosa – che Bonnie incontra Annalise: accade durante un processo, le due sono una contro l'altra ed è la Keating a vincere.
Qualche tempo dopo, tuttavia, Annalise bussa alla porta di Bonnie lasciando a casa l'ascia di guerra. Le dice che, secondo lei, Bonnie potrebbe fare molto, arrivare lontano. E così le offre un posto alla scuola di legge in cui insegna: la Keating ha regalato a Bonnie un nuovo inizio, lontano dai ricordi di abusi e sofferenze. E cosa avrebbe potuto darle in cambio Bonnie, se non una completa fedeltà? Ecco perché le è stata accanto in uno dei momenti più tosti della vita di Annalise: una gravidanza culminata con la perdita di un figlio, una sorte simile a quella della stessa Bonnie.
Gratitudine e condivisione hanno plasmato la relazione tra Bonnie e Annalise, oltre a formare il carattere schivo ma battagliero della Winterbottom: la donna ha creato uno scudo col quale difendersi, eppure, allo stesso modo ha imparato a tirare fuori le unghie quando necessario. E forse sarebbe andato tutto liscio se la sua salvatrice non fosse stata Annalise Keating.
Stare accanto a una figura così complicata e problematica come Annalise Keating ha un grande prezzo e Bonnie lo ha pagato fino all'ultimo centesimo.
Non che la Winterbottom non abbia provato a salvarsi. Nelle sei stagioni di How to Get Away with Murder, Bonnie e Annalise non sono sempre andate d'accordo. Hanno passato lunghi periodi prendendo le distanze l'una dall'altra, scontrandosi e discutendo. Più e più volte Bonnie ha cercato di non lasciarsi trascinare nell'uragano Annalise. Ma la sensazione è che diventare amici di Annalise Keating è come fare un patto col diavolo, non si riesce più a tornare liberi. E non importa se la Keating stessa si è pentita di molte azioni, non importa se ha cercato di salvare tutti, non importa se ha provato a tornare sui propri passi, ormai aveva scatenato una tempesta inarrestabile dal quale nessuno è riuscito a sottrarsi.
Tantomeno Bonnie Winterbottom, che ha lottato per Annalise Keating fino alla fine. Anche in momenti in cui non avrebbe voluto farlo. Non è riuscita a scappare, non è riuscita a correre via. Vittima della fedeltà, Bonnie è morta proprio tra le braccia della donna che è stata sua salvezza e sua condanna.