Stilare una classifica del genere non è cosa facile. I villain sono spesso e volentieri i personaggi più amati in una serie tv, quelli che catturano di più la nostra attenzione seducendoci con le loro follie alla Kilgrave, che tessono le fila della trama dietro le quinte come Ditocorto o che sono semplicemente spietati antagonisti come in Breaking Bad.
Senza contare che ci sono villain e villain!
Infatti in questa classifica non andremo a premiare quelli più crudeli o famosi o quelli che abbiamo amato di più, come abbiamo fatto in questa ad esempio. Oggi andremo a citare quelli il cui estro geniale nell'applicare le regole base del male non ha potuto non lasciarci senza parole.
Perché ammettiamolo, alcuni di loro si sono rivelati dei veri fenomeni intrattenendoci con opere ribelli o monologhi spiazzanti che ci hanno gasato moltissimo!
Mettiamo da parte le preferenze personali e partiamo dalla posizione numero dieci, arrivando a incoronare il cattivo più geniale di tutti.
10) Gloria – Buffy l'ammazzavampiri
Forse questa decima posizione potrebbe non convincere tutti, ma a torto.
Perché la dea Gloria, la temibile villain della sesta stagione di Buffy, è davvero brillante. Forse non necessariamente nell'elaborazione dei piani malvagi, anche se comunque è riuscita a portare la Cacciatrice a uccidersi pur di riuscire a fermarla – senza contare quella cosina chiamata "Apocalisse" che stava scatenando – ma sicuramente lo è a livello caratteriale.
Ogni volta che entra in scena catalizza l'attenzione dello spettatore che vuole sì tifare per la sua eroina, ma che non può restare indifferente alle battute taglienti e alla personalità dirompente dell'ingestibile divinità.
Al punto che quando questa viene sconfitta un po' ci resta maluccio.
9) Klaus Mikaelson – The Originals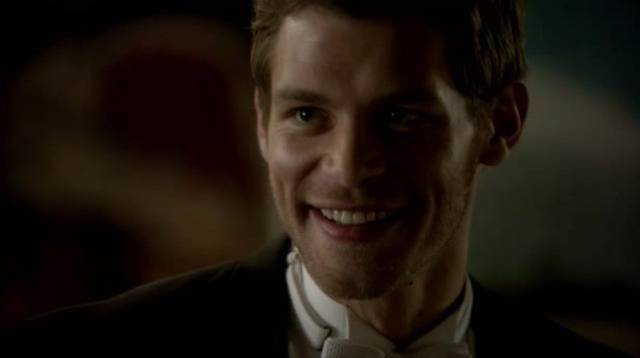 Cattivo, sexy, efferato. Dite tutto quello che vi pare ma fin dalla sua prima comparsa in The Vampire Diaries questo villain ha fatto ingranare la marcia all'intero show.
Sì perché l'ibrido dalla voce profonda non ha fatto che manipolare le vite dei protagonisti di Mystic Falls fin dall'inizio, con il giusto mix di humour nero e violenza spietata.
Mix che si è fatto esplosivo quando poi ha avuto uno show tutto per sé, dove la sua vena borderline melodrammatica, a tratti persino shakesperiana ha potuto divampare totalmente.
Bellissimi infatti sono i momenti in cui uno dei protagonisti – che sia uno dei suoi vessati consanguinei o uno dei suoi due eterni amori dai capelli dorati – riesce a farlo ragionare per cinque minuti toccando le corde del suo animo ferito. Ancora più bello quando per un nonnulla questo sclera di brutto cinque minuti più tardi, scivolando in uno dei suoi cupi monologhi introspettivi in cui accusa chiunque di tradimento e stacca teste a caso. Il tutto con il suo solito ghigno beffardo.
8) Frank Underwood – House of Cards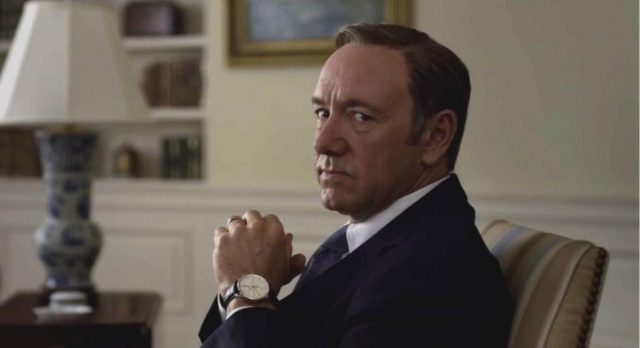 Come non inserire il machiavellico e spietato protagonista che ha conquistato la Casa Bianca?
Geniale a livelli incommentabili, irrefrenabile nella sua sete di potere. Come un ragno ha tessuto la sua rete di bugie e manovre sapientemente studiate, il tutto mentre – rompendo la quarta parete – dispensa opinioni e battute taglienti con noi, lasciandoci totalmente sedotti dalla sua intelligenza.
7) Negan – The Walking Dead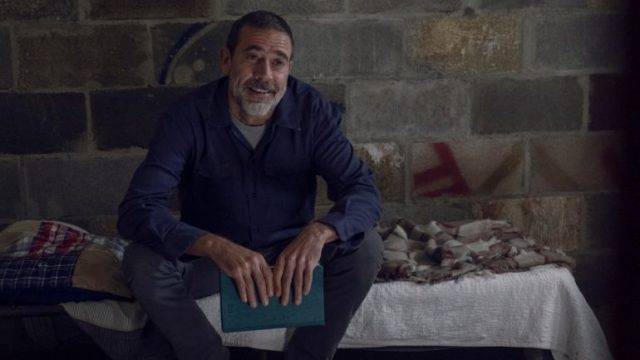 Quando un cattivo riesce a dosare intensamente brutalità spietata, sarcasmo pungente e anche una certa dose di sex appeal ecco che otteniamo un villain a cui difficilmente augureremo la punizione che merita.
A ragione di ciò che è stato appena scritto va detto che Negan si è macchiato di una delle colpe più imperdonabili agli occhi dei fan di The Walking Dead.
Giustiziare Glenn e Abraham in quel modo ha fatto strillare tanti di quei Nooo! delusi e basiti di fronte allo schermo che il cocktail che ti cade in discoteca subito dopo averlo pagato fa quasi ridere.
6) Hannibal Lecter – Hannibal
Hannibal Lecter, sia al cinema che in tv, è sempre stato uno dei villain per eccellenza nell'immaginario collettivo.
E non solo per le sue efferate doti culinarie. La sua raffinata ferocia, la sua fredda sociopatia e il suo discutibile codice etico che gli fanno sacrificare tutti quelli che non apprezzano il bello della vita lo hanno reso indelebile nella nostra memoria.
La serie con protagonista Mads Mikkelsen gli ha conferito poi anche un ulteriore allure di brillante sagacia, specie durante le sue sedute terapeutiche e manipolatorie con l'uomo che dovrebbe arrestarlo.
5) Kai Parker – The Vampire Diaries
Un cattivo talmente riuscito che la sua creatrice Julie Plec – una a cui i cattivi riescono decisamente meglio dei buoni, vedi il già citato Klaus e Damon Salvatore – non fa che inserirlo in tutte le sue creature seriali.
Cosa rende Kai lo stregone logorroico e sociopatico assolutamente geniale? Sicuramente la sua lingua lunga. Insomma, Kai è potente ma non come Bonnie, è parecchio sexy, come si richiede a molti cattivi ma ammettiamo anche che in quel di Mystic Falls non è brutto neanche il pakistano che ti tormenta per venderti la rosa al ristorante a 10 euro, per cui la sua avvenenza è poca cosa.
A rendere il leader della congrega Gemini brillante a livelli comici sono proprio le sue battute. Persino mentre tortura la povera Elena, improvvisandosi Gesù Cristo nel tentativo di tramutare il suo sangue in altro – nella fattispecie in acido – ci risulta spiritosissimo così come quando crea il suo account Twitter citando Karate Kid mentre si fa un drink di fronte all'ignara sorella che sta per provare a massacrare.
4) Gus Fring – Breaking Bad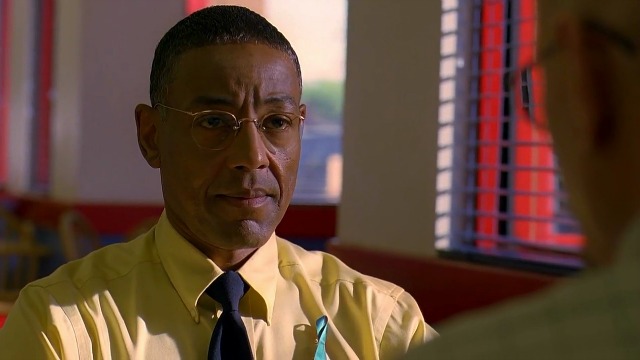 Certo, anche Walter White non scherza in fatto di cattiveria, ma diciamo che il controllo misurato e strategico di Gus Fring – condito dalle sue pacate buone maniere – lo rendono decisamente più brillante come cattivo e di conseguenza più idoneo a questa classifica, nonché il vero villain di Breaking Bad.
Come non possiamo ritenere immensamente brillante un uomo che gestisce un impero del crimine sapientemente nascosto dietro il bancone di un fast food? Un uomo che si è costruito una carriera priva di punti deboli su cui i suoi nemici possano fare pressione e che non ha altro scopo se non quello di raggiungere il potere totale?
Vedremo mai uno spin-off di Breaking Bad su di lui?
Un milionario inarrestabile e vendicativo capace di arrivare e piegare chiunque mentre guida una Volvo station wagon e si preoccupa di pulire saliere e pepiere?
Semplicemente geniale. Un cattivo sopra le righe e indimenticabile che ha contribuito a rendere Breaking Bad ancora più straordinaria.
Giunti sul podio non possiamo davvero non mettere il top della criminalità!
3) Kilgrave – Jessica Jones
Kilgrave ha reso la prima stagione di Jessica Jones davvero indimenticabile.
Sicuramente, affidare il ruolo a un attore del calibro di David Tennant ha reso l'Uomo Porpora davvero incisivo. L'elegante manipolatore ossessionato dalla nostra investigatrice inversa ha saputo lasciare un'impronta grazie ai suoi metodi sbrigativi e crudeli sempre mascherati da eleganti buone maniere.
Il modo in cui giustifica il suo privare le persone della loro volontà, obbedendo ad ogni suo colorito capriccio, ci ha strappato qualche ingiusto sorriso così come i suoi battibecchi con Jessica.
Un villain che ha saputo rendere lo stalking così sexy da farcelo quasi perdonare per due secondi. Joe Goldberg, siediti e impara!
2) Ditocorto – Game of Thornes
Il livello di genialità di quest'uomo può sfuggire ad alcuni che magari lo considerano solo uno dei tanti cattivi che ha partorito Game of Thrones, magari il più viscido tra tutti. Sbagliando però.
Perché i fan più attenti e fedeli dello show di Martin sanno bene che tutto, e dico tutto, è partito dalle mosse scorrette e dagli intrighi messi in piedi da quest'uomo. L'ha dato lui il calcio d'inizio nell'interminabile e sanguinosa partita che ha deciso le sorti del trono di Westeros. Sempre ben nascosto, brillantemente in prima fila quando si decidevano le sorti dei potenti e senza mai finirci in mezzo quando qualcuno ci rimetteva la testa.
Lo abbiamo odiato e maledetto, abbiamo gioito quando una rinsavita Sansa si è decisa a fargliela pagare per tutti gli Stark che ci hanno rimesso la vita a causa sua, tirando un sospiro di angosciato sollievo quando la letale mano di Arya ha messo fine ai suoi inganni per sempre.
Detto questo: che incredibile figlio di p*****a!
1) James Moriarty – Sherlock
Il primo posto non poteva che prenderselo lui.
Il Napoleone del Crimine come lui stesso si è autodefinito, uno che ha saputo fregare – oltre alla sua geniale e scorbutica nemesi – una nazione intera, passandola pure liscia.
Il professor Moriarty era già una figura incredibilmente brillante nelle pagine scritte da Arthur Conan Doyle ma Andrew Scott ha saputo davvero fare un capolavoro con ciò che il personaggio aveva da offrirgli.
Ecco dunque il villain dei villain, sagace e accattivante fino a diventare iconico, che saltella da una minaccia furiosa a una smorfia demenziale in pochi secondi e che fa scacco matto anche al più geniale e infallibile dei detective inventati.