C'è un personaggio che i fan di How to Get Away with Murder hanno tenuto particolarmente d'occhio durante l'ultima stagione della serie.
E, ironia della sorte, era qualcuno quasi mai fisicamente presente: Laurel Castillo.
Un personaggio complicato, un po' come tutti nella produzione di Shonda Rhimes, e che è riuscito a dividere i fan come mai prima d'ora nella serie.
How to Get Away with Murder ha delle strade ben delineate: difficilmente un personaggio è amato da alcuni e odiato da altri.
Al massimo per qualcuno può essere indifferente, ma la loro scrittura è mirata a far provare una singola sensazione specifica.
Tranne Laurel Castillo.
Come il resto dei "Keating 5", Laurel parte come una studentessa del corso di legge di Annalise, e finisce nella cerchia ristretta di ragazzi tenuti sott'occhio dalla donna per la sua bravura.
Sin da subito la Castillo si dimostra la classica secchiona della classe, attirando questo astio da parte degli spettatori. Spettatori che al contempo nei flash-forward possono guardare le sue reazioni in seguito all'omicidio di Sam e quindi sono interessati a lei.
Laurel più che chiunque altro aveva stimolato questo fastidio nei fan: un rumore costante di disturbo, ma con un fondo poco comprensibile. Ma questo dubbio viene ben presto accantonato. La prima stagione vede la signorina Castillo atteggiarsi come chiunque si aspettava.
Meschina, egoista, approfittatrice, snob. La classica figlia di papà che saprà di avere successo nella vita.
Se solo avessimo conosciuto il papà da subito, probabilmente Laurel sarebbe stata uccisa dagli sceneggiatori per una rivolta popolare dei fan.
Perché in lei scorre il sangue dei Castillo, una delle famiglie peggiori mai apparse nelle serie tv, e quando i fan avrebbero l'ennesimo motivo per provare odio per lei non ci riescono.
È un po' come rivalutare qualcosa dopo averne conosciuto le origini: forse Laurel non è la miglior persona al mondo, ma da quella famiglia poteva uscire molto peggio di così.
Quello che smuove il personaggio della Castillo è la gravidanza, è il suo modo di approcciarsi alla famiglia: cosa molto positiva. Ma allo stesso tempo ci è arrivata dopo un lunghissimo e indeciso triangolo amoroso tra Wes, lei e Frank: cosa decisamente negativa.
Laurel non diventa mai effettivamente "amabile": il suo atteggiamento e i suoi comportamenti cambiano, sì, ma non abbastanza da entrare nelle grazie dei fan.
Certo, quando agisce contro il padre Jorge ci ha fatto esultare e non poco, ma rimane un fuoco di paglia.
Anche dopo la gravidanza e la nascita di Christophe, la donna non cambia tanto. Porta avanti il tira e molla con Frank e continua a essere in mezzo a casini vari col fratello, la madre e il padre.
E sì, tutto ciò che fa da un certo punto in poi della serie possiamo dire che sia per proteggere il figlio.
Però è una Castillo, e quel sospetto a forma di incudine continua a dondolare sulla testa degli spettatori. How to Get Away with Murder ce lo ha detto più volte: il sangue Castillo è amaro, scuro, deplorevole.
E quando i fan sembravano finalmente potersi fidare di lei, Laurel sparisce col figlio nel finale della quinta e penultima stagione. Senza preavviso, senza messaggi, senza niente neanche per gli spettatori. "Alla fine vuoi vedere che quella ci ha traditi tutti?!"
Lei sparisce, nel nulla, lasciando il peso della sua scomparsa a un'Annalise che crolla mentalmente. Strappando Christophe ai suoi padrini Connor e Oliver. Rompendo i legami di amicizia creati duramente con Michaela e Asher. E spezzando per l'ennesima volta il cuore a Frank.
Agli occhi di tutti, Laurel era colei che temevamo: l'ennesima Castillo manipolatrice.
Da quel momento anche i personaggi iniziano a dubitare della sua lealtà e amicizia. La strada che porta al processo di Annalise è indirizzata, con i Castillo e la Governatrice pronti a incastrarla per ogni cosa accaduta: ogni morte, ogni reato, tutto.
E quando chiunque era ormai convinto dello schieramento di Laurel, arriva il plot twist della serie. Dopo che Connor e Michaela avevano scelto di voltare le spalle alla Keating durante il processo, e tutte le speranze sembravano perse, Laurel Castillo si rivela per quello che è realmente.
In tribunale Laurel difende Annalise!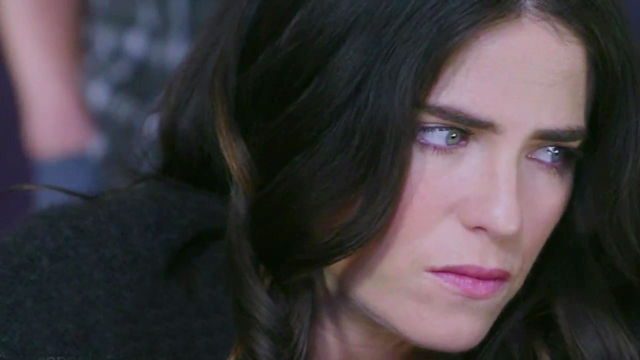 Ha fatto una scelta: avrebbe potuto essere egoista, e desiderare una vita migliore solo per sé e Christopher, ma a quale prezzo?!
Se la Castillo avesse tradito Annalise, sarebbe diventata come il padre, come il fratello, come chiunque nella sua famiglia.
Ma la storia raccontata da Shonda non è questa, non è quella dell'ennesimo prodotto del sangue Castillo. Laurel prende una decisione di polso e sceglie che vivere nella menzogna non è una cosa degna di lei.
Quella che più di tutti era stata malvista dai fan, quella che si era attirata le ire anche a ridosso dell'ultima stagione. Laurel Castillo ne esce come la donna che aveva detto di voler diventare il primo giorno: la nuova Annalise! Dedita alla legge e alla giustizia. La figlia di papà che potrebbe avere un posto nel mondo ma sceglie di occuparne un altro.
E non si limita a quello: perché è lei a giudicare Michaela per le sue menzogne, e abbandonarla a una vita di solitudine.
Ci sono voluti anni, scelte difficili, una gravidanza, tanti dubbi, ma sul finale Laurel si è redenta. O forse sul finale si sono redenti i fan, che hanno potuto vedere il suo lato più nascosto e umano.
Aveva una sola freccia per fare centro nel cuore dei fan, e l'ha scoccata all'ultimo momento possibile. Scelta rischiosa ma efficace, perché oggi Laurel la amiamo.