Un dialogo a cuore aperto tra la prima e l'ultima Annalise Keating
L'aula di diritto penale della Middleton University è vuota, se non per una persona, Annalise Keating.
Si guarda attorno, incerta. Eppure, cerca di non far trasparire la propria agitazione. Mai mostrarsi deboli. Mai mostrarsi insicuri. Lo sa bene una donna afroamericana che alle battaglie quotidiane di chiunque deve aggiungere quella relativa al colore della propria pelle.
Non è in piedi davanti alla lavagna, come suo solito, e forse questo è un ulteriore motivo di disagio per Annalise Keating (qui abbiamo riflettuto sul suo coraggio e sulla sua pazienza infinita). Il biglietto che ha ricevuto il giorno prima diceva espressamente prendi posto come se fossi una studentessa. E, per una ragione o per l'altra, lei aveva eseguito tutte le indicazioni. Il messaggio anonimo era comparso su un foglietto appeso al frigorifero, poche parole frettolose per invitarla il pomeriggio seguente in aula. Annalise non avrebbe mai accettato una richiesta anonima del genere, non fosse stato per un piccolo dettaglio: la calligrafia con cui era stato scritto il messaggio era la sua. Proprio la sua. Non un'imitazione, non un tentativo di emulazione.
La donna sospira. Forse ha bevuto troppo, forse ha lasciato che l'alcol le offuscasse la mente. Capita spesso. Sì, quel biglietto se lo è scritta davvero da sola, probabilmente. In un momento di follia. Perciò che senso ha avuto seguire il suggerimento? (Non solo Annalise è piena di disagi, ce ne sono 30 che solo un vero fan di How to Get Away with Murder può capire)
L'avvocato fa per alzarsi, nella speranza di porre fine a quell'insensata idea e riacquistare un po' di lucidità. Ma ecco che qualcuno entra nell'aula.
"Buon pomeriggio, Annalise" dice una donna.
Le somiglia spaventosamente.
Indossa un tallieur nero, elegante e aggressivo nello stesso tempo. Una versione più coraggiosa di quello grigio che ha addosso lei. Ma per il resto, è uguale.
"Chi sei?" domanda Annalise.
Ha davvero oltrepassato il limite con l'alcol? Si è davvero lasciata trascinare nel vortice dei suoi tormenti, delle sue colpe, in misura tale da avere le allucinazioni? Forse sta dormendo, forse è un incubo.
Eppure, sembra così reale.
"Non mi riconosci?" domanda l'altra.
"Sembri me, ma non è possibile."
"Giusto e sbagliato allo stesso tempo. Io sono te. Ma non sono Annalise Keating."
Annalise inizia a scocciarsi "Che assurdità. Me ne vado…"
L'altra le fa cenno di fermarsi e dice "Sono Anna Mae Harkness".
La Keating si blocca. Quello è il suo nome. Il suo nome vero, che ha messo da parte per sposare un'identità più americana. Quasi un imbroglio, non tanto per le altre persone, ma per sé stessa.
"E sentiamo, Anna Mae" dice Annalise "perché mi hai invitata qui, cosa vuoi dirmi?"
Anna Mae risponde con un' altra domanda "Chi sedeva di solito dove sei tu al momento?"
Annalise aggrotta le sopracciglia, poi fa mente locale e sospira: "Wes Gibbins"
"E non sei ancora riuscita a lasciartelo alle spalle"
"Grazie tante" ribatte, sarcastica.
"Come tante altre cose" prosegue Anna Mae "sensi di colpa, per lo più"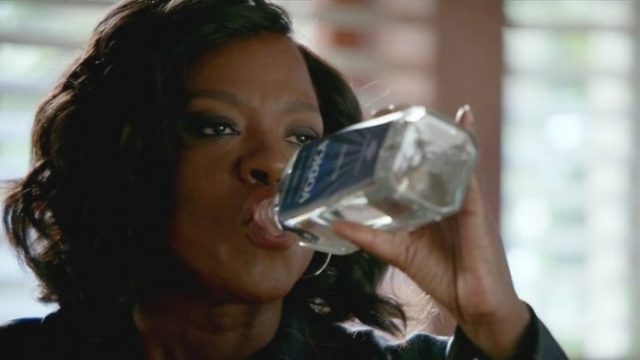 Annalise Keating lancia un'occhiata scocciata alla sua interlocutrice "Se la predica è finita, ma ne posso andare".
"Non fuggire, Annalise. So che hai una perenne, costante voglia di fuggire. E fuggirai, a un certo punto. Ma io ti dico: non scappare e non perdere te stessa."
"Non vado da nessuna parte e sono sempre me stessa" ribatte Annalise.
Anna Mae scuote il capo: "Certo che scappi, quando evadi dalla realtà affondando i tuoi tormenti nell'alcol o in altro. Quando cadi, preda della tua stessa disperazione e ti crogioli nel dolore senza fare nulla per risalire. E no, non sei del tutto te stessa. Guardami, ti accorgerai di non essere totalmente riflessa in uno specchio."
"Sembriamo due gemelle", dice Annalise. Poi però osserva meglio. Una differenza c'è.
Anna Mae sorride "Hai capito?".
"I capelli" risponde Annalise "I maledetti capelli".
"Perché porti una parrucca, se non per nasconderti?".
L'altra alza le spalle "Non per nascondermi, per agevolarmi. Se tu sei così… me, saprai bene come funzionano i processi, ma soprattutto, saprai come funziona l'America."
"Questo non deve impedirti di essere chi sei! Perché la tua vera forza deriva dalla tua identità, Annalise. Così ti stai auto-sabotando. Fai il loro gioco. Ma tu sei molto più forte, e lo sai."
"Chiacchiere".
"No, è la verità".
"Vieni dal futuro o qualcosa del genere?" domanda allora Annalise, ancora diffidente.
"Qualcosa del genere, sì".
"Auguri, allora. Chissà quante te ne sono capitate".
Anna Mae annuisce "Di certo non poche e ho dovuto affrontare molte perdite".
Annalise alza gli occhi al cielo "Sono stufa di tutto. Tutti attorno a me muoiono, sono vittime di delitti o compiono delitti. Non posso reggere tutto, questa è la verità. Non mostro mai le mie debolezze, ma visto che sto parlando con me stessa, lo dico apertamente: non ce la farò. E non penserò di poter affrontare il mondo intero solo perché, per qualche strana ragione, mi ritrovo davanti Anna Mae che mi dice che avrò una vita fantastica"
Anna Mae osserva Annalise con un misto di affetto e orgoglio perché sa quello che diventerà in futuro.
"Non avrai una vita fantastica" dice poi "anzi, avrai una vita molto difficile. Però saprai raggiungere una nuova forza e saprai lottare senza nasconderti. Questo farà la differenza. Sai perché ti ho fatta sedere al posto degli studenti? Perché tu sei abituata a essere il punto di riferimento, a portarti il peso della responsabilità sulle spalle. Per una volta, lascia che sia qualcun altro a guidare te. Lasciati spronare. Lasciati incoraggiare. Che poi, se ci pensi, sei tu stessa a dirti queste cose. Perché tu, Annalise, hai tutto quello che ti serve per trionfare, proprio dentro di te. La maggior parte degli ostacoli li crei nella tua mente, è vero. Per te non è facile tenere a bada tutto e nei tuoi maggiori momenti di fragilità ti senti inutile, persa, sconfitta. Ma allo stesso modo hai tutte le armi che ti servono: intelligenza, furbizia, carattere e, lasciatelo dire, quanto sei testona, Annalise?"
Alla Keating scappa un sorriso, sull'ultimo punto non c'è niente da discutere.
Ma lei non si sente solo testona. Si sente anche egoista, talvolta dispotica. Forse non è una bella persona. Ma, forse, non è nemmeno cattiva. Magari è solo sé stessa, una sé stessa che però può diventare migliore.
"Mah, non mi fido più di tanto. Non mi fido di nessuno" conclude Annalise Keating.
Il sentimentalismo non è il suo forte, nemmeno verso la sé del futuro. Non le darà la soddisfazione di comunicarle che ci penserà su.
Ma Anna Mae capisce. Può immaginare i pensieri di Annalise e in un certo senso è d'accordo con lei: lo sa, è piena di difetti e la sua vita è un totale casino.
Però in mezzo a tutto il caos c'è qualcosa per cui vale la pena lottare.