Quando nel 2014 è andato in onda l'ultimo bersagliato episodio di How I Met Your Mother (ma il finale non è il vero e unico difetto di quella stagione), i fan pensavano di rimanere per lungo tempo orfani di una commedia in grado di far riflettere e sorridere allo stesso tempo, che ha mescolato uno spettro variegato di vicissitudini familiari, un profondo senso dell'amicizia (dei rapporti umani in generale) e una quotidianità che di sintetico aveva ben poco (lezioni che non hanno una data di scadenza e che, come illustrato in quest'articolo di Forbes di qualche anno fa, sono destinate a rimanere nei cuori e nelle vite di fan e non).
In realtà negli anni sono state tante le serie tv che sono riuscite a conquistarsi il titolo di surrogato dello show che ha consacrato attori come Neil Patrick Harris e Cobie Smulders. E che, soprattutto, sono riuscite a dimostrare come al di là di How I Met Your Mother potessero esistere mondi paralleli fatti di altre storie da conoscere e da esplorare, altre vite da abitare, altri personaggi nei quali riconoscersi, anche solo per un'abitudine, un difetto o una questione in sospeso che sembrava più familiare di quanto si potesse realizzare.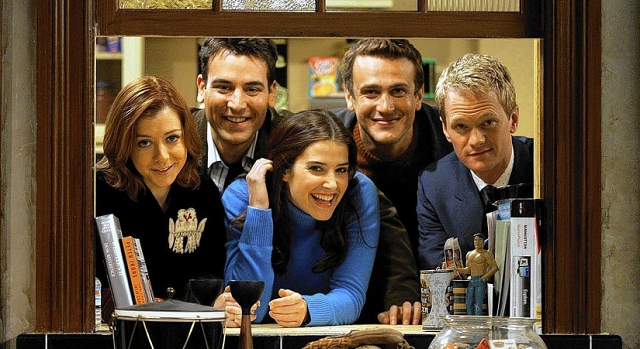 Da New Girl a Community, passando per The Big Bang Theory e Brooklyn Nine-Nine, il mercato americano ha sfornato commedie interessanti e accattivanti, esplorando una narrazione che, pur avendo tanto di simile con quella dello show ideato da Craig Thomas e Carter Bays, non si è mai ridotta a esserne una vuota copia o il becero tentativo di replicare, in ogni minimo particolare, in ogni piccolo dettaglio, una dimensione che aveva fatto incetta di successo e che aveva conquistato anche i cuori più diffidenti. O, semplicemente, poco appassionati alla leggerezza dei toni e delle linee della comedy.
Se sentite ancora la mancanza di Ted Mosby, Marshall Eriksen, Lily Aldrin, Robin Scherbatsky e del leggen… dario Barney Stinson, o se siete alla ricerca di un prodotto che sappia scrollarvi di dosso il peso di una lunga e impegnativa giornata di studio o di lavoro, regalandovi storyline spensierate e scorci di normalità, senza battaglie epocali, cadaveri, supereroi o poteri magici, questi sono decisamente i riferimenti da tenere seriamente in considerazione e da inserire nella to do list dei contenuti da recuperare. Sì, non saranno mai How I Met Your Mother ma a modo loro si difendono benissimo e per certi versi eguagliano anche l'originale.
Guardare per credere.
1. New Girl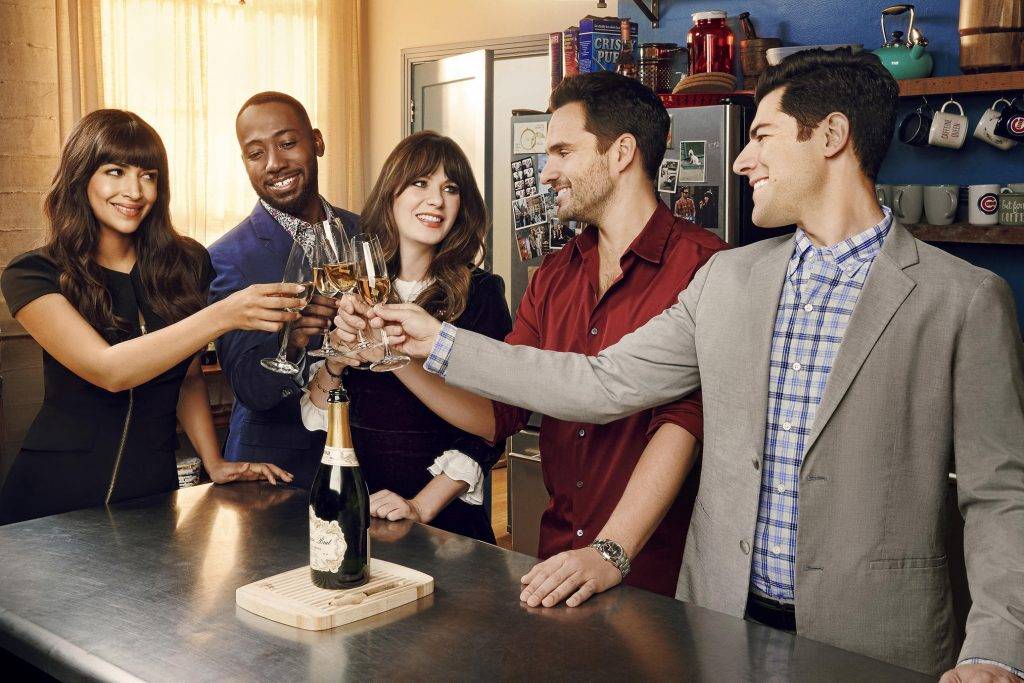 Considerata quasi all'unanimità l'erede spirituale di How I Met Your Mother, New Girl (che è riuscita anche nell'intento di infarcirsi di scene musicali interessanti senza rischiare di diventare stucchevole o imbarazzante) ruota attorno alle avventure e disavventure della frizzante trentenne Jess Day e dei suoi tre coinquilini, Nick Miller, Schmidt e Winston Bishop, che non sono Ted Mosby, Robin Scherbatsky, Lily Aldrin, Marshall Eriksen o Barney Stinson, ma ci hanno fatto appassionare forse in egual misura alla loro delirante vita.
Col giusto equilibrio tra ironia e sentimento, la serie prende per mano lo spettatore e, coi suoi toni pungenti eppure delicatissimi, lo guida attraverso le gioie e i dolori, gli ostacoli e i traguardi di un gruppo di quattro amici (anzi cinque, non dimentichiamo la migliore amica di Jess, Cece Parekh) per i quali l'adolescenza non sembra ancora finita. Nel male e nel bene. Nelle gioie e nei dolori.
Nella costruzione della storia e nei linguaggi utilizzati ci sono diverse similitudini con How I Met Your Mother e i personaggi hanno uno humor parecchio affine (che, come quasi in tutti i serial di questa scuola, ricorda molto quello di Friends, l'archetipo da cui tutto è cominciato e a cui tutto ritorna).
Al di là delle preferenze del fandom o del personaggio più o meno amato, i migliori momenti in New Girl sono sicuramente quelli corali, di gruppo, rafforzati e resi credibili anche da una straordinaria chimica tra gli attori che ha normalizzato scene nate per essere ovviamente fittizie e spazzato via quella lentezza che, inizialmente, sembrava essersi annidata tra i nodi della trama, soffocandone le potenzialità. Un'intesa particolare che trova il modo di risultare evidentissima anche nelle sottotrame romantiche, quelle che si legano alla relazione di Nick Miller con Jess o di Cece con Schmidt. Che, per quanto non rappresentino sicuramente il fulcro di tutta l'impalcatura, aggiungono livelli interessanti e spessori consistenti alle dinamiche del plot. Non avrà sostituito How I Met Your Mother nel cuore degli aficionados ma, senza dubbio alcuno, New Girl è lo show che più gli si è avvicinato in termini di racconto e piacevolezza.
2. Community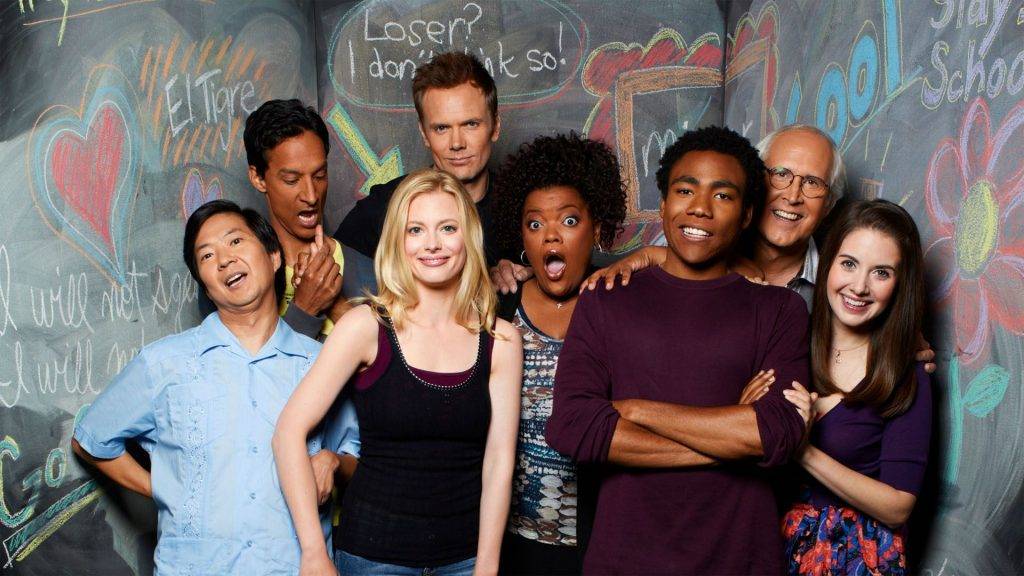 Nonostante i non pochi ostacoli incontrati sul suo cammino (dal cambio di showrunner, a defezioni di alcuni membri del cast, fino a distribuzioni poco felici su piattaforme che non ne hanno saputo esaltare il potenziale, qui l'assurda storia), Community rimane un cult da vedere. Sì, potrebbe non essere tanto coinvolgente quanto lo è How I Met Your Mother ma è impossibile non lasciarsi incuriosire dalle peripezie e dal vissuto dei ragazzi del Greendale Community College. La creatura di Dan Harmon punta tutto su una formula insolita: ogni episodio, settimana dopo settimana, non è mai il seguito dell'altro ma nasce e si sviluppa attorno a un'avventura a se stante, che non ha richiami precedenti né strascichi successivi. Particolarità supportata da un bagaglio infinito di sketch, citazioni e, spesso, inaspettate ed entusiasmanti virate narrative.
Insomma, uno storytelling che ambisce a eguagliare il livello e la qualità raggiunti da How I Met Your Mother, in grado di strizzare l'occhio ai tempi comici e, contemporaneamente, prestare il fianco anche a quella giusta dose di pathos che non guasta mai.
Il narcisista Jeff Winger, la perfezionista Annie Edison, l'appassionata di politica Britta Perry, il quarterback Troy Barnes, la mamma del gruppo Shirley Bennett, l'enciclopedia della cultura pop Abed Nadir e il poco tollerante Pierce Hawthorne: la galleria di anime che popolano le stagioni di Community restituisce un'idea di inclusività e diversità che ha anticipato i tempi, declinandosi più che nell'amore romantico (che non ha un ruolo preminente), nella crescita dei protagonisti, nei messaggi nascosti tra le righe e in grosse e grasse risate fatte con coscienza.
3. The Big Bang Theory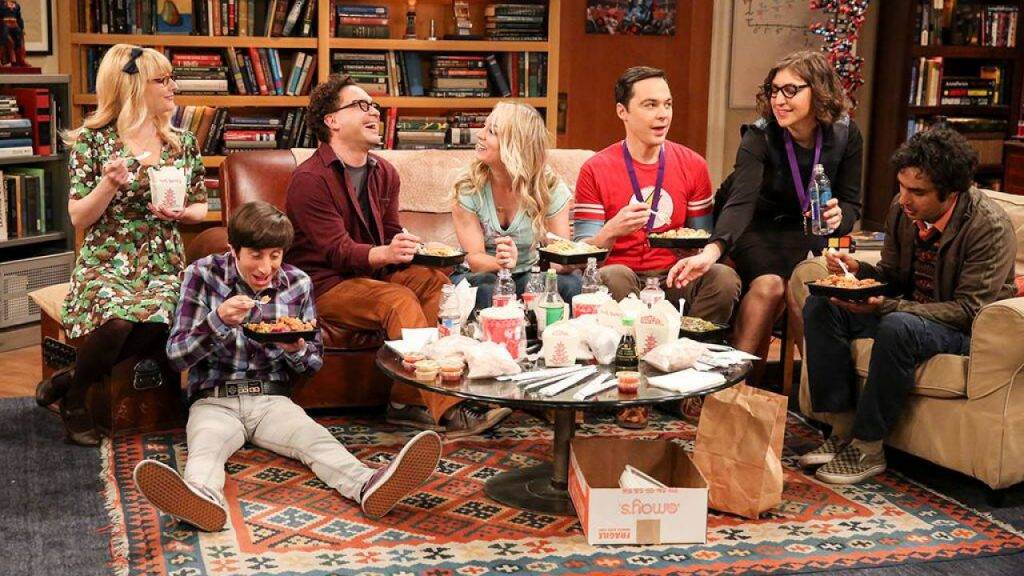 Ha diviso l'opinione generale ma è riuscito a convincere anche la critica più spietata che, più e più volte, si è trovata a doverne ammettere il successo di pubblico più che meritato. Non stiamo parlando di Achille Lauro ma di The Big Bang Theory, ennesima comedy che ha scelto di seguire la scia lasciata da How I Met Your Mother. Se vi appassionano le battute di spirito (e, spesso, ben poco immediate), è la serie fatta per voi. Un mix perfetto di scienza e sagacia, portato avanti da una combriccola di scienziati geniali ma sostanzialmente poco abituati (per non dire curiosamente allergici) alla vita sociale e a tutte le sue misteriose interazioni.
Perché rapportarsi al mondo fuori se esistono i fumetti e i videogiochi?
Quello che ha consentito alla serie di arrivare sino alla dodicesima stagione è stata, probabilmente, la sua normalità, l'assenza di un bisogno di riempirsi di effetti speciali per colpire nel segno: non c'è nulla di artefatto o di esagerato nella rappresentazione delle vicende messe in scena che sviscerano gli alti e bassi con cui chiunque, almeno una volta nella vita, si trova a dover fare i conti. La parte emotiva non sarà così valorizzata ma non passa inosservata e si incastra coerentemente col resto, senza lasciarsi soffocare e, soprattutto, senza inserirsi in maniera insistente in un arco narrativo in cui correrebbe il rischio di stonare. Se il magico mondo dei nerd vi affascina e non disdegnate il mescolarsi della sacralità della scienza con la profanità dei problemi quotidiani e degli psicodrammi sentimentali, The Big Bang Theory è assolutamente l'alternativa su cui ripiegare per evitare di lanciarsi nel millesimo rewatch di How I Met Your Mother, finendo col recitarne i dialoghi a memoria o aspirando a diventarne il più grande esperto del globo terracqueo.
4. Brooklyn Nine-Nine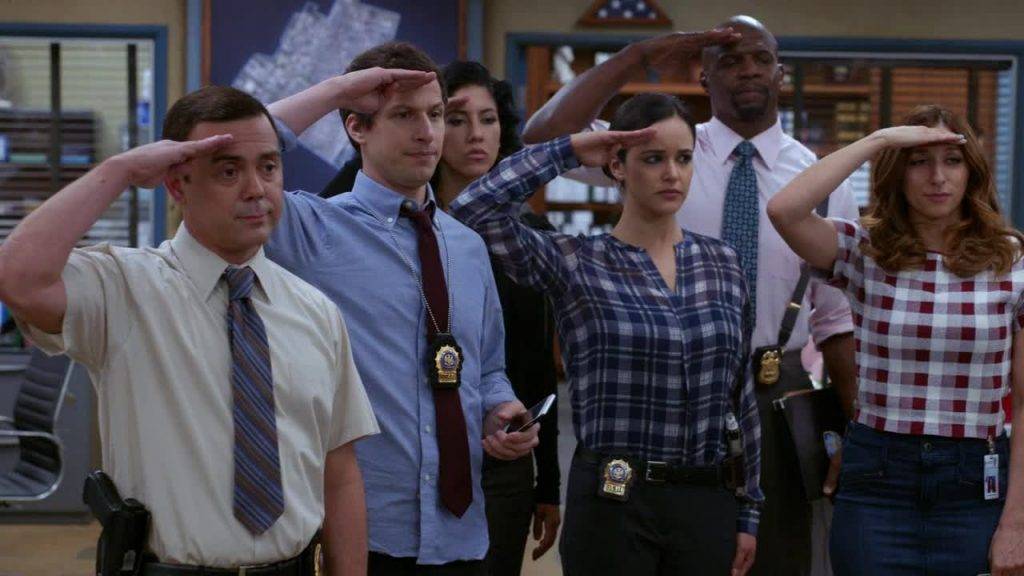 Come How I Met Your Mother, anche Brooklyn Nine-Nine è riuscita a conciliare con successo due registri lontani anni luce tra loro e a trovare un compromesso in grado di tenere gli spettatori incollati allo schermo.
L'ensemble dei detective del 99esimo distretto è, sicuramente, il valore aggiunto dello show che ha dimostrato di avere la stoffa per entrare nell'Olimpo delle migliori comedy degli ultimi anni. Da Jack Peralta a Raymond Holt, da Amy Santiago a Gina Linetti, la serie non si è mai accontentata di abbozzare i profili di nessuno dei protagonisti, confezionando così dinamiche e intrecci ben studiati. E dando prova di come l'umorismo non debba nutrirsi soltanto di battute dal dente avvelenato per rimanere impresso e trasformarsi in meme da risata assicurata. Spesso, è proprio il cuore, infatti, a diventare la migliore delle zattere di salvataggio. Proprio come è successo a Brooklyn Nine-Nine, scampata alla cancellazione grazie alle proteste social dei fan, decisi a salvare quel piccolo mondo che su amori inaspettati, amicizie e ironia aveva ancora tanto da dire e che per fortuna avrà un finale all'altezza (o almeno speriamo).
Grazie ai suoi amanti questa meravigliosa sitcom continua su Netflix. Cliccate qui e non perdetevi neanche una puntata.
5. Parks and Recreation
Non inserire Parks and Recreation nella lista delle serie tv figlie o sorelle di How I Met Your Mother sarebbe decisamente uno sproposito.
E neppure così perdonabile. Se non ne avete mai sentito parlare, correte a farvi una cultura su questo gioiellino, uno sguardo satirico e fresco sulla vita di Leslie Knope e dei suoi colleghi, una sorta di The Office con molto meno cinismo e un occhio più attento ai risvolti dell'umanità varia che compare sullo schermo e delle loro liaison personali. Senza dimenticare di strizzare l'occhio a battaglie di urgente attualità (tra cui la causa femminista e il nodo dell'emancipazione, soprattutto in ambito professionale). Insomma, tanto spazio per la vis comica ma altrettanto per i legami che intrecciano universi che gravitano l'uno attorno all'altro. Un elemento che potrebbe convincere, tra le tante cose, i fan di How I Met Your Mother a dare una possibilità concreta alla sitcom satirica di Greg Daniels e Michael Schur e, magari, a utilizzarla come antidoto alla nostalgia.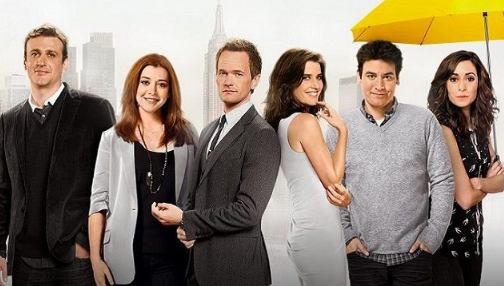 How I Met Your Mother non tornerà, poco ma sicuro, ma queste serie e molte altre ancora potranno rendere meno amara l'astinenza dopo il controverso, seppur realistico, finale della bellissima e leggen… daria sitcom targata CBS.