Chi l'ha detto che le comedy non possono avere anche una buona dose di misteri. How I Met Your Mother è una maestra in questo. Non pochi sono i misteri che ci accompagnano durante le stagioni, e alcuni di questi non sono stati apertamente spiegati all'interno della Serie. Per sapere la verità dobbiamo essere noi a cercarli, a scoprire cosa si cela dietro quelle situazioni rimaste in sospeso. Un esempio è la famosissima storia dell'ananas: come ci è arrivato un ananas sul comodino di Ted? Beh la risposta potete trovarla qui.
La storia dell'ananas dunque è risolta, mentre c'è un'altra cosa che in realtà non è stata rivelata: la battuta che ha fatto rabbrividire Lily così tanto da scomparire per 4 settimane.
Se ricordate, nell'episodio 20 della quarta stagione, Marshall, Barney e Ted sono al pub. Quando arriva Lily, i tre amici sono divertiti da qualcosa. Lily vuole sapere il motivo per cui ridono tanto, ma gli amici sono incerti se dirglielo. Si tratta di una freddura volgare, umorismo da maschi a dire di Ted, e potrebbe dar fastidio a Lily. Ma tutti sappiamo com'è Lily e insomma, non si scandalizzerebbe per una battuta un po' sconcia, no?
Quindi Barney le chiede <<Qual è la differenza fra il burro d'arachidi e la gelatina?>> e la risposta (ricoperta però dalla voce di Ted narratore) fa davvero rabbrividire Lily, che va via indignata.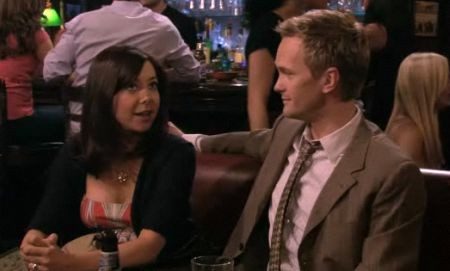 Il motivo per cui Lily è andata via ed è poi rimasta fuori scena fino all'episodio 23 della stessa stagione, è che Alyson Hannigan (attrice che interpreta Lily) era incinta, mentre il personaggio di Lily no. Quindi ha dovuto assentarsi per via dell'evidente gravidanza. Ma insomma, qual è la risposta tanto scabrosa da non poter essere detta?
Si tratta di un gioco di parole che può essere compreso solo in inglese. In italiano non ha senso. Se siete minorenni, smettete di leggere adesso.
La domanda originale è "What's the difference between peanut butter and jam?"
E la risposta è "I can't peanut butter my dick up your ass." Ed implicitamente sarebbe quindi: "But I can jam my dick up your ass".
Il gioco di parole sta nella parola Jam, che in inglese significa marmellata (tradotta nella Serie in gelatina), ma significa anche spingere. Quindi in italiano sarebbe:
Non posso burro d'arachidare (??) il mio pene nel tuo sedere. Ma posso spingerlo (jam).
Come detto, in italiano non ha nessun senso. Ma a parte questo, è stata una trovata divertente per far scomparire il personaggio di Lily per un po'.
Anche se, diciamolo, scandalizzarsi tanto per una battuta del genere, per una come Lily è abbastanza inverosimile. D'altronde non è nemmeno la battuta più sconcia che abbiamo mai sentito, no?
Leggi anche: I 7 misteri di How I Met Your Mother