Brooklyn Nine-Nine è una sitcom leggera e divertente, capace di rendere una stazione di polizia un ambiente in cui la maggior parte delle volte si finisce la giornata con una vittoria o anche un semplice sorriso.
Dietro una serie così sagace, semplice ed esilarante non poteva che esserci Michael Schur, lo scrittore e produttore di comedy iconiche come Parks and Recreation, The Good Place e The Office (US). Con l'amico Dan Goor, Schur aveva avuto l'idea di creare una nuova comedy ambientata in un distretto di polizia newyorkese, setting raramente usato nelle altre serie tv contemporanee.
È con questa premessa che parte Brooklyn Nine-Nine, dimostrando sin da subito che per far ridere basta essere genuini e forse un po' buffi.
Le gag comiche che, nonostante il setting, raramente puntano al black humor, riescono a strappare una risala al proprio pubblico non solo per l'ingenua arguzia con cui sono scritte, ma anche per le doti recitative degli attori. Il protagonista della serie è Jake Peralta (di cui abbiamo già parlato qui), un detective molto abile nel suo lavoro, ma anche molto competitivo, infantile e con la battuta pronta: il suo personaggio prende vita con Andy Samberg, l'attore protagonista di innumerevoli gag in Saturday Night Live e autore di molte canzoni parodiche col suo gruppo The Lonely Island.
Samberg ha la capacità di rendere il suo personaggio arrogante, ma non antipatico! È piuttosto un personaggio ingenuo e, a volte, troppo impulsivo. I guai in cui tende a cacciarsi per colpa della propria cocciutaggine vengono di solito architettati con l'amico/partner di lavoro Charles Boyle e risolti dall'efficientissima Amy Santiago, l'esatto opposto del detective Peralta.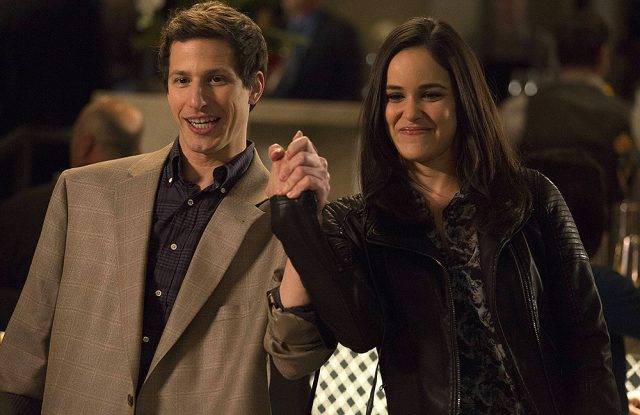 Amy Santiago è un detective preciso, metodico, riflessivo e in aperta competizione con Peralta. Nonostante il suo carattere sembri molto pedante, riesce comunque a divertire il pubblico con le proprie riflessioni, passioni e col sangue freddo con cui affronta le situazioni più disparate, sicura delle proprie capacità. Entrambi i detective, all'inizio della prima stagione, cercano di entrare nelle grazie del nuovo capitano del dipartimento Raymond Holt. Apertamente omosessuale, è un personaggio esilarante quanto inflessibile: la capacità dell'attore Andre Braugher di mantenere un viso impassibile anche nei momenti più comici dona al suo personaggio un appeal irresistibile.
Nonostante l'assurdità di alcune scene, Brooklyn Nine-Nine sa divertire perchè mantiene alto il contrasto tra le gag comiche e come queste vengono percepite dai personaggi. Molto spesso sono infatti i personaggi stessi a far scattare la risata, rispondendo in maniera estremamente seria o goffa a situazioni pericolose: è ormai divenuto iconico l'inizio della 5×17, in cui Jake Peralta, durante un interrogatorio per individuare l'identità di un assassino, fa cantare ai sospettati una canzone dei Backstreet Boys. Le armonie diventano irresistibili per il detective che, facendosi prendere la mano, dimentica per un attimo l'obiettivo di quella richiesta e inizia a cantare entusiasta con i sospettati dall'altra parte del vetro.
Sono anche le singole battute ripetute nel tempo a rendere Brooklyn Nine-Nine più divertente e allo stesso tempo familiare: per esempio i molteplici "Title of your sex tape" che vengono detti dopo frasi che decontestualizzate risulterebbero ambigue o gli episodi, ricorrenti in ogni stagione, in cui durante Halloween tutto il distretto si sfida per diventare il re (o la regina) induscusso per un anno a cui tutti devono portare rispetto per le proprie capacità di detective (e che rientrano nella lista dei nostri episodi preferiti).
La cosa che fa più ridere di Brooklyn Nine-Nine è la sua grande versatilità: è una serie comedy che riesce a mantenersi leggera, ma che sa fermare un attimo la giostra di gag e battute per soffermarsi su momenti più dolci o più tragici per poi tornare, con estrema delicatezza, allo humor di sempre. Una serie tv fa ancora più ridere quando sa modulare la propria verve senza scadere mai nell'offensivo, nel volgare o nel cattivo gusto. Brooklyn Nine-Nine con i suoi variegati personaggi, i twist originali invece di gag solitamente offensive e la sua semplice voglia di intrattenere e divertire è una delle comedy più riuscite e apprezzate del panorama contemporaneo.