I fan di Friends, nel corso degli anni di messa in onda e dei molti rewatch, hanno trovato numerosi errori o buchi di trama presenti nella serie, come il vestito da sposa di Monica che continuava a cambiare o l'interminabile gravidanza di Rachel. Quello che andiamo a vedere oggi è un errore di continuity che si trova nel primo episodio della sesta stagione, The one after Vegas.
Nel doppio episodio conclusivo della quinta stagione di Friends, The One in Vegas, tutto il gruppo decide di andare a Las Vegas a trovare Joey. Durante il volo Ross, dopo una serie di imbarazzanti situazioni, decide di disegnare sul volto di Rachel baffi e pizzetto non accorgendosi che il pennarello usato è indelebile.
Ed è proprio questo stupido scherzo che fa degenerare la situazione tra i due e ci porta dritti al nostro errore di continuità. Rachel infatti a causa dell'imbarazzo non vuole mostrarsi in pubblico e così i due rimangono in camera a ubriacarsi e giocare a carte.
Più tardi, ormai annoiati e ubriachi fradici, decidono di scendere al casinò non prima di aver disegnato un'indelebile faccia di gatto su Ross. L'episodio si conclude con la felice coppia che esce da una cappella ufficialmente sposata e con le loro belle facce disegnate ancora intatte.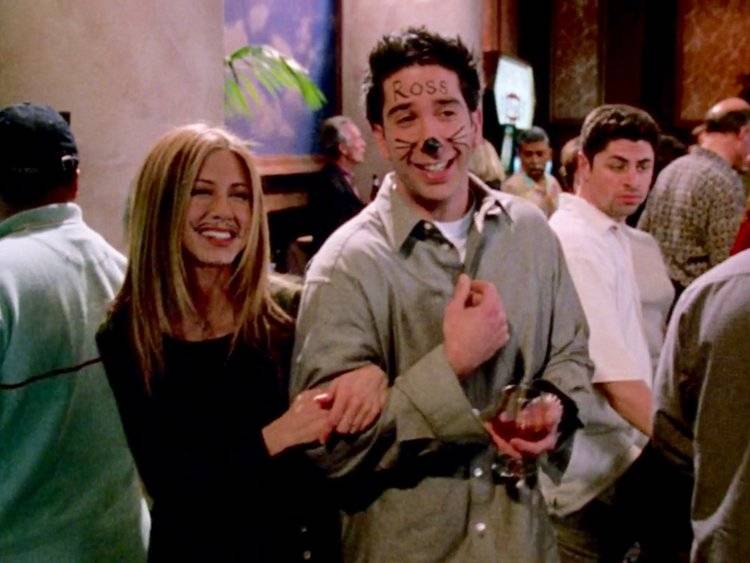 E i due hanno ancora la faccia disegnata nell'episodio d'apertura della sesta stagione quando si risvegliano insieme nello stesso letto. Quando però raggiungono il gruppo per colazione nella scena successiva, i loro volti sono perfettamente puliti. Nessuna spiegazione su come abbiano fatto a cancellare i segni che solo la sera prima erano stati definiti indelebili e impossibili da cancellare. Forse sono magicamente spariti, come sembra essere accaduto anche nella sceneggiatura.
Ma con i suoi 236 episodi qualche svista è plausibile e Friends si merita di essere perdonata.