Cosa pensereste se vi dicessimo che Friends e Parks and Recreation condividono lo stesso universo narrativo? Non solo perché entrambe le serie sono state trasmesse da NBC, ma anche perché potrebbe esistere una storia d'amore crossover, improbabile ma deliziosa, tra Rachel Green e Ben Wyatt.
L'utente di Reddit Phefflin ha elaborato una teoria che sembra assurda ma che, una volta argomentata, non vi sembrerà più così tanto strampalata, sebbene il debutto di Parks and Recreation sia arrivato 5 anni dopo la conclusione di Friends.
Nell'episodio 7×09, La bicicletta (The One with All the Candy), Rachel racconta agli amici di aver passato la notte con Tag, il suo assistente 25enne e attuale cotta, ma di non aver dormito con lui perché ancora al primo appuntamento. A questo punto Monica inizia a snocciolare una serie di ex amanti di Rachel che smentiscono questa sua nuova pratica e nell'elenco spunta il nome di Ben Wyatt.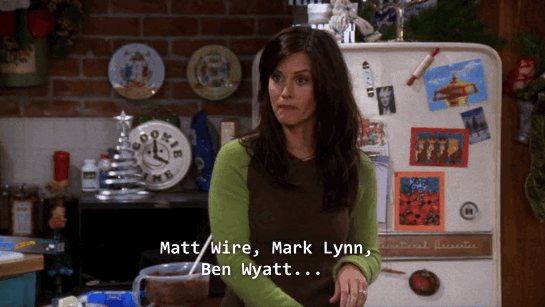 Per consolidare la teoria che Rachel abbia veramente avuto una breve storia d'amore con Ben, l'utente Reddit si è spinto decisamente oltre. Ha infatti calcolato che nel 2000, quando la settima stagione di Friends andava in onda, Rachel aveva 29 anni mentre Ben 26 rendendo possibile una relazione tra i due.
Due sono le ipotesi più accreditate sul come si siano incontrati. La prima sostiene che Rachel sia andata a sciare in Minnesota, e sappiamo quanto la ragazza ami sciare, l'altra ipotizza che sia stato Ben ha recarsi a New York in occasione del Comic-Con annuale, che un nerd come lui non poteva farsi sfuggire.
Sarà sicuramente un caso di omonimia e tutto questo sta probabilmente succedendo solo dentro la testa e il cuore dei fan. Ma, se mi permettete una citazione, perché dovrebbe voler dire che non sia comunque vero?