Friends è la serie tv che ha segnato un'intera generazione, ecco perché con i numerosi re watch ci ritroviamo a notare nuovi particolari o in questo caso piccoli errori. In questo articolo, vi avevamo parlato di quella volta in cui Rachel e Monica erano state sostituite da dalle controfigure. Oggi invece, l'attenzione viene posta sull'abito nuziale di Monica.
Nell'episodio della settima stagione intitolato The One With the Cheap Wedding Dress, Monica si scontra con Megan Bailey, che ha posato gli occhi sullo stesso vestito da sposa. Quando le due si incontrano in una boutique che vende vestiti a prezzi scontati in quel di Brooklyn, Monica è furiosa e con l'aiuto di Rachel e Phoebe riesce a "vincere" il vestito. Ma i fan hanno notato un problema con il suo abito da sposa.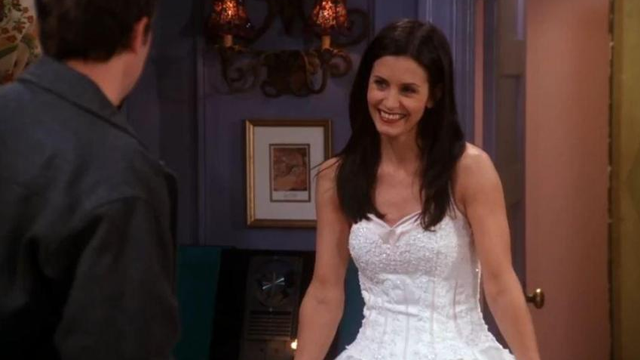 In realtà non è lo stesso vestito che aveva provato prima. L'originale aveva una scollatura diversa, con perline lungo il corpetto. Quello conteso, invece, aveva una scollatura a cuore ed era di pizzo. Quando torna a casa e mostra a Chandler il vestito (a cui ha dovuto poi rinunciare per poter ottenere gli Swing Kings), è tornata con il vestito originale.
Un superfan si è rivolto a Reddit per segnalare l'errore: "In The One With the Cheap Wedding Dress, Monica cerca un vestito nel costosissimo negozio, poi la vediamo lottare con quella ragazza per un vestito diverso – ogni volta che la vedo, mi fa uscire pazza!". Un'altra persona ha chiesto: "Quando mostra a Chandler il vestito alla fine dell'episodio, non è di nuovo quello che aveva preso per primo?". In più il giorno del matrimonio il vestito non era neanche lontanamente paragonabile ai due in questione sopra: di raso, senza pizzo né perline.
Forse non è un'errore come vogliono credere i fan, magari così come lo sposo anche noi non avremmo dovuto vedere il vestito di Monica, così da riservarci la sorpresa finale il giorno del matrimonio!