Che film e serie tv utilizzino spesso delle controfigure per determinate scene non è cosa nuova. Tuttavia che lo facciano girando con inquadrature che rivelano palesi differenze tra attori e controfigure non è poi così scontato. Friends non è estranea a questo genere di errore tecnico, e i fan se ne sono accorti solo negli ultimi anni. Se pensiamo al modo in cui guardiamo una serie oggigiorno possiamo affermare con sicurezza che Friends sia andata in onda in un'epoca decisamente diversa da quella attuale. Venti/venticinque anni fa non c'erano gli strumenti per guardare e riguardare una serie al punto da scovarne tutti gli errori possibili immaginabili. Nell'era dello streaming, di Netflix e del binge watching selvaggio, anche Friends è stata messa al microscopio e le falle riscontrate sono innumerevoli.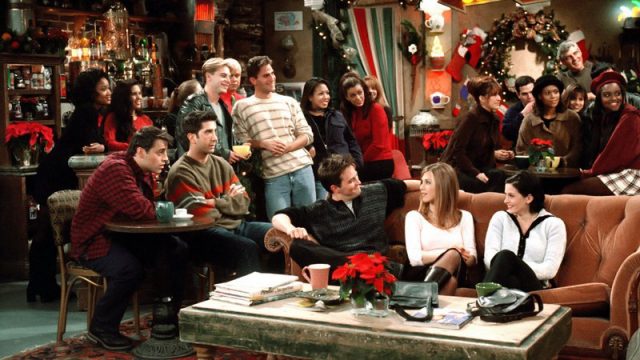 Negli ultimi anni infatti molti fan hanno notato la presenza di veri e propri "intrusi" in alcune scene di Friends.
I supposti intrusi si sono rivelati essere controfigure utilizzate per sostituire Monica e Rachel. In The One With The Mugging (episodio 15 della nona stagione) durante una conversazione a casa di Monica appare al posto di Rachel una donna che chiaramente non è Jennifer Aniston. In questa scena di Friends, Joey racconta del provino con l'attore Leonard Hayes (interpretato da Jeff Goldblum) e abbiamo una Rachel sorridente accanto a lui. Ma nella scena successiva… Sconosciuta X con zigomi, sorriso e capelli simili a quelli della Aniston ma non di certo suoi. Incredibile è il fatto che la troupe non abbia nemmeno avuto premura di far indossare alla controfigura la stessa maglietta della Aniston. La camicia a quadri della sconosciuta, infatti, è forse l'indizio che rende più palese la sostituzione della star di Friends in questa sequenza.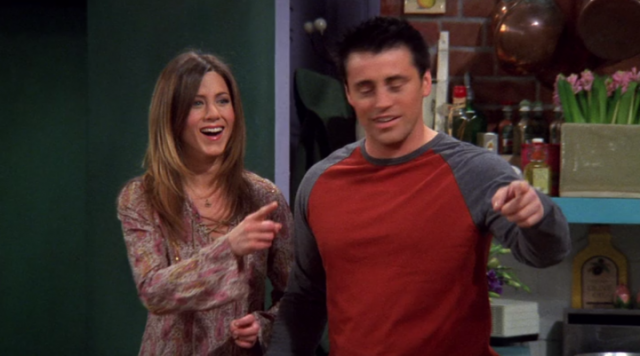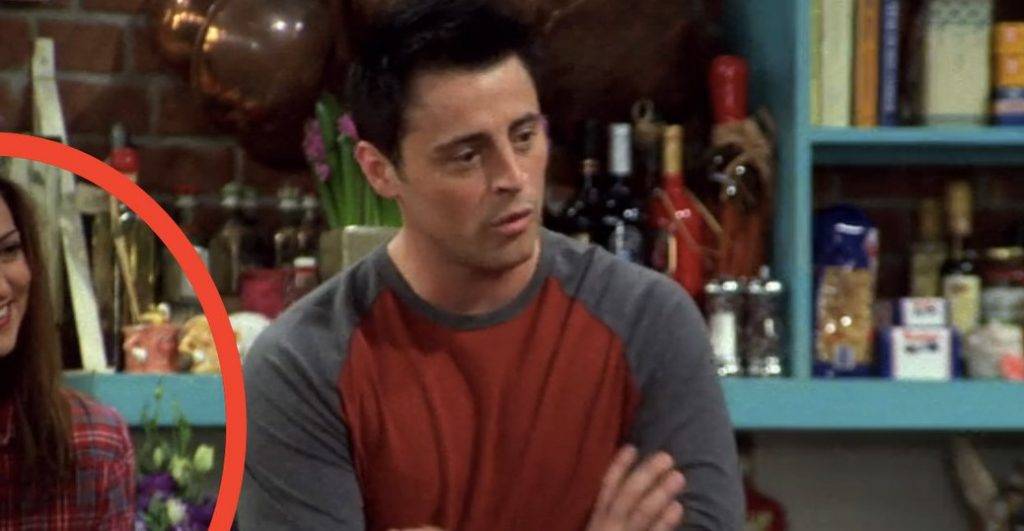 Altra scena incriminata per un pasticcio con le controfigure è in The One With Rachel's Date nell'ottava stagione.
Phoebe e Monica chiacchierano sedute sul divano del Central Perk. Monica appare esattamente come dovrebbe quando la ripresa è frontale. Ma quando la macchina da presa si sposta alle sue spalle per inquadrare Lisa Kudrow (Phoebe)… Voilà! Courtney Cox (Monica) sembra aver subito da poco un intervento di chirurgia plastica. La donna che parla con Phoebe in questo frame ha capelli molto più corti di quelli della Cox e un profilo completamente diverso. È chiaramente una controfigura il cui viso è stato inquadrato più del dovuto. Un po' come quando sul set de Gli Occhi del Cuore, in Boris, Ferretti sceglie membri a caso della troupe per interpretare delle comparse. Io quei giorni di riprese sul set di Friends me li immagino così, in stile: "Ok chi fa il sodomizzato di Bergamo?".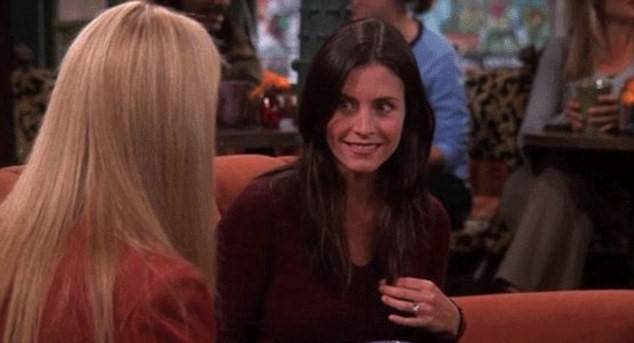 Noi ne avevamo parlato già in questo articolo. Tuttavia è incredibile come queste scene di Friends siano state girate tra il 2001 e il 2002 ma gli errori siano stati notati solo nel 2015.
Speculazioni più ardite addirittura sostengono che la stessa donna che ha sostituito Rachel nella nona stagione sia apparsa indirettamente anche nell'ultimo episodio di Friends. Quando Rachel sta per raggiungere Parigi, infatti, lo steward di terra mostra allo spettatore il passaporto della donna, ma qualcosa non quadra. Per alcuni, infatti, la foto sul documento non sembra somigliare molto alla Aniston. Tuttavia non è nulla di così palese come le scene sopra citate, i cui errori potrebbero essere dovuti a sviste correlate ai cambiamenti tecnici delle inquadrature verificatisi nel corso degli anni. Ricordiamoci che Friends è andata in onda in un arco temporale piuttosto ampio a cavallo tra due decenni che hanno visto l'utilizzo di tecnologie che si sono evolute nel corso del tempo.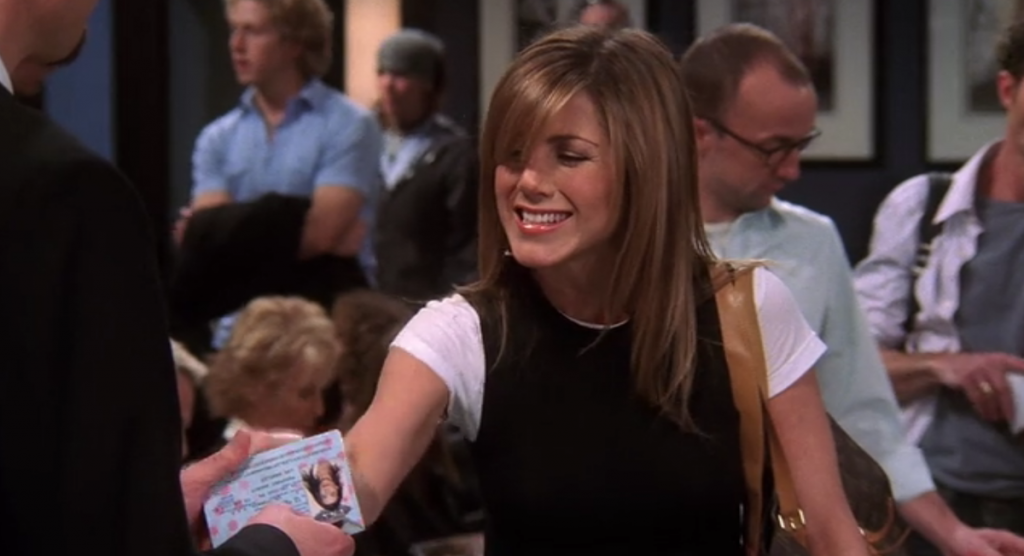 Volete sapere il motivo di queste controfigure? Presto detto.
Inizialmente Friends era trasmesso in 4/3, quindi con un'inquadratura notevolmente più ristretta. In tutte le repliche, negli anni, è stata ripristinata l'inquadratura a 16/9. Questa ha finito per mostrare più chiaramente sostituzioni che inquadrature più strette degli anni precedenti avrebbero nascosto. E tutti questi glitch sono venuti alla luce.
Comunque sia sorvolando sull'errore in sé e per sé è curioso notare come a distanza di più di vent'anni dalla messa in onda del primo episodio, Friends sia ancora in grado di suscitare tanta morbosità nei fan. La riscoperta della serie da parte delle nuove generazioni (complice l'inserimento nel catalogo Netflix) ha portato una marea di fan, nuovi e veterani, a sottoporre la serie a un'analisi quasi chirurgica. È così che innumerevoli errori, di natura tecnica e contenutistica, sono emersi negli ultimi anni.
Eppure Friends non smette di essere un cult amato incondizionatamente.
E questa spasmodica ricerca dei dettagli non fa altro che alimentarne la fama. Potremmo definirla parte dell'eredità che la serie ha inesorabilmente lasciato a coloro che non hanno avuto la fortuna di seguire Friends ai tempi nella sua ascesa.