Attenzione: evitate la lettura se non volete imbattervi in spoiler su Friends
Un gemello nasce sempre prima dell'altro. È nella natura delle cose, anche se la differenza d'età tra i due neonati è ridotta nell'arco di pochi minuti. Ma non è sempre vero. Capita talvolta che la dilatazione temporale sia maggiore o addirittura estrema. Qualche ora, nella stragrande maggioranza dei casi. Qualche giorno nelle situazioni più rare. Addirittura due anni, se si parla di serie tv. Lo sa bene Ursula Buffay, sorella della ben più nota Phoebe. Due anni, un'infinità. Dovremmo ricordarlo tutti, vista l'improbabilità della tipologia di parto. Invece non lo sa quasi nessuno. Manco i fan più attenti di Friends, tenuti finora all'oscuro di questa storia molto particolare.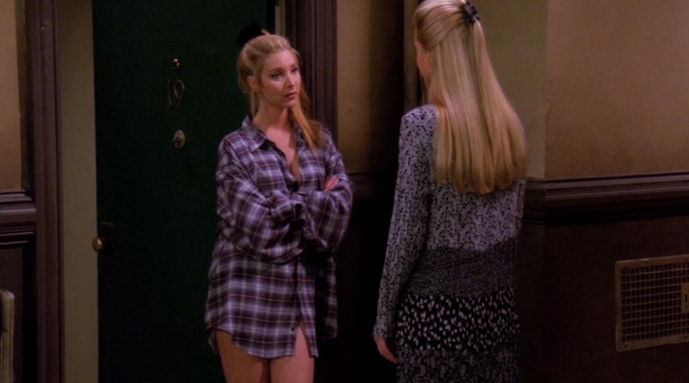 La presenza bizzarra, costante e spesso fastidiosa di Ursula ha caratterizzato la vita di Phoebe, trovatasi a più riprese ad avere a che fare con la sorella cameriera, impegnata per un breve periodo con Joey, che ha intrapreso una carriera anche nel mondo del porno. È comparsa solo in 8 dei 236 episodi di Friends, ma la ricordiamo tutti. Quello che ci era sfuggito finora, tuttavia, è che Ursula è nata molto prima della sorella. E quindi di Friends. Esattamente due anni prima, nel 1992. Quando ancora Phoebe Buffay non esisteva e con ogni probabilità non era manco nella testa di Marta Kauffman e David Crane, creatori di una delle serie più amate di tutti i tempi.
Che diavolo è successo? La risposta è più semplice di quel che sembra. La connessione tra i due personaggi è nata nel 1994, nel momento in cui Lisa Kudrow, interprete di entrambe, ha iniziato la sua esperienza con Friends. Per quale motivo? L'attrice faceva parte anche del cast di un'altra comedy in onda per sette anni dal 1992 al 1999, Mad About You (meglio conosciuta in Italia col titolo Innamorati Pazzi). Il ruolo ricoperto era ovviamente quello della giovane cameriera del ristorante Riff's, presente anche nell'universo narrativo di Friends per il motivo che ormai avete capito.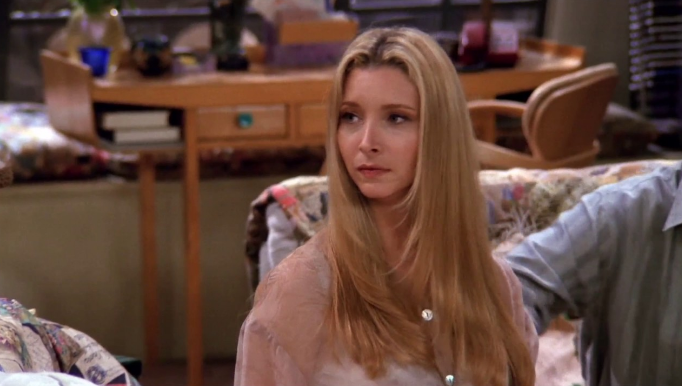 Mad About You e Friends erano entrambe ambientate a New York, erano entrambe prodotte e trasmesse dalla NBC e spesso andavano in onda nello stesso giorno (il giovedì) una dopo l'altra. La presenza della Kudrow nelle due comedy avrebbe creato non poca confusione, e si decise così di unire gli universi narrativi. Con la creazione di un legame tra Ursula e Phoebe, sorelle gemelle per necessità, ma non solo. Perché la NBC decise addirittura di dar vita ad un vero e proprio crossover. Con l'apparizione di Jamie e Fran, protagonisti di Mad About You (seppure non venga esplicitata la loro identità), in un episodio di Friends in cui entrano al Central Perk e scambiano (ovviamente) Phoebe per Ursula.
E soprattutto con il blackout che abbiamo visto in The One with the Blackout (settima puntata della prima stagione di Friends), provocato da Jamie in Pandora's Box (sesto episodio della terza stagione di Mad About You). Manco a dirlo, la data della messa in onda è la stessa (3 novembre 1994), e se a questo aggiungiamo che lo stesso blackout ha delle conseguenze anche in un'altra comedy della NBC ( Madman of the People) il cerchio si chiude: Ursula e Phoebe Buffay sono solo la punta di un iceberg che coinvolge, per motivi diversi di cui parleremo in seguito, persino Seinfeld. È abbastanza per affermare che Friends sia, insospettabilmente, uno spin-off? No. Ma è sufficiente per guardare Ursula con occhi diversi. Consapevoli della storia che ci aveva nascosto fino ad oggi.
Alla faccia di chi pensa ingenuamente che una coppia di gemelli non possa nascere a due anni di distanza l'uno dall'altro.
Antonio Casu