GLI ALTRI
Entrambe le Serie ci hanno pienamente convinto: l'inferno sono decisamente gli altri.
Tuttavia, anche in questo caso, le origini e gli sviluppi sono molto diversi.
Lost ha dato tutto un nuovo sapore di terrore e minaccia nella parola "Others". Inizialmente, tendiamo a trovarci pienamente d'accordo. Più passano le stagioni, tuttavia, più la trama si complica, e l'apparente malvagità degli "Altri" si contestualizza. Avendo modo di affrontare la storia da vari punti di vista e vari contesti temporali, vediamo quanto sappia essere difficile puntare definitivamente un dito contro un gruppo colpevole. I vari gruppi, i vari "Altri" di Lost hanno i loro motivi, e spesso ognuno cerca di fare ciò che crede essere genuinamente la cosa migliore.
Certo, l'incapacità di potersi spiegare senza frasi subdole e azioni controverse ci porta a dubitare costantemente e a tenerci con il fiato sospeso. Si potrebbe forse dire che certe situazioni avrebbero potuto risolversi più facilmente se fosse stata fatta chiarezza sin da subito. Ma finché ciò è finalizzato a creare una narrativa avvincente come quella di Lost, non ce ne lamentiamo molto.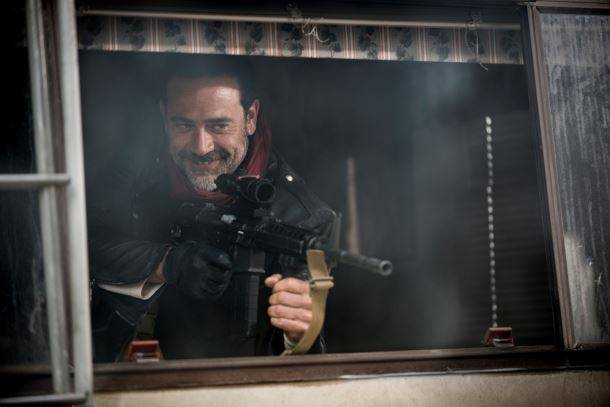 Il contesto apocalittico di The Walking Dead predispone invece per tante grandi dimostrazioni di quanto sappia essere infame la "legge della giungla". In un contesto in cui la sopravvivenza è tutto, clan criminali si oppongono al gruppo-famiglia di Rick&Co. Dagli orribili mezzi per giustificare il fine idilliaco del Governatore, alla follia degli ex crocerossini di Terminus, a "Lupi" invasati, fino al nostro amatissimo cattivone mafioso qui sopra.
In realtà non finisce qui. The Walking Dead ci mostra ampiamente come episodi di idiozia, illusioni e incapacità di organizzarsi e gestire una situazione possano essere letali. Le regole del gioco sono cambiate e "i nostri" cercano di trovare un compromesso. Quando è possibile, almeno.