LA SOPRAVVIVENZA
La sopravvivenza è un tema cruciale sia in Lost sia in The Walking Dead.
In Lost i sopravvissuti all'incidente aereo devono sopravvivere sulla misteriosa isola ricca di pericoli quanto di papaya. In The Walking Dead i sopravvissuti devono cercare disperatamente di tirare avanti in un mondo che non è più lo stesso (e che potrebbe non essere mai più tale).
I differenti scenari danno vita a sviluppi diversi. Sull'isola di Lost i personaggi devono sopravvivere da subito più alle misteriose presenze che sembrano popolare l'isola. Fra orsi polari, fumo nero assassino, trappole e gli infamissimi "Altri". La fame è un problema che si presenta e si risolve quasi subito grazie alla combo John&Jin e l'infinito accesso alla frutta. Successivamente, la scoperta e l'arrivo di altre provviste arricchiscono notevolmente la dieta dei personaggi.
In The Walking Dead la fame sa essere un problema anche abbastanza serio. Recuperare il cibo espone i personaggi a rischi continui. E, almeno per diverse stagioni, i vaganti sono una minaccia più pressante, costante e violenta degli orsi polari e del misterioso "mostro" di Lost.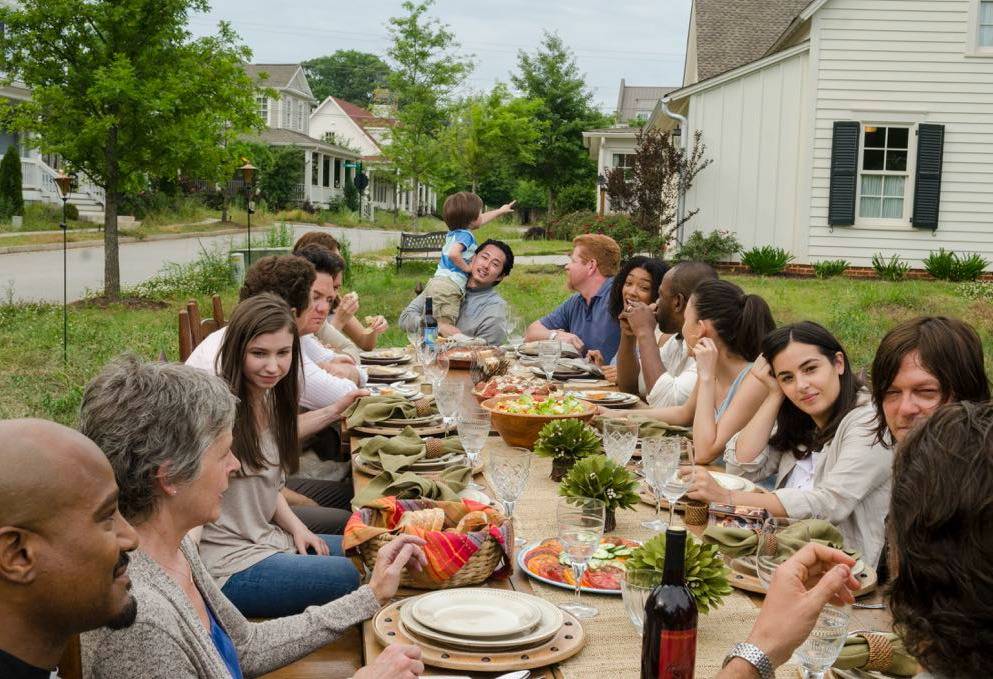 Non è decisamente un caso che la fantasia idilliaca di Rick sia una somma di serenità, cibo, gruppo e procreazione. Tutte queste cose sono sempre in pericolo, sempre fragili, o rischiano fortemente di finire male in The Walking Dead.
C'è anche da dire che fra i personaggi principali di Lost abbondano persone piene di talento. Esperti cacciatori, ingegneri, un abilissimo chirurgo, un torturatore che può sempre servire, e anche un pizzico di conoscenze omeopatiche. John e Kate sono abili a seguire tracce di ogni tipo. E il gruppo in generale sembra abbastanza capace di organizzarsi e cooperare nelle fasi iniziali.
In The Walking Dead i personaggi tendono ad avere meno risorse utili a sopravvivere a un'apocalisse. Certo, non mancano i personaggi in grado di badare a se stessi e agli altri. Ma molti personaggi sono costretti ad imparare a sopravvivere superando situazioni difficili. E spesso anche un piccolo sbaglio si rivela fatale. Anche Lost ha la sua lista di caduti, fra personaggi più o meno principali e comparse. Ma la lista di The Walking Dead è sicuramente più lunga.