The Walking Dead e Lost sono due Serie Tv che certamente occupano uno spazio speciale nel cuore della maggior parte degli appassionati di Serie Tv. Per molti una delle due è stato il primo amore seriale. Due colossi in termini di ascolti e fedeltà della fanbase, queste Serie ci hanno fatto appassionare, emozionare e a volte anche un po' arrabbiare.
La grandissima, epica, indimenticabile avventura di Lost inizia il 22 settembre 2004 e si conclude, con un portentoso finale destinato a dividere per sempre la sua audience, il 23 maggio 2010.
Appena due mesi dopo, il 23 luglio 2010, al San Diego Comic-Con vengono mostrate alcune scene appartenenti a una nuova Serie che avrebbe di lì a poco fatto esplodere l'indice di ascolti. Nella notte di Halloween 2010 ha ufficialmente inizio The Walking Dead.
Lost e The Walking Dead sono certamente diverse, ma abbondano anche i temi in comune. Entrambe le storie hanno inizio con una rottura drastica con l'abituale vita dei personaggi rappresentata da un evento tragico.
Ovviamente si sviluppano in maniera completamente diversa, e una possibile preferenza può essere anche determinata da gusti personali.
Impossibile non tener presente una differenza fondamentale: il ciclo narrativo di Lost si è concluso da tempo. Abbiamo avuto modo di vedere e rivedere la Serie. Abbiamo potuto scoprire prospettive nuove considerandola nella sua interezza, anche a volte cambiando idea sul finale (come testimonia un collega in questo articolo).
The Walking Dead ha appena raggiunto la conclusione della sua settima stagione, fra esaltazione e sprazzi di amarezza (ne abbiamo parlato in questo articolo). Se da un lato non c'è alcuna conferma di un finale imminente e il modo in cui la trama si è sviluppata nelle ultime tre stagioni ha lasciato l'amaro in bocca a molti, per esprimere un giudizio più preciso sulla Serie bisognerebbe attendere che giunga alla sua conclusione.
Vediamo dunque come queste amatissime Serie trattano in maniera simile o diversa vari elementi
L'AMBIENTAZIONE
In Lost l'ambientazione, l'isola sulla quale sono bloccati i sopravvissuti, è un personaggio vero e proprio. E forse addirittura protagonista. Anche se non volessimo seguire John Locke nella sua attribuzione di parti anatomiche e intenti precisi all'isola, è certamente innegabile che l'isola abbia un ruolo talmente centrale da quasi richiedere una maiuscola. Ciò è certamente enfatizzato dai misteri che la circondano. Oltre a comporre una parte fondamentale della trama e di ciò che più amiamo in Lost, le presenze misteriose che popolano l'isola contribuiscono a renderla una presenza attiva, ben lontana dalla semplice passività di un'ambientazione generica.
Maestosa, a tratti incantevole, ma spesso anche terrificante, l'isola sembra possedere leggi e intenti che sfuggono al controllo degli abitanti umani.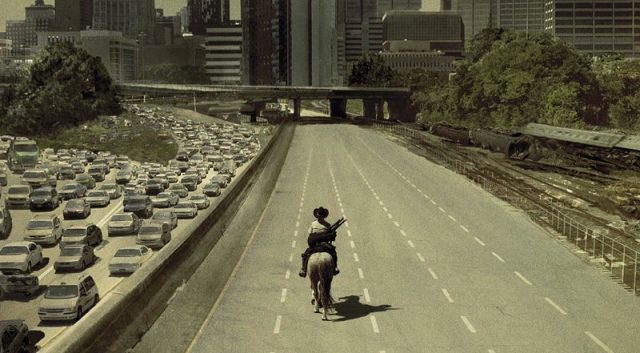 In The Walking Dead l'ambientazione è trattata in maniera diversa. I personaggi che popolano The Walking Dead non si trovano in un luogo fuori dal comune in senso geografico (e con il carattere dell'Isola di Lost). È un tipo diverso di isolamento. Il trauma di questi personaggi è che il mondo, i paesaggi che erano così familiari sono adesso diventati estranei. Pericolosi, conquistati, quasi posseduti dalla malattia, dal continuo aberrante ritorno della morte.
L'impatto più forte di questa perdita del controllo sull'ambiente si vede nelle prime due stagioni.
Nella prima stagione la città di Atlanta è ripresa nella sua improvvisa scheletrica skyline anche nel poster promozionale. Il contesto dell'epidemia e dell'apocalisse zombie non hanno personalità vera e propria. L'inquietudine deriva proprio da questa impassibilità, dal mistero che circonda le origini di questa crisi, dal senso di impotenza di fronte questo velo di morte che trasforma luoghi animati e vivi in gusci polverosi. Ai misteriosi bunker di Lost si sostituiscono case fatiscenti. L'agghiacciante senso di quotidianità tradita.
La seconda stagione abbandona l'ambiente cittadino per estendere questa sensazione agli spazi aperti. Il corpo umano, "l'ambiente" che occupa la persona è violato dallo stato di "vagante". E la natura, gli ampissimi spazi della splendida Georgia, sono violati dalla minaccia, dalla consapevolezza che non possono essere abitati e vissuti come un tempo.