I LEADER
In Lost la figura del leader fra i sopravvissuti si divide fra John e Jack, rappresentanti due approcci opposti. John, l'uomo della fede, l'uomo del destino, non ha tanto interesse nel guidare il gruppo quanto nel trovare la propria strada, seguendo i progetti che sente che l'isola abbia per lui. Pur essendo un'anima solitaria, Locke finisce col prendere decisioni che hanno un impatto totalizzante sul gruppo.
Jack si impone, invece, da subito come leader ideale nel gruppo. Meticoloso, guidato da uno spirito strettamente empirico e abituato a gestire situazioni di stress. Riesce a stabilire le priorità in un gruppo ancora sconvolto e in preda alla confusione e resterà una figura di riferimento principale.
Ma con il passare del tempo le posizioni diventano un po' più complicate. Man mano che i personaggi vengono divisi e fanno esperienze diverse, sorta di leader occasionali sembrano sostituire la figura di un leader centrale. Per quelli che sono gli sviluppi di Lost è anche giusto che sia così.
In The Walking Dead le cose funzionano diversamente. Per le prime stagioni, disquisizioni interne al gruppo sono più frequenti e portano spesso a situazioni pericolose. Se inizialmente anche Shane sembra volersi imporre come leader, la lotta con Rick si basa tanto su come sia più giusto gestire il gruppo quanto su una demarcazione di territorio che tocca tasti profondamente personali.
Il termine "Ricktatorship" sarà probabilmente familiare ai fan della Serie. Rick diventa leader quasi da subito, con naturalezza. E il prezzo di questa responsabilità lo paga tutto, a più riprese. E si vede!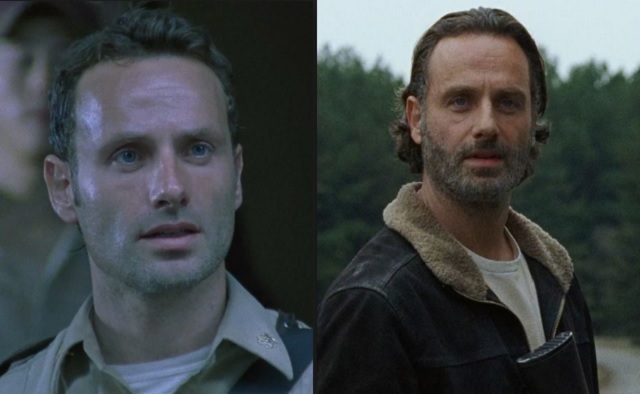 (Confronti di questo tipo ci portano ad avanzare l'ipotesi che Rick Grimes abbia segretamente partorito suo padre e gli abbia lasciato prendere il comando)
Capire quale sia la cosa giusta da fare per il bene del gruppo in The Walking Dead non è mai facile. Ma se in Lost quando le cose vanno male la responsabilità è più vastamente distribuita, Rick certamente soffre spesso nel corso della Serie accuse e contraccolpi.
Fra un figlio che di tanto in tanto accusa una crisi adolescenziale, una moglie che l'ha tradito e gli ha mentito, la consapevolezza di aver ucciso il suo migliore amico e la sensazione di avere sempre le mani sporche di sangue, la vita grama del nostro signor Grimes ci fa ridimensionare parecchio i daddy-issues di Jack.
La vita pre-isola di John, invece, è un altro livello di mai-una-gioia. Vicino forse solo a Meredith di Grey's Anatomy e Sansa Stark.