Non avrei mai immaginato che un giorno mi sarei ritrovata a scrivere un pezzo su The Office, come non avrei mai minimamente pensato che The Office potesse piacermi.
Spinta dai numerosi commenti che l'acclamavano con il titolo di 'miglior comedy di sempre', un giorno di qualche mese fa cominciai questa serie convinta, per partito preso, che no, non ne sarei rimasta rapita come dicevano tutti. Sbagliavo.
La prima stagione non fu niente di che, più di una volta ho addirittura pensato di interromperne la visione, tanto la pesantezza di quei soli 6 episodi fosse scoraggiante. Odioso ed egoista, Michael Scott, il protagonista tanto osannato dai fan della serie, appariva ai miei occhi come un villain guasta feste, un assassino della comicità. Tremendamente mi sbagliavo.
Non lo sapevo, e non avrei mai potuto saperlo se solo non mi ci fossi addentrata, se solo non avessi scelto di dare speranza a quegli episodi così deludenti. Una seconda stagione, poi una terza e poi una quarta ancora, in completa ascesa sentimentale The Office si stava evolvendo di stagione in stagione lasciandomi entrare in un mondo che mai avrei pensato di riuscire a conoscere, che mai avrei immaginato potesse rapirmi fino a questo punto.
Nove capitoli di pura bellezza e comicità al suo più splendente apice, nove stagioni capaci di resistere a un esordio non del tutto brillante, all'allontanamento del suo protagonista e a un finale spaccacuori che riallinea i pianeti restituendoci una visione d'insieme emozionante e perfetta.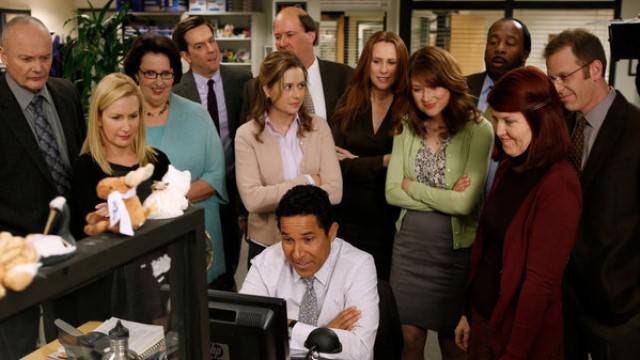 La vita nella Duder Mifflin Company ha tutta l'aria di essere dannatamente noiosa e insignificante. Cosa potremmo mai trovare in una serie comedy, girata con la tecnica del falso documentario e ambientata in un'azienda che si occupa della distribuzione di carta?
Non sono coinquilini pronti a fiondarsi in qualche nuova avventura o amici di sempre uniti da un indissolubile legame. Sono colleghi che timbrano alle 9 ed escono alle 17, non un minuto di più, e che a una prima occhiata non sembrano avere nulla a che fare gli uni con gli altri.
Ma poi arriva Michael Scott che, come il capo-amico che crede di essere per i suoi dipendenti, assolutamente fuori da ogni logica morale trascina dietro di sé – o per meglio dire giù con sé – i suoi adepti in una sequela di brutte figure, momenti imbarazzanti e riunioni alle quali preghiamo di non dover mai prender parte in vita nostra. Queste e molte altre deplorevoli e scomode situazioni sono solo l'antipasto delle rocambolesche avventure che hanno fatto di Michael Scott e della sua leadership un contenuto comico del tutto vincente e avvincente.
Come per magia, la stanca e noiosa vita dei dipendenti della Dunder Mifflin comincia a prendere colore, a tingere quei giorni grigi tutti uguali in una festa mobile travolgente che ci porta a interessarci della vita di un gruppo di impiegati, che da semplici colleghi si trasformano sotto i nostri occhi in una splendida e unita famiglia.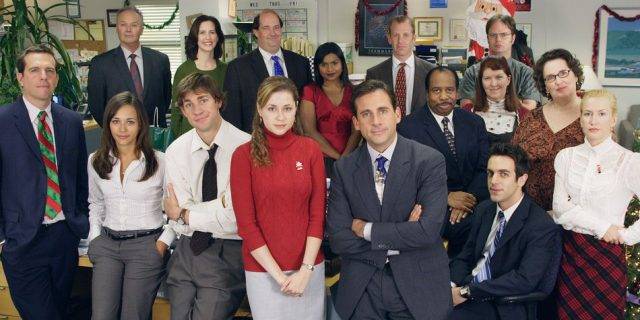 Con Michael nel ruolo di indiscusso capofamiglia, i colleghi dell'azienda prendono poco per volta le sembianze di veri e propri familiari, dalla zia ubriaca Meredith all'inquietante zio Toby, per poi passare dalla coppia felice composta ovviamente da Jim e Pam fino a zia Angela la gattara e Dwight, che non fa altro che essere Dwight.
Tra pinzatrici avvolte nella gelatina e più di qualche difficoltà a entrare in contatto con il narcisismo di papà Michael, la storia di The Office si costella di istanti meravigliosi che, come in un album di ricordi, vorremmo continuare a sfogliare all'infinito.
I matrimoni, le piccole e grandi vittorie, i giochi olimpici d'ufficio, le escursioni alla fattoria Schrute, il Diversity Day e il parkour. Puntate o molto più semplicemente fotografie di una grande serie che è entrata dentro casa nostra come un ospite, ma ne è uscita come un fedele e irrinunciabile compagna delle nostre vite ordinarie.
Molti dicono che l'unico modo per consolarsi dalla fine di The Office sia ricominciarla da capo, in un loop infinito dal quale possiamo ricavare solo cose positive: grandissime risate e momenti di profonda e sincera tenerezza. E ora che sono finalmente, ma anche e soprattutto tristemente, giunta alla fine non posso che fare mia questa sensazione.
Un familiare abbraccio in cui rifugiarsi, un raccoglitore di emozioni che vede al primo capitolo la comicità ma subito dopo una dolcezza profondissima capace di sciogliere anche il più impavido agricoltore di barbabietole.
Litigi, scaramucce, allontanamenti e riavvicinamenti, ma alla fine si fa sempre pace: quello che accade in The Office è ciò che normalmente accade in qualsiasi grande famiglia.
Quasi sull'orlo del precipizio, una volta giunti alla settima stagione e al dolorosissimo addio di Michael, The Office aveva solo due scelte a disposizione: tirare i remi in barca o tirarsi su le maniche, e come nei migliori dei sodalizi, i nostri colleghi preferiti hanno deciso di optare per la seconda opzione, dimostrando che ormai la loro unione era già diventata abbastanza solida per poter reggere anche questo colpo.
Superate le avversità e qualche leggero calo iniziale, The Office riparte con determinazione regalandoci alcuni dei momenti più emozionanti dell'intera serie e consolidando quel connaturato senso familiare che ci ha rapito il cuore quando ancora non sapevamo che sarebbe potuto succedere.
There's a lot of beauty in ordinary things – C'è moltissima bellezza nelle cose ordinarie
E mai come in The Office siamo riusciti a comprendere e confermare quanto questa affermazione sia vera. Una serie potenzialmente basata solo sulla vita d'ufficio è diventata una fedele compagna nei nostri giorni tristi, un'amica fidata in cui rispecchiarsi e un album di ricordi di famiglia in cui sentiamo, ogni maledetta volta, la necessità di tuffarci fino in profondità. Fino al fondale delle nostre emozioni.