Celebre serie tv made in USA, remake dell'omonima serie tv britannica di e con Ricky Gervais, The Office continua a far parlare di sé anche a sei anni dalla sua conclusione.
Presente nel catalogo di Amazon Prime Video, la serie cult è probabilmente uno degli show più apprezzati della piattaforma, nonché pietra miliare del genere comedy in America e nel mondo.
Nonostante si sia parlato molto di un possibile reboot di The Office le notizie ufficiali continuano a scarseggiare lasciando il pubblico adorante senza alcuna risposta.
Desiderio di molti ma incubo di molti altri, mettere nuovamente le mani su The Office potrebbe per certi versi risultare troppo azzardato: un accanimento verso un'opera ormai perfettamente conclusa che, a detta di molti fan, non avrebbe bisogno di alcun prosieguo.
Non tutti però la pensano così! Esiste infatti una controparte che ha talmente adorato le vicende di The Office da volerle rivivere per molti anni ancora con o senza il cast originario.
Ma parliamo di fatti: cosa sappiamo in proposito?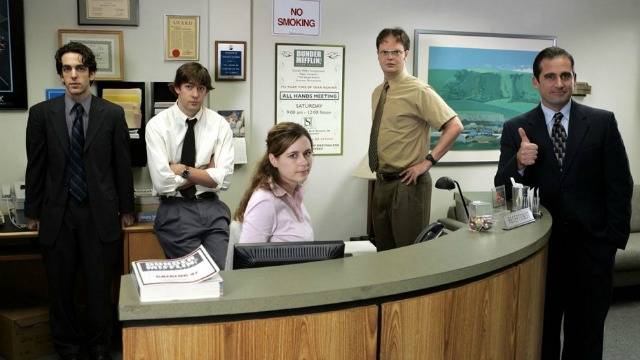 Anche in questo caso gli ideatori e gli stessi attori della serie sono combattuti. Se da un lato Bonnie Hammer ammette senza mezzi termini:
È mia speranza e intenzione realizzare un reboot di The Office.

Bonnie Hammer – Presidente di NBCUniversal Cable
Di un'altra opinione è invece Greg Daniels, ideatore e sceneggiatore di The Office, che in un'intervista ammette le sue perplessità a riguardo:
Si tratta di una creatura così perfetta ed è inevitabile esitare ad aprirla. Abbiamo avuto la possibilità di finirla nel modo in cui volevamo finirla. Non è stato come se fossimo stati interrotti nel bel mezzo di una corsa o qualcosa del genere. Quindi, in un certo senso, è completamente un insieme artistico. Ma, detto questo, non so, il cast ogni tanto parla di tornare insieme in qualche forma, ma non mi sembra un riavvio come quello di Will & Grace. La mia più grande preoccupazione sarebbe quella di deludere proprio gli appassionati. La gente guarderà l'intera serie e poi si ritroverà a guardarla di nuovo. Per me questo significa che l'abbiamo terminata correttamente.

Greg Daniels – ideatore e sceneggiatore di The Office
Nonostante la trama della serie ben si presti a reboot con altri attori, l'opinione di Daniels sembrerebbe protendere verso altro. D'altronde ci è fin troppo familiare l'esperienza di remake che si sono rivelati degli autentici flop.
Non ci resta che aspettare una conferma definitiva per mettere fine a queste voci di corridoio e chiudere, a questo punto per sempre, la grande pagina della televisione statunitense scritta da The Office.