La risposta più comune alla domanda "cos'è la noia?" risulta essere il lavorare in un ufficio, ma è davvero così? Non se prendiamo in considerazione una serie spassosissima come The Office.
Era il 2001 quando Ricky Gervais e Stephen Merchant portarono sulla BBC The Office, serie ambientata nell'ufficio della compagnia fittizia Wernham Hogg Paper Company. La serie ha debuttato negli Stati Uniti sulla NBC il 24 marzo 2005 come serie di rimpiazzo, ma ha poi avuto un grandissimo successo in tutto il mondo.
Il 21 agosto 2012 l'autore Greg Daniels ha annunciato che la nona stagione sarebbe stata l'ultima dello show.
9 stagioni e 201 episodi che hanno trasformato la percezione che il mondo aveva dell'ufficio: le vicende dei personaggi della Dunder Mifflin Paper Company rimarranno nella storia, ma di quali, un amante delle comedy, non può fare a meno?
5) Stress Relief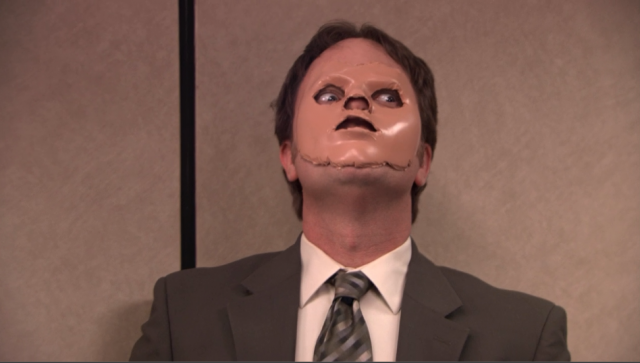 Episodi 15-16, stagione 5.
Dwight, infastidito dal fatto che nessuno dei suoi colleghi abbia prestato attenzione al seminario sulla sicurezza antincendio, decide di creare una simulazione. Rapidamente l'ufficio si trasforma nel luogo meno sicuro al mondo, e finisce con Oscar che cade giù dal tetto, i gatti di Angela che vengono lanciati nel soffitto, Michael che butta l'attrezzatura fuori dalle finestre, e Stanley che ha un infarto.
La seconda parte dell'episodio inizia con Dwight che rischia di essere punito per i danni inflitti e il gruppo che impara le tecniche di rianimazione. Michael decide, dal nulla, che gli operai sono stressati perché sono riluttanti nell'esprimere i loro sentimenti, così organizza un roast comico di se stesso nel magazzino. Questa è sicuramente la parte più divertente della puntata, in quanto Michael ne esce distrutto, com'era prevedibile, e dopo un giorno di pausa, torna in ufficio e insulta tutti i presenti.
La tensione è spezzata da Stanley che scoppia in una grossa risata e Michael si rende conto di quanto sia fortunato a stare in mezzo a quelle persone. (Aww)
4) The Deposition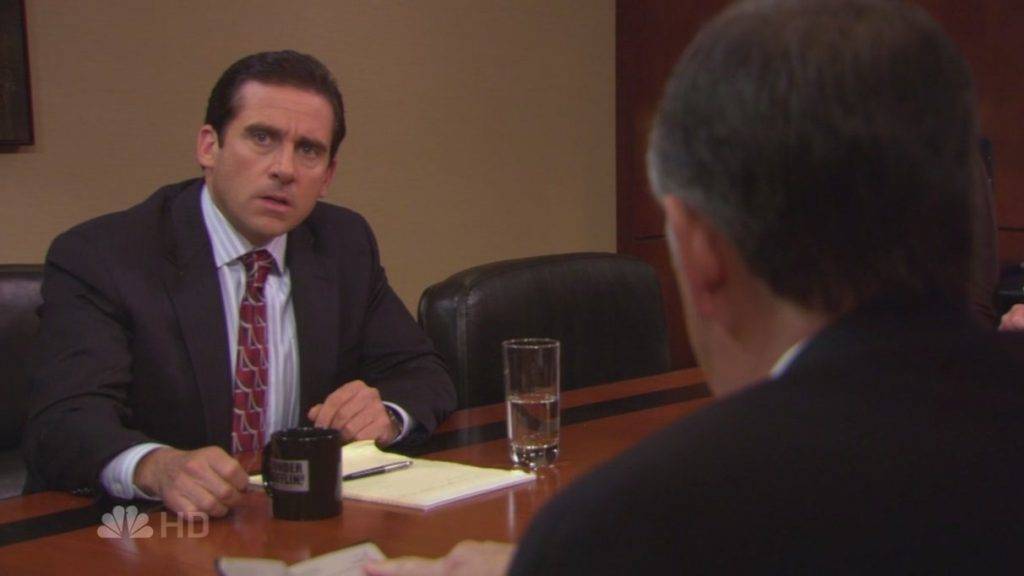 Episodio 12, stagione 4.
Jan e Michael vanno nella sede della Dunder Mifflin a New York per una deposizione. Jan accusa l'azienda di averla licenziata per il suo "ingrandimento del seno". Michael è (forse) pronto a sostenere Jan durante l'udienza per la deposizione, ma Ryan lo esorta a fare la cosa giusta e non infangare la Dunder Mifflin. Michael subito è d'accordo, poi rimane in un terribile conflitto interiore.
Plot twist!
Michael, quando scopre che Jan ha rubato il suo diario per dimostrare la tempistica della loro relazione, è estremamente turbato, e si lascia andare, come sa fare solo lui.
Lawyer: How long have you known Ms. Levinson?

Michael: Six years and two months.

Lawyer: And you were directly under her the entire time?

Michael: That's what she said!
3) The Dundies/ Michael's Last Dundies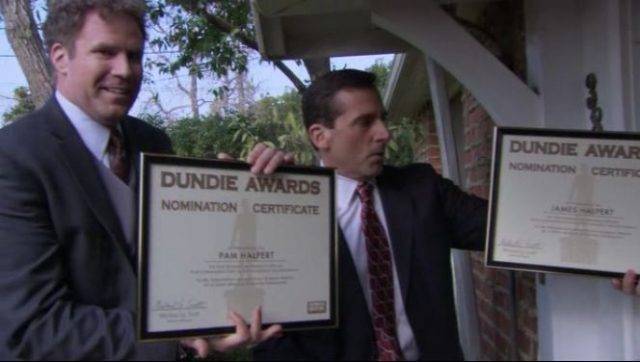 Episodio 1, stagione 2 – Episodio 21, stagione 7.
I Dundies sono la cerimonia annuale di premiazione dell'ufficio, ovviamente ideati da Michael, per dare importanza ai membri della Dunder Mifflin di Scranton.
Per mantenere il morale alto, ogni anno, tutti ottengono un Dundie.
I premi iniziano con Michael che tenta di fare un rap, ma non riesce a stare al passo con i testi, e Oscar che riassume i Dundies come:
Una festa di compleanno per bambini, dove non c'è niente da fare per gli adulti, ma il festeggiato si diverte.
Durante la cerimonia la protagonista è Pam, che, super sbronza, dà un bacio a Jim, essendo però ancora fidanzata con Roy.
Invece durante il 21esimo episodio della settima stagione (se non siete ancora arrivati qui, è meglio che facciate una maratona, come quella che ha fatto questo folle utente Netflix), Michael si prepara a lasciare l'ufficio e allena il suo sostituto Deangelo Vickers (interpretato da Will Ferrell) a prendere il suo posto per i Dundies.
Nella notte della premiazione, i problemi si aggravano fino a quando l'ufficio è costretto a lasciare il ristorante italiano, in cui si tengono le premiazioni e a tornare alla Dunder Mifflin per finire la cerimonia. L'episodio si conclude con l'ufficio che canta un toccante tributo musicale a Michael. (Aww x2)
2) Diversity Day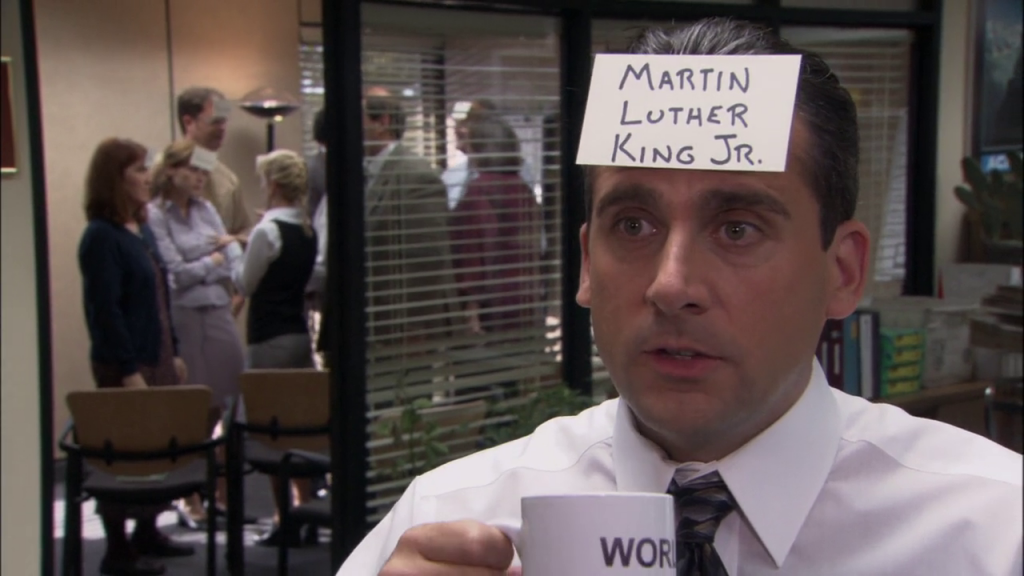 Episodio 2, stagione 1.
Il pilot della serie in realtà è solo una raccolta di situazioni comiche che derivano dalla versione inglese, quindi "Diversity Day" è essenzialmente la prima puntata di The Office. E che introduzione memorabile.
L'azienda invia un rappresentante delle risorse umane (interpretato dal comico e produttore Larry Wilmore) alla Dunder Mifflin, ma il suo intervento viene intramezzato da Michael.
L'episodio, infatti, è una mezz'ora di comicità davvero scomoda che segue i disperati tentativi di Michael di giustificare il suo uso di umorismo decisamente inappropriato e di incoraggiare l'uso di stereotipi per far parlare la gente della diversità in ufficio.
1) Finale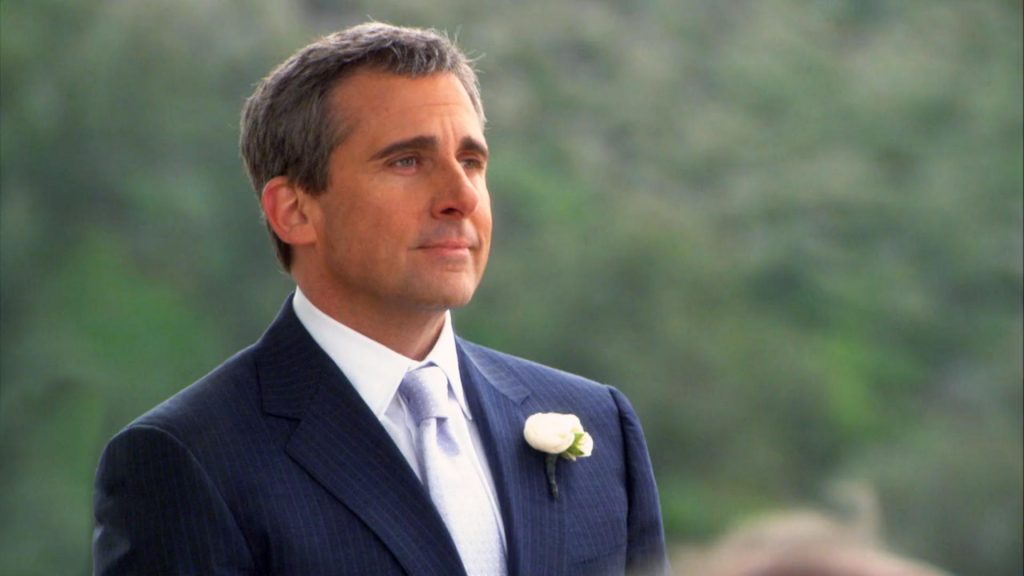 Episodio 24, stagione 9.
"Finale" si pone come l'ultima voce ed è l'episodio con il rating più alto della serie. Tra le nostre lacrime, vediamo un flash forward che raggiunge il cast un anno dopo la fine della messa in onda documentario.
Tutti alla Dunder Mifflin hanno trovato il loro lieto fine: Andy lavora per la Cornell, Stanley si è finalmente ritirato in Florida, Dwight e Angela si stanno sposando, e Pam e Jim decidono di trasferirsi ad Austin, così che Jim possa portare avanti il lavoro dei suoi sogni.
Jim tira fuori anche una serie di "good pranks" per Dwight come suo testimone, tra i quali portare Michael al suo matrimonio.
Nei momenti finali dell'episodio, l'equipaggio della Dunder Mifflin torna in ufficio per un'ultima riunione prima che le loro strade si separino una volta per tutte.
Pam : [last line of the series] There's a lot of beauty in ordinary things. Isn't that kind of the point?