Il percorso di The Office è iniziato nel 2001 con la versione britannica, girata in un vero ufficio nella prima stagione e poi in un set nella seconda. Visto il successo di questo esperimento, la NBC ha richiesto un adattamento americano.
La versione statunitense di The Office è arrivata fino alla nona stagione e si è conclusa nel 2013. Lo scorso anno la NBC ha illuso gli spettatori parlando di un probabile revival, ma il protagonista, Steve Carell, ha affermato chiaramente di non essere d'accordo. L'emittente ha accantonato il progetto, ma i fan possono consolarsi con queste 5 comedy simili alla celebre serie ideata da Ricky Gervais.
I titoli di questa lista ripropongono alcuni elementi di The Office, come la tecnica del falso documentario, oppure la critica alla società moderna e alle aziende.
1) Silicon Valley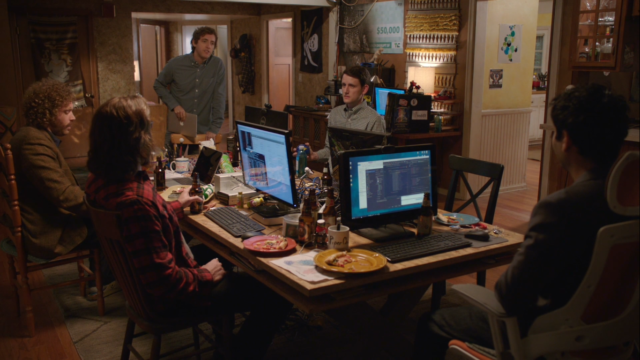 Nella vita le brutte esperienze sono utili, perché da esse si può imparare a non commettere gli stessi errori e a trovarne il lato positivo, per trasformarle in un nuovo inizio. Questo è quello che ha fatto Mike Judge, uno degli ideatori di Silicon Valley.
Il produttore ha lavorato come programmatore in una startup californiana, ma si è licenziato poco dopo perché non gli piaceva l'ambiente lavorativo. L'area industriale della Silicon Valley è nota proprio come sede di numerose startup specializzate in tecnologia, come ad esempio Google e Apple. Il periodo lavorativo nella "valle", ha fornito a Mike Judge lo spunto per creare una comedy incentrata sui meccanismi delle aziende tecnologiche.