Nel piccolo schermo ogni cambiamento comporta dei rischi. Il prezzo da pagare affinché si possa raggiungere una nuova stabilità, un nuovo equilibrio, è spesso parecchio alto. A volte è tuttavia indispensabile sapersi adattare, nonché imparare a convivere con le novità che incombono e in quest'ottica la serie tv The Office ha svolto un lavoro straordinario.
La sitcom statunitense è sopravvissuta a episodi che hanno messo a dura prova il suo futuro nel panorama televisivo, confermandosi in ogni situazione uno show vincente. Uno di questi è indubbiamente rappresentato dall'addio di Steve Carell che, per sette anni, ha interpretato l'iconico Michael Scott. La 7×22 rappresenta così la fine di un'era per la sitcom e, contemporaneamente, un nuovo inizio.
L'uscita di scena di Carell ha senz'altro minato la stabilità della serie tv.
Eppure, le ultime due stagioni di The Office sono riuscite a compensare con grande strategia l'assenza di un grande personaggio, approfondendo le vite dei protagonisti e cercando di sdrammatizzare sulle difficoltà riscontrate dopo l'ultimo saluto a Michael Scott. Le opinioni riguardo gli ultimi due capitoli dello show sono spesso contrastanti, poiché secondo alcuni fan sono meno coinvolgenti rispetto ai precedenti. Nessuno è stato infatti in grado di replicare il naturale carisma di Steve Carell in quanto protagonista. Al di là dei pareri discordanti, la sitcom è comunque sopravvissuta al grande evento. Risollevando moderatamente gli ascolti e facendo leva su nuovi punti di forza, essa si è così avviata verso una conclusione degna del percorso compiuto.
Salutare il personaggio chiave della serie non è stato facile, tanto meno riorganizzare l'ufficio del quale egli era la star per eccellenza. Ma i creatori di The Office, scongiurando la crisi e la possibile cancellazione della serie, sono riusciti a colmare l'assenza del personaggio con creatività, dedizione e un intenso lavoro di gruppo.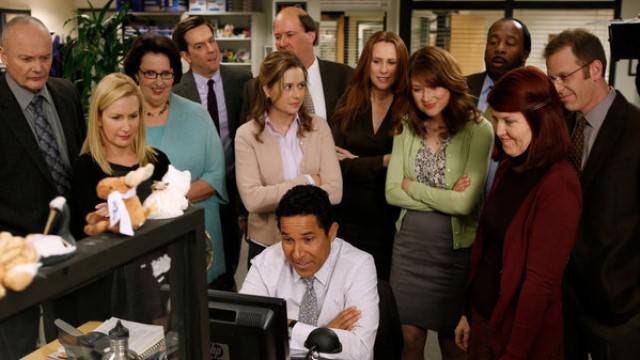 La sitcom, nata nel 2005, ne ha passate tante, subendo critiche per il suo umorismo scorretto e rischiando addirittura di essere cancellata dopo la prima stagione. Per ben nove anni le vicende dei dipendenti della Dunder Mifflin ci hanno divertito, commosso e imbarazzato. E, nonostante abbia perso – alla fine della settima stagione – uno dei suoi personaggi cardine, la serie tv ha continuato a stupire tutti.
Sopravvivendo a una crisi non indifferente, essa è infatti riuscita a confermarsi un successo anche dopo l'addio di Steve Carell. Grazie alle brillanti interpretazioni degli attori, a una sceneggiatura esilarante e ricca di battute scomode, The Office rinasce.
Durante l'ottava e la nona stagione conosciamo a fondo le vite dei dipendenti della Dunder Mifflin. Ampliando la rete sociale dello show, è stato possibile esplorare e approfondire le singole storyline dei personaggi, i quali diventano dei protagonisti a tutti gli effetti. Sarebbe stato infatti complesso approfondire, ad esempio, la storia d'amore tra Pam e Jim o la complessa relazione tra Angela, il Senatore e Oscar con la presenza di una personalità colorata e grintosa come quella di Michael Scott.
In seguito all'addio del manager della Dunder Mifflin, la serie si trasforma e si adatta a un nuovo equilibrio.
Le incertezze sono state sostituite dalla grinta degli autori, nonché dall'entusiasmo dello stesso cast. I personaggi che un tempo erano secondari conquistano il proprio spazio nel corso delle ultime due stagioni, diventando indispensabili per la narrazione. Con ironia si affronta persino il dilemma legato al presunto successore di Michael Scott, portando sullo schermo nuove personalità eccentriche ed esilaranti, tuttavia incomparabili con il precedente boss.
Rimpiazzare Steve Carell sarebbe stato impossibile e l'intera crew di The Office ne era al corrente. Lo show ha così ironizzato sulla possibilità di trovare un potenziale erede del simpatico manager.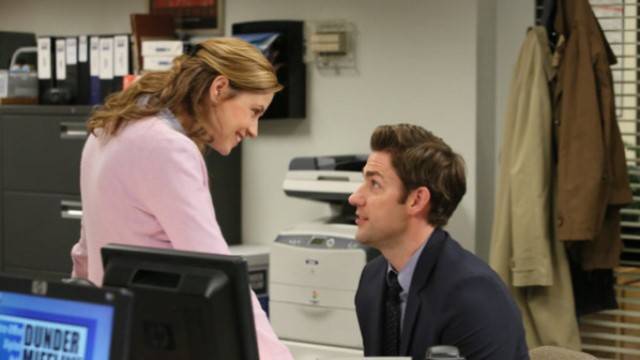 Durante le ultime due stagioni, l'ufficio della compagnia Dunder Mifflin e il quotidiano, noiosissimo lavoro dei dipendenti non sono più al centro della serie tv. Il setting in cui si svolge l'azione si sposta in nuovi ambienti lavorativi, nuove città. Persino le relazioni sociali subiscono una trasformazione: le vite private dei lavoratori divengono l'argomento centrale dello show, mentre nuovi personaggi vengono introdotti. Se in passato la sitcom era guidata da Michael Scott, nell'ottava e nella nona stagione i protagonisti assoluti diventano i dipendenti dell'ufficio. Personalità divertenti, colorate e a tratti bizzarre si appropriano dello schermo, mostrando l'aspetto più intimo di The Office.
Il merito della sua sopravvivenza è quindi da attribuire principalmente all'incredibile caratterizzazione dei suoi personaggi, nonché al modo in cui è stata approfondita, passo dopo passo, la loro storia personale. Essi non si raccontano più alle telecamere come dei semplici impiegati, piuttosto come persone reali, con problemi di cuore o difficoltà familiari. Tra tutti, i personaggi più interessanti nelle ultime due stagioni di The Office sono stati indubbiamente Jim e Pam, la coppia più amata della serie, la svampita Erin, Andy Bernard e la sua incoerente ambizione e l'iconico Dwight Schrute. Essi hanno avuto modo di migliorare nel tempo (chi più di altri) e di raggiungere soddisfazioni sia personali che professionali.
Sostenere che The Office sia peggiorata dopo la settima stagione è quindi un azzardo.
Questo show è stato infatti in grado di gestire una crisi che avrebbe potuto sancire la sua fine prima del suo tempo, con creatività e accortezza. Esplorando le vite dei dipendenti che per nove stagioni ci hanno divertito e commosso, ha dimostrato di essere una serie di successo anche se priva del suo pilastro centrale.
Risollevarsi dopo un importante cambiamento non è da tutti, eppure The Office ci è riuscita benissimo. Con spirito di adattamento e resilienza, l'ottava e la nona stagione ci hanno accompagnato verso un finale di stagione dolce e soddisfacente. Rischiando di rendere vano il successo degli anni passati, la sitcom ha continuato a sorprendere i fan grazie alla sua originale sceneggiatura e alla peculiare attenzione rivolta sia ai suoi personaggi che alla storia generale.
Salvandosi dall'oblio, The Office dimostra così che un ottimo prodotto rimane tale anche dinanzi ai più grandi ostacoli, sorprendendo chi non ha nutrito alcuna speranza nel suo futuro e confermandosi ancora una volta un grande successo.