The Office è una serie tv senza tempo.
Sono passati più di 15 anni da quando, il remake di una commedia britannica di umorismo cringe, ha debuttato sulla NBC. Da allora, The Office è diventato un fenomeno, continuando ad attirare pubblico, tanto che le varie piattaforme streaming competono per il diritto di trasmettere tutte le nove stagioni della sitcom incentrata sulla vita alla Dunder Mifflin (azienda cartaria nella quale si svolge la maggior parte della serie).
The Office si colloca nel genere comedy utilizzando il metodo del (falso) documentario per descrivere ciò che vede lo spettatore; in questo modo ci sentiamo parte della troupe che sta girando il video sulla vita di colleghi di un ufficetto di provincia in Pennsylvania.
Un aspetto che rende The Office magnifica è la caratterizzazione dei vari dipendenti dell'ufficio; ognuno di loro potresti essere tu, il tuo capo, la tua collega di scrivania. Nonostante il loro essere a tratti grotteschi, i vari personaggi sono molto realistici. L'alternanza tra comico, grottesco, ma anche introspezione (che si ottiene, soprattutto grazie a dei "confessionali" alla Grande Fratello) trova massima espressione nel protagonista Michael Scott, interpretato da uno Steve Carell in stato di grazia, dirigente di filiale che vuole essere per forza simpatico, a volte con battute fuori luogo, e che dedica tutta la sua vita all'ufficio perché è tendenzialmente una persona sola.
Ciò che rende The Office grande è che i suoi personaggi ci hanno regalato nove stagioni di ogni possibile emozione umana. Ci hanno insegnato a ridere, a piangere e persino ad innamorarci romanticamente.
Noi che amiamo il cast, dopo queste riflessioni, ci siamo chiesti: che fine hanno fatto i protagonisti di The Office?
Steve Carell / Michael Scott: il Regional Manager di The Office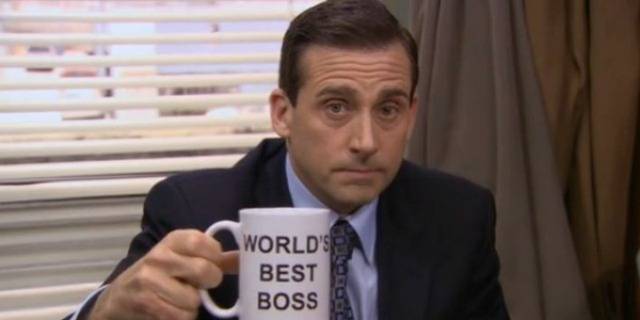 Per sette stagioni, Carell è stata la star dello show interpretando Michael Scott, il capo migliore del mondo, secondo lui. Interpretazione brillante che gli è valsa diverse candidature e diversi premi.
Dopo aver lasciato la serie alla settima stagione, Steve Carell ha avuto un incredibile successo come attore ed ha dimostrato di essere bravissimo sia nei ruoli comici che nei ruoli drammatici: tra i film in cui ha recitato ci sono, per esempio: "Crazy, Stupid, Love", "40 anni Vergine" e "Little Miss Sunshine".
Si è anche cimentato nel doppiaggio del super-cattivo padre Felonius Gru in "Cattivissimo Me" ed è anche sceneggiatore in "40 anni vergine "e per le serie: "The Dana Carvey Show", "The Office" e "Angie Tribeca".
Carell ha ottenuto anche una nomination all'Oscar per "Foxcatcher" ed insieme a sua moglie Nancy ha una casa di produzione.
Attualmente è impegnato in "The Morning Show" insieme a Jennifer Aniston e Reese Whiterspoon; la sia interpretazione gli è valsa una candidatura agli Emmy e agli Screen Actors Guild Awards come migliore attore in una serie drammatica.
John Krasinski / Jim Halpert: l'addetto alle vendite annoiato
Il carismatico John Krasinski quando fu scritturato per The Office, stava ancora lavorando come cameriere per pagare le bollette. La sua carriera è decollata da allora.
Ha doppiato Lancillotto in "Shrek 3" e quando ancora recitava per The Office, nel 2008, ha debuttato come regista e sceneggiatore e produttore di "Brief Interviews with Hideous Men", film basato sul racconto di David Foster Wallace.
Ha recitato in "Aloha" di Cameron Crowe e ha doppiato un personaggio nel film d'animazione "Animal Crackers", al fianco di Sylvester Stallone, Ian Mckellen e Danny De Vito.
Krasinski ha continuato il suo lavoro dietro la telecamera come regista di "The Hollars" e il film horror di successo "A Quiet Place".
Ha anche iniziato a recitare nella serie Amazon "Jack Ryan", e ha ulteriormente ampliato la sua fanbase con la web serie "Some Good News", nata in pandemia con l'intento di diffondere solo buone notizie.
Jenna Fischer / Pam Beesly: la dolce segretaria di The Office
Jenna Fischer in The Office è Pam Beesly, la dolce segretaria dell'ufficio che tra un piccolo problema di cuore e l'altro alla fine si fidanzata con Jim.
Mentre recitava nella serie tv, la Fischer ha avuto altri piccoli ruoli in film come "Hall Pass" e "Blades of Glory."
Terminato The Office ha avuto ruoli ricorrenti in altre serie come: "You, Me and the Apocalypse" e "Splitting Up Together" ed ha anche scritto una biografia sulla carriera d'attrice: "The Actor's Life: A Survival Guide".
A differenza di quanto si vede nella serie, lei e Angela Kinsey sono in realtà migliori amiche, e Jenna è la madrina della figlia di Angela. Insieme, nel 2019, hanno lanciato il podcast di "Office Ladies", in cui rivelano i dietro le quinte della serie che le vede protagoniste.
Rainn Wilson / Dwight Schrute: il nerd
Rainn Wilson è tra i più memorabili protagonisti di The Office; il nerd Dwight, l'unico a comparire in ogni episodio della serie tv.
A lungo si è vociferato di uno spin-off incentrato su Dwight a Schrute Farm, ma per fortuna il progetto non è andato in porto e gli ha dato l'opportunità di cimentarsi in qualcosa di nuovo. Post Ufficio ha recitato nella commedia poliziesca "Backstrom" ed è apparso in film indipendenti come "Uncanny" e "The Boy", prima di ottenere un ruolo ricorrente nella sitcom di successo "Moms". Ha anche recitato in: "Star Trek: Short Treks", "The Power", and "Utopia".
Wilson ha anche continuato a sviluppare contenuti per il sito Web e il canale YouTube "SoulPancake", che unisce spiritualità e creatività e che ha co-fondato mentre The Office era ancora in onda, e ha scritto un libro di memorie, "The Bassoon King: My Life in Art, Faith, and Idiocy".
B.J. Novak / Ryan Howard: The Temp
B.J Novak, in The Office è Ryan Howard, alias "The Temp", disilluso ventenne che ne combina un bel po' all'interno dell'ufficio. B.J è laureato ad Harvard ed è conosciuto a livello internazionale per il suo ruolo di Pfc. Smithson Utivich in "Bastardi Senza Gloria" di Quentin Tarantino.
In The Office è stato anche autore è co-produttore. Dopo la fine della serie tv, ha partecipato a diversi film tra cui: "Saving Mr. Banks" e "The Amazing Spider-Man 2".
Tra le tante cose che ha fatto e continua a fare, ha interpretato anche una versione satirica di sé stesso nella serie "Crazy Ex-Girlfriend".
Proprio come ha fatto per The Office, Novak ha lavorato come scrittore, regista e produttore per "The Mindy Project", lo show della sua amica ed ex collega, Mindy Kaling.
Ha anche avuto successo come autore di libri, pubblicando una raccolta di racconti simili a saggi e un libro per bambini di successo chiamato "The Book With No Pictures", che ha generato il titolo successivo, "The Alphabet Book With No Pictures".
Questo è solo un accenno alle innumerevoli cose che fa.
Mindy Kaling / Kelly Kapoor: l'addetta al customer service
Mindy Kaling era perfetta nei panni di Kelly Kapoor, l'impiegata svampita e ossessionata dall'amore per il collega Ryan. Mindy ha anche scritto per The Office.
Subito dopo la fine della sit-com ha iniziato a recitare nello show che ha creato, scritto e prodotto: "The Mindy Project".
Nel 2015 Mindy Kaling, infatti, ha realizzato un divertente video promozionale per una compagnia di assicurazione che la vede protagonista insieme a Matt Damon.
Ha partecipato a diversi film tra cui: "Ocean's 8" e "Locked down"; e a serie tv come "Quattro matrimoni e un Funerale" (di qui vi parliamo qui)
Ed Helms / Andy Bernard: l'impiegato canterino di The Office
Ed Helms è entrato nel cast di The Office solo alla terza stagione con il ruolo di Andy Bernard, l'addetto alle vendite con problemi di controllo della rabbia e appassionato di canto a cappella, passione che condivide anche Ed che suona in una band bluegrass chiamata "The Lonesome Trio".
Durante la sua permanenza in The Office, Helms ha trovato il tempo per guadagnarsi il suo posto a Hollywood, con il ruolo di Stu Price nella trilogia di Una notte da leoni e nella commedia "Jeff Who Lives at Home".
Quando The Office è finita, ha continuato a lavorare sul grande schermo. Subito dopo aver salutato il personaggio di Andy Bernard nel 2013, Helms ha continuato a farci ridere in "Una notte da leoni 3" e "We're The Millers". Negli anni che seguirono, la sua carriera non ha mostrato segni di rallentamento; ultimamente ha recitato in "Animali da Ufficio" e "Coffee & Kareem".
Angela Kinsey /Angela Martin: la contabile
Come molti dei personaggi di The Office anche Angela Kinsey è una autrice e una attrice comica.
Terminato il ruolo di Angela Martin ha vinto un Emmy per la web series "The Office: The Accountants".
Inoltre l'avete potuta vedere in "The Hotwives" e "Haters Back Off!".
È stata anche guest star in alcuni show, come "New Girl" e "Fresh Off The Boat" della ABC.
Come detto precedentemente conduce il podcast "Office Ladies" con Jenna Fisher.
Ellie Kemper / Erin Hannon: la nuova segretaria di The Office
Ellie Kemper è una delle attrici che è stata più indaffarata dopo The Office.
È apparsa in film come "Bridesmaids", "21 Jump Street" e "The Secret Lives of Pets", ed anche in serie tv come "The Mindy Project", "Drunk History" . Dal 2015 è la protagonista di "The Unbreakable Kimmy Schmidt", che le è valso alcune nomination agli Emmy. Ha anche pubblicato un libro di memorie.
Brian Baumgartner / Kevin Malone: il contabile
Chiudiamo con Brian Baumgartner, che a differenza degli altri attori sopracitati, non ha ricoperto ruoli particolarmenti degni di nota post The Office ma il personaggio di Kevin Malone è talmente memorabile che non potevamo non citarlo in questo articolo.
Nel 2020 ha condotto e prodotto "An Oral History Of The Office", un podcast dove spesso ospita e intervista le altre co-star di The Office.
The Office ci ha donato personalità indimenticabili interpretate da attori straordinari; in questo articolo abbiamo voluto riportare il "post ufficio" di quelli che sono riusciti a dimostrare di non essere prigionieri del loro personaggio alla Dunder Mifflin.