I Golden Globes 2018 hanno confermato: The Handmaid's Tale è destinata a diventare una di quelle Serie Tv che segneranno quest'epoca. Eppure la continua incetta di premi, a Beverly Hills come agli Emmys qualche mese fa, dice tanto ma non tutto sulla portata del successo del prodotto targato Hulu. È necessario, infatti, addentrarci nelle motivazioni che si celano dietro tale successo, quasi unanime, di critica e di pubblico.
A dire il vero potremmo anche togliere quel "quasi", per un'opera che è praticamente inattaccabile. Al netto dei gusti soggettivi che ognuno di noi ha, infatti, è veramente difficile imputare qualche difetto alla Serie ideata da Bruce Miller. Facilissimo, invece, elogiarne i numerosi pregi, dalla scrittura al cast, passando per la colonna sonora.
Inevitabile chiedersi: The Handmaid's Tale è effettivamente la miglior Serie Tv in circolazione? Difficile dirlo. Sicuramente, però, è quella che riesce a coniugare meglio di tutte la resa qualitativa con le esigenze del pubblico. Vediamo come, in 5 punti:
1. IL TEMA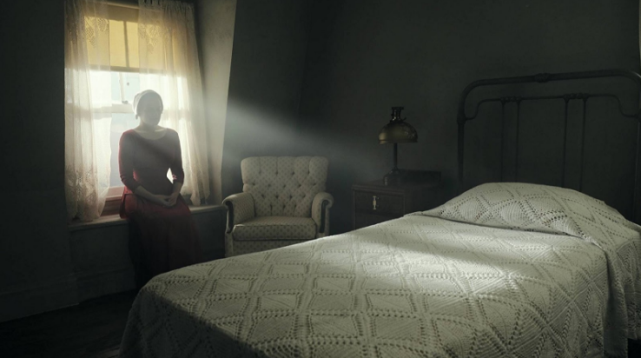 La sottomissione della donna, in una società teocratica che l'ha relegata a mero oggetto sessuale di procreazione, rende impossibile non associare The Handmaid's Tale all'ideologia femminista. D'altra parte anche il romanzo di Margaret Atwood da cui è tratta la Serie, è diventato nel tempo un caposaldo dell'ideale di emancipazione femminile. La stessa scrittrice si considera una esponente del movimento e questo libro gode dell'influsso delle principali artefici della rivoluzione femminista a partire dagli anni '60, in campo letterario.
Impossibile non fare riferimento, primo fra tutte, a Kate Millett, che nel suo La Politica del Sesso (1970) ha criticato duramente la politica sessista delle società patriarcali. La donna è considerata un oggetto sessuale, asservita all'uomo che la usa per il proprio piacere. Ma il medesimo atto sessuale, ancor prima che adempiere le funzioni di piacere e di procreazione, diviene un atto politico mediante il quale il maschio riafferma la propria supremazia.
Dal punto di vista della funzione della maternità, The Handmaid's Tale si rifà, più o meno consapevolmente, al pensiero di Adrienne Rich. In Nato di Donna (1976) la scrittrice e poetessa esalta la potenzialità procreativa della donna, considerandola una risorsa e una ricchezza, contrapposta alla maternità in quanto istituzione, che affonda le sue radici nelle finalità patriarcali.
È bene in ogni caso sottolineare come The Handmaid's Tale affronti la tematica del femminismo senza etichette o stereotipi di sorta, configurandosi prima di tutto come "una storia umana", per utilizzare le parole di Elizabeth Moss.