La seconda stagione di The Handmaid's Tale è stata la conferma di quanto audace e originale sia questa Serie Tv.
Andando avanti con gli episodi questo piccolo capolavoro ha incontrato alti e bassi, ha sviluppato nuovi filoni narrativi ed è riuscito a mantenere quelle scene di grande impatto e molto simboliche per cui è famoso. Nelle ultime puntate si è sacrificata un po' di quella fluidità di narrazione per far posto a scene forti di una bellezza rara. Ma è grazie a questo sacrificio che si è venuta a creare una delle sequenze più belle, sia a livello di scrittura che a livello di regia. Sto parlando, appunto, dell'ultima apparizione di Eden Spencer.
L'attrice Sydney Sweeney, interprete di Eden Spencer, ha parlato del suo personaggio come "un'esperienza piuttosto intensa."
Ho provato un senso di soggezione (…) mi sentivo come se avessi molto da vivere prima di poter raccontare Eden e di unirmi a quegli attori straordinari.
Eden Spencer è la ragazzina data in sposa a Nick, la guardia di casa Waterford. Una fanciulla dolce, educata, rispettosa e ancora troppo ingenua per entrare nella vera società di Gilead. Viene accolta con apparente gioia, la stessa che ormai sembra permeare le pareti di quella casa. Ella non sa, ella non conosce la vera essenza di quello in cui si sta imbattendo. Perché in fondo è soltanto un adolescente di appena 15 anni a cui è stata strappata la spensieratezza puerile sotto forma di un matrimonio voluto dalla sua famiglia e visto come un dono di Dio.
Lo stesso dio che Eden cerca di comprendere attraverso le sue scritture. Nella Repubblica di Gilead è negato leggere alle donne qualsiasi cosa, anche le stesse pagine su cui si proclama la base portante di questa società distorta.
Eppure ella sa, ma non indugia. La custodisce tra i suoi averi e vi annota domande, pensieri, parole in libertà, come se stesse appuntando delle riflessioni sul proprio diario segreto. Un diario che a noi spettatori è dato conoscere soltanto dopo la sua scomparsa, comprendendo quanto in realtà la giovane mente di Eden era soltanto ghiotta di verità, la stessa che scuote gli animi di un qualsiasi adolescente.
"Io credo che in questo posto ci si debba aggrappare all'amore ovunque lo si trovi", afferma June.
E' una semplice frase a scuotere l'animo di Eden, una frase detta dalla persona che nella casa ha versato più dolore di chiunque altro. Che sia frutto di un brusco velocizzarsi della trama, che sia troppo presto per concludere la storyline della giovane Spencer, questo ha comunque prodotto una scena d'impatto che solo The Handmaid's Tale sa darci. L'amore, l'agàpe, è stato messo a giudizio.
Perché Eden è fuggita con l'uomo che ama disobbedendo a quelle regole nelle quali ha sempre creduto?
Forse per ripicca a un matrimonio rivelatosi di facciata che le ha mostrato un lato della "favola" in cui il marito non è colui che ha scelto di amarti per dovere religioso. L'amore non è qualcosa che si crea con la semplice unione di due persone attraverso un rito ecclesiastico. Forse è qui che nasce la prima crepa nelle regole cui era stata indottrinata.
Poche parole di un'ancella sono bastate a spingerla a fuggire per amore e a non pentirsi per le sue azioni nemmeno di fronte alla morte? 
Parole d'amore che sono uscite da una bocca che di amore in quel di Gilead non ne ha trovato, se non in una relazione etichettata come "clandestina" per quella società. È forse per questo che le ha attribuito così tanto valore Eden?
L'amore è paziente, l'amore è benevolo. L'amore non invidia, l'amore non si vanta. L'amore non è sconveniente. L'amore non cerca il proprio interesse.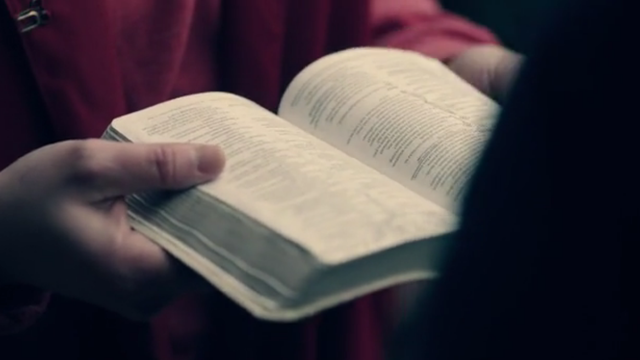 Ci rimangono molte domande di fronte a una delle più sconvolgenti puntate della seconda stagione di The Handmaid's Tale. Mi piace pensare che la volontà dell'episodio sia proprio questa: instillare domande. Quesiti che non trovano risposte perché non vi è raziocinio nella società di Gilead. Perché le regole di tale forma di governo non sono uguali per tutti. Sono uguali per i deboli, per i miscredenti, per le ancelle e per tutte le donne. Anche la religione vi si è piegata grazie alle sapienti e sudicie mani dei pochi che regnano.
Neanche di fronte alla richiesta di istituire la lettura delle sacre scritture, a cui tutti sono riconoscenti, ma a cui non tutti possono accedere. Richiesta motivata dalla preoccupazione di una madre per il proprio figlio e per la sua educazione. Negata perché non avente gli attributi sessuali giusti.
Non vi è amore alla base di Gilead ma sete di potere, di controllo. Non vi è Dio a guidare le loro gesta, ma voglia di eccellere, di elevarsi, di soggiogare. Non vi è volontà di seguire gli insegnamenti delle scritture ma la brama di schiacciarle alla propria volontà, di renderle mezzo per i loro scopi.
E' proprio in questo mare di oppressione, odio e controllo che si dimena una piccola scialuppa di donne guidata da un lontanissimo faro che si innalza su un isolotto di sofferenze e sacrifici.
Carbone per la fiamma di speranza e alleanza che sembra ormai germogliare senza discrezione tra le donne di Gilead.