The Handmaid's Tale è il prodotto Hulu di punta: una serie così bella da aver risvegliato il sentimento femminista sopito in molte donne (ma anche uomini) e aver condizionato movimenti per l'uguaglianza in tutto il mondo. Ma la sua bellezza nasce da una storia estremamente dura. Una storia di sopraffazione, in cui le donne sono sfruttate, imprigionate, seviziate, spesso da altre donne che non provano alcuna empatia per loro.
In questa scala figurano personaggi di ambo i sessi, ma selezionati con criterio, infatti abbiamo dovuto scremare la lista e creare dei parametri di valutazione. Come potremmo inserire in una classifica di malvagità Emily, che uccide unicamente per prendersi la sua libertà, così crudelmente strappatale? O Natalie, che paga la sua lingua lunga con una terribile agonia? O la stessa June, che lascia morire l'ormai stanca di vivere Eleanor per salvare il suo piano?
6. Nick Blaine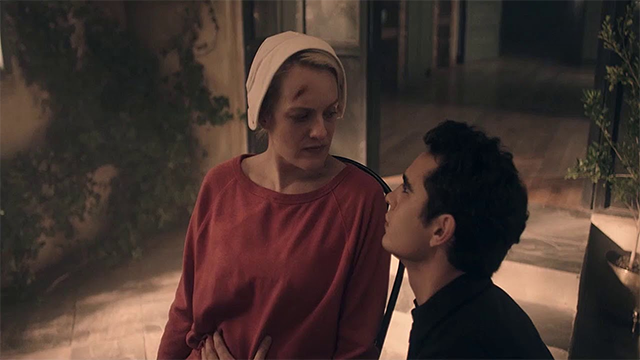 Nick è l'ancora di salvezza per June in un mondo distopico e ostile, in cui l'amore è negato a tutti. Eppure, quello che per lei è amore, per lui è un mero scambio di favori: soddisfare i propri impulsi ed elevare la propria condizione sociale sono i suoi obiettivi. Nick non si interessa minimamente della bambina che insieme hanno generato durante il doloroso braccio di ferro col Canada. Non aiuta più June una volta raggiunto il suo scopo di diventare Comandante. Nick è sempre stato un Occhio e qualcosa di più. Nick è sempre stato un arrivista. Dipingerlo come innamorato e tenero con June nelle prime stagioni di The Handmaid's Tale serve solo a rendere più amaro il suo tradimento.