Attenzione: evitate la lettura se non volete imbattervi in spoiler sulla 2×07 di The Handmaid's Tale
Non devi neanche pensare, Winston, che i posteri ti renderanno giustizia. I posteri non sapranno mai nulla di te. Tu sarai cancellato totalmente dal corso della storia. Di te non resterà nulla, né il nome in un qualche archivio, né il ricordo nella mente di qualche essere vivente. Tu sarai annientato sia nel passato sia nel futuro.
Era il 1948, ma la storia può capovolgere ogni cosa in pochi istanti. Anche due cifre, catapultandoci da un momento all'altro nel 1984. Lontano da noi, eppure così vicino. Nel ricordo della terribile avventura di Winston Smith, dimenticato da tutti. Incluso se stesso, ormai soggiogato dal Grande Fratello. Il mostro totalitario annienta ogni cosa e accartoccia il passato e il futuro in un presente senza speranza, fatto di icone che riducono in poltiglia l'individualità degli uomini. Non siamo altro che ombre in balia di un destino mortifero, quando non abbiamo memoria. Ma se si hanno occhi per guardare e orecchie per ascoltare, tutto diventa possibile. Le ombre si trasformano in anime, e il ricordo si tramuta in monito. Certe volte basta poco. Per esempio un racconto. Il racconto di un'ancella. The Handmaid's Tale.
Margaret Atwood lo sa bene. E ci ha regalato per questo uno dei romanzi più importanti degli ultimi anni, degno erede del capolavoro visionario di George Orwell. Un'opera che mette al centro il pensiero libero di una donna ridotta in catene, e le icone di un regime teocratico che ha messo in scacco gli invincibili Stati Uniti. Icone e simboli, che hanno ripreso forma tra i frame di una serie tv con rarissimi limiti. Metafore, capaci di sintetizzare la complessità di un universo in fiamme con la forza unica di un'immagine e immergerci in una realtà distopica. Più vicina a noi di quanto si possa credere. Da analizzare attentamente e ritrovare nella cronaca di ogni giorno, nei rigurgiti reazionari del nostro Paese e nei deliri di uno degli uomini più potenti del mondo. Perché una svastica si può trasformare in una colomba in una manciata di secondi, grazie all'inconsapevolezza del rischio.
Il valore iconico degli occhi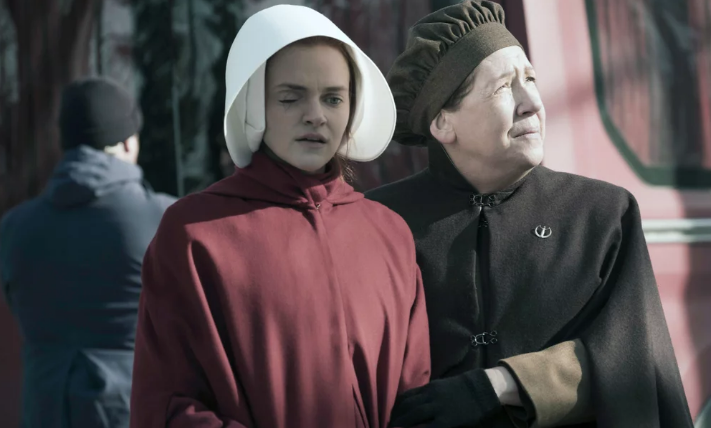 Se si parla di simboli in The Handmaid's Tale, uno dei più ricorrenti è l'occhio, icona storica del potere oscuro. "Under His Eye" è una minaccia subdola, più che una preghiera. Alla speranza che un Dio misericordioso vegli sulle anime dei fedeli si contrappone lo spettro di un potere totalitario che si cela tra le maglie di una società nella quale il Grande Fratello orwelliano è onnipotente. Onnipresente in ogni strada, abitazione e stanza. Non è un caso che le sentinelle della Repubblica di Gilead si chiamino "occhi" e siano, allo stesso tempo, garanti dell'ordine pubblico e dei servizi segreti.
Ma se lo sguardo degli occhi più attenti è prerogativa di chi detiene il potere e conduce il popolo verso la nuova via, non può non succedere il contrario a chi deve sopravvivere nelle retrovie della scala sociale. Le ancelle, su tutte. Private della vista per presunta volontà divina, se peccano. Ed obbligate ad indossare un copricapo delle ali bianche simile ad un paraocchi per cavalli, con un intento preciso: impedire alle donne di osservare il mondo con gli occhi indiscreti della libertà. Ed essere osservate, da chiunque possa vedere in loro una persona.
Continua a pagina 2 – Il valore iconico dei colori in The Handmaid's Tale