Attenzione: il seguente articolo contiene spoiler su The Handmaid's Tale 3
The Handmaid's Tale è una serie tv potente e intensa. Indaga l'animo femminile in ogni sua minima parte, rappresentando donne profonde, comuni, piene di contraddizioni. Vengono inserite nei loro ruoli tradizionali di mogli, madri e domestiche ma riescono ad andare oltre a quel semplice stereotipo, fornendoci un'immagine di donna nuova e rivoluzionaria. Non possiamo etichettare quelle donne, inserirle in luoghi prestabiliti. La loro forza è la loro imperfezione. Dalla ribelle Moira alla credente ma instabile Janine, dalla manipolatrice Lydia alla leale Emily, fino ad arrivare all'eroina moderna June, queste donne lottano per quello in cui credono, sacrificano la loro felicità per quella di un loro caro.
Le donne di The Handmaid's Tale hanno in sé luce e oscurità. Tutte. Persino le antagoniste, persino una come Serena Joy.
La moglie del Comandante Waterford è indecifrabile, irrisolvibile. Come un cubo di Rubik.
All'inizio di The Handmaid's Tale Serena era un personaggio ambiguo, così come il sentimento che provavamo nei suoi confronti. Era la classica regina di ghiaccio. Trattava June con disprezzo, solo perché rappresentava tutto quello che Serena non potrà mai essere. Gli unici momenti di riguardo per l'ancella li ha avuti quando credeva che fosse incinta. Del resto, June era una parte di lei, il suo utero personale e doveva assicurarsi che il "suo" bambino stesse bene. Mostra una compassione che la sua ambiguità aveva sempre nascosto e che sparirà non appena June le rivela la verità. Serena se la prende con lei, come se la mancata gravidanza fosse solo un dispetto.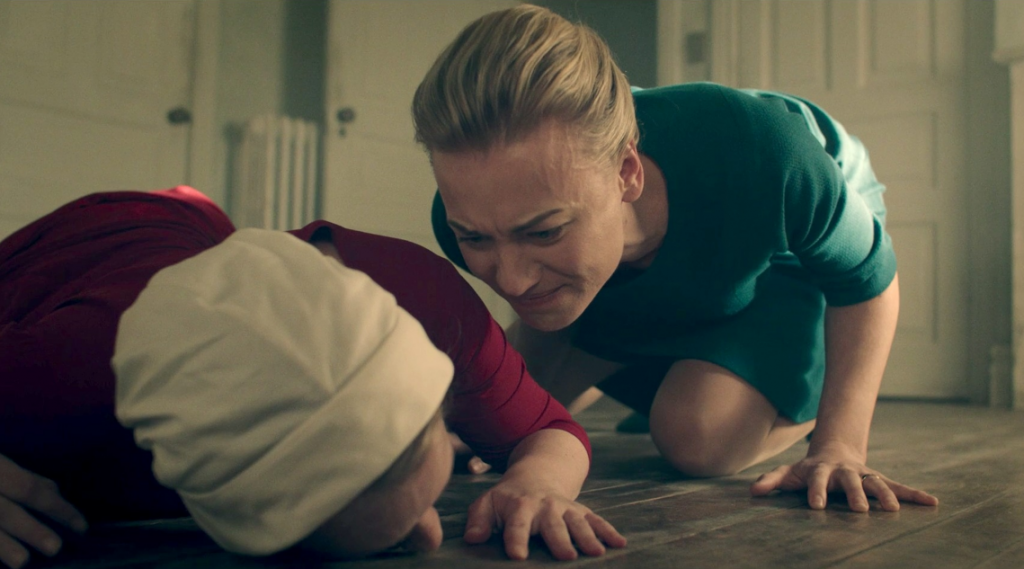 Dispotica, violenta, crudele e vendicativa. Ha solo un sogno: diventare madre. A ogni costo. Infatti anche lei ha contribuito alla costruzione di Gilead. Non è una semplice vittima del sistema ma l'artefice, dato che gran parte degli ideali di Gilead sono frutto della sua mente. La situazione le è sfuggita di mano. Gli uomini hanno mal interpretato le sue idee e l'hanno esclusa dalla sua stessa creatura. Suo marito, invece di difendere i diritti della donna che ama e a cui deve molto, ha approfittato della situazione.
Serena Joy è vittima dei suoi stessi desideri, rimanendo imprigionata in un incubo che lei stessa ha contribuito a creare.
L'abbiamo odiata per questo, profondamente, fino ai flashback della seconda stagione di The Handmaid's Tale. Lì arriviamo a provare empatia per lei. È una donna zittita da un'America che dovrebbe essere libera e aperta, che non vuole ascoltare la sua voce, che la metterà al tappeto con un colpo di pistola.
Ed eccolo lì il dramma di Serena: sterile non per natura o sfortuna, ma per l'azione di un criminale che l'ha privata del suo sogno più grande.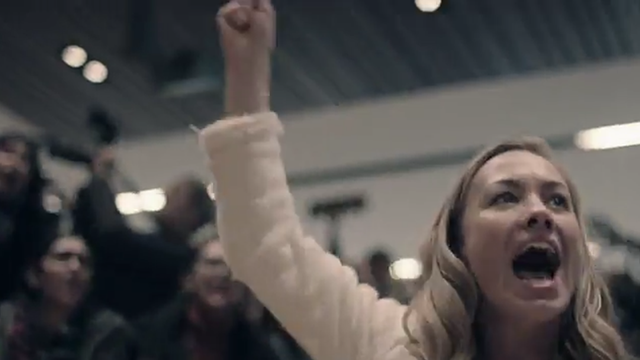 E lei priverà l'America – e sé stessa – della libertà. Prima di Gilead, Serena era vivace, intelligente, appassionata del suo lavoro, preoccupata per le sorti della società. Ora è solo la moglie di Fred Waterford. Prova ad aiutarlo, in diverse occasioni. Lui le sbatte la porta in faccia, anche letteralmente.
Prova il suo valore nella seconda stagione di The Handmaid's Tale, sostituendosi a un Fred in convalescenza. Eleva la dignità della donna al livello di quella dell'uomo e ritrova la sua identità di donna forte e indipendente. Si riappropria delle sue idee, distorte dal volere maschile. Finché non torna Fred e riporta tutto alla normalità. La frustrazione (dovuta al non poter far nulla di concreto a Gilead e al fatto che il suo sogno è in mano a una persona che disprezza) la porta a sfogarsi su chi è più debole.
È dannoso recitare un ruolo prestabilito senza alcuna autonomia, anche se è quello del carnefice.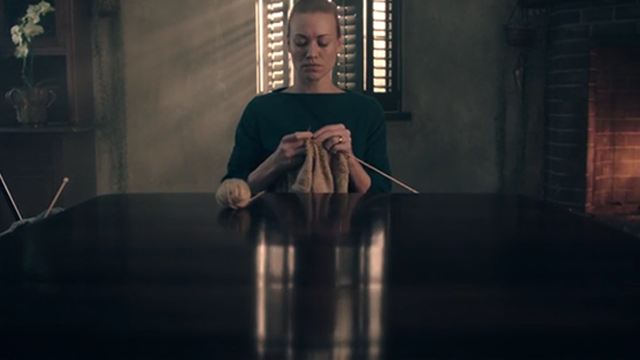 Serena sa essere crudele e spietata, soprattutto se si sente tradita o ingannata. Capisce che June si vuole approfittare di lei e la rimette al suo posto con la scena dei ferri da maglia. Nella prima stagione, scoperte le uscite notturne di June e Fred e la gravidanza dell'ancella, minaccia Hannah in una delle scene più dure di The Handmaid's Tale. Ci confrontiamo con la sua disumanità quando aiuta Fred a stuprare June solo per accelerare la gravidanza.
Sembravano punti di non ritorno, eppure ormai abbiamo visto l'umanità che c'è sotto quella maschera.
Aiuta la piccola Angela, andando contro il volere del marito, infrangendo molte regole e pagandola cara in una scena altamente disturbante in cui è impossibile non provare pietà per lei. La morte di Eden la scuote tantissimo. Se Gilead non protegge i propri figli, se le parole della Bibbia vengono usate per giustificare l'omicidio di due giovani innamorati, allora cosa sta realmente difendendo? Capisce che il mondo in cui crescerà sua figlia è profondamente sbagliato e agisce. Nel momento in cui rinuncia a Nichole diviene una vera madre e nessuna violenza, nessuna costrizione, per quanto giustificata lei pensa che sia, le avrebbe mai permesso di portare tutto il peso e la responsabilità di questo ruolo. In onore di questo gesto, June chiamerà sua figlia Nichole. Perché se avrà un futuro, è solo per il sacrificio di due madri coraggiose.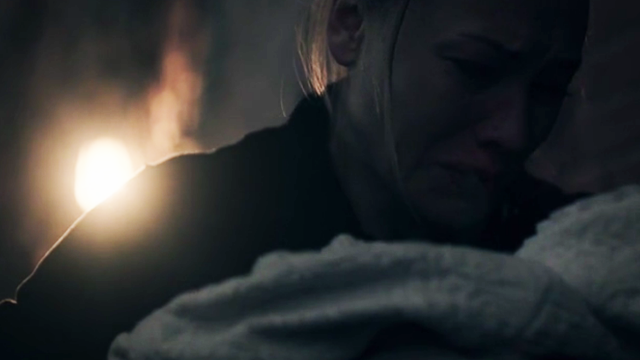 Il suo cambiamento è evidente nella terza stagione, nelle sue interazioni con June dove la tratta come una sua pari. Brucia la sua casa in una scena potente e simbolica, si immerge nelle acque gelide, come se si battezzasse nuovamente e rinascesse. La sua evoluzione sembra compiuta, finché non arriva il colpo di scena.
In un confronto bellissimo, June le rinfaccia di non sapere che cosa sia l'amore. Lo scambia per possesso o bisogno. Rivedere la bambina l'ha messa di fronte all'unica cosa per cui era disposta a rinunciare a tutto. Se si vive con un obiettivo facendo tabula rasa pur di raggiungerlo, la rinuncia a quello è un atto estremamente nobile ma ci pone di fronte all'inutilità della nostra esistenza. Serena ritorna sui propri passi. Non pensa al bene di Nichole, ma solo al suo egoistico bisogno di averla accanto.
Serena non sa provare veri sentimenti e la sua maschera è caduta. Forse. Perché Serena è una contraddizione. È la donna che ha salvato Nichole e aiutato June o quella che vorrebbe tappare per sempre la bocca all'ancella? Probabilmente entrambe. È il mostro che vuole essere e l'umanità che nasconde. Insieme alle altre donne di Gilead, ci ha mostrato che non è tutto bianco o nero.