Finalmente The Handmaid's Tale ha svelato il mistero che avvolgeva uno dei personaggi più odiati e una delle interpreti più amate dello show. Zia Lydia, la ferrea kapò delle ancelle, capace di essere con loro fero e piuma, ha finalmente un'identità.
Il mistero sul passato di Zia Lydia durava dalla prima puntata in cui è apparso questo iconico personaggio. Espressione più agghiacciante della banalità del male, incarnazione della perversione e del sadismo di una donna verso le sue sorelle.
Responsabile di una lunga serie di nefandezze, Zia Lydia ha commesso un'atrocità dopo l'altra in nome del suo ideale, Gilead.
Ha picchiato innumerevoli volte June, l'ha incatenata quando era incinta per impedirle di scappare. Janine a causa sua ha perso un occhio. Ha infibulato Emily, dalla quale ha ricevuto in cambio diverse coltellate e una spinta giù dalle scale. Ha giustiziato uomini e donne colpevoli dei reati più terribili a Gilead: l'autodeterminazione, o vittime di un errore.
Come nel caso della Marta responsabile, a suo dire, del tentato rapimento della figlia di June. E sarà proprio June, sempre costretta da Zia Lydia, a giustiziarla pubblicamente insieme alle altre ancelle.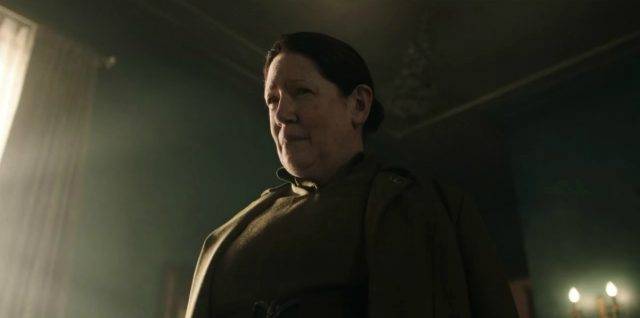 Zia Lydia. Un nome banale, quasi tenero, per una creatura così diabolica e perversa. Dotata però, e questa è la poesia di The Handmaid's Tale, di una serie di sfaccettature e lati di luce che fanno brillare come un diamante il suo personaggio, all'interno del nutrito gruppo di donne della serie.
Non è solo inumana e malvagia, Zia Lydia. Si dimostra comprensiva e persino pietosa verso June, che le chiede stremata se davvero voglia ridurre tutte loro al silenzio, come le sfortunate ancelle dalla bocca cucita. No, non è la volontà di Zia Lydia, che però non esita a togliere comunque a loro la voce, in tutti gli altri modi in cui può essere possibile.
Il suo personaggio, così ambiguo, riceve una ventata di novità nell'episodio 3×08 di The Handmaid's Tale. Scopriamo finalmente chi è stata e chi continua ancora a essere, quella donna così giunonica, inflessibile, granitica. Una maestra elementare.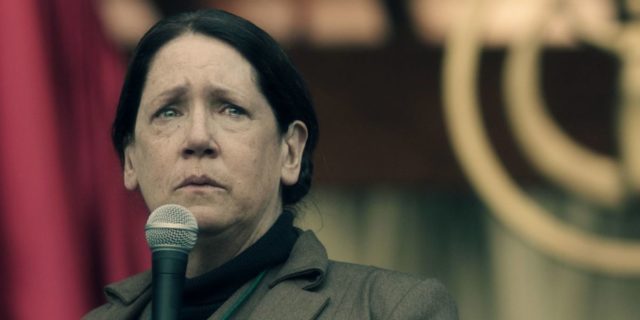 Quale ruolo più antitetico alla natura profonda del personaggio potevano immaginare per lei gli autori di The Handmaid's Tale?
Eppure funziona alla perfezione. Quella maestra, così innamorata del suo lavoro e dei suoi ragazzi, diventa con un colpo di coda una giudice e una carnefice degli stessi. La sua amicizia con la madre di un alunno, una donna single, troppo libertina per i suoi standard, si sgretola e fa emergere un'altra persona. La donna vestita color cachi, in uniforme quasi, come una nazista. La donna che, implacabile, strappa alla madre il figlio giudicandola "degenerata".
Nel flashback che The Handmaid's Tale ci mostra emergono due fattori. La sensazione di essere troppo sbagliati per questo mondo, che è ciò che spinge ai margini le persone come lei. Anzianotta, non bella, trasandata, di carattere chiuso e riservato, Zia Lydia e le donne come lei sono condannate dalla società della bellezza, dell'apparenza e del sesso a buon mercato a rintanarsi e a nascondersi.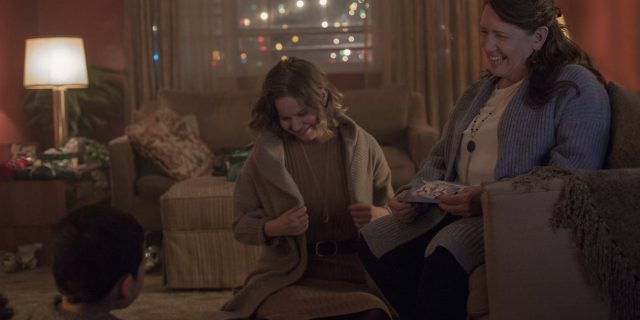 L'amicizia con la madre di un suo alunno appare quasi ridicola, agli occhi del pubblico. Come è possibile che una donna così vitale, così giovane e attraente, si interessi delle sorti di una zitella? Le attenzioni grottesche che le riserva, poi, ci causano quasi un fastidio fisico. Non vogliamo vedere davvero come potrebbe stare Zia Lydia con il rossetto, vederla sbaciucchiare il preside della scuola ci fa male allo stomaco. Ridiamo quasi a vederla impacciata, a disagio in quel vestito luccicante, tirata a lucido per Capodanno, in un locale alla moda.
La seduzione che il personaggio di Zia Lydia ha operato in noi è così forte che sentiamo che quello non è il suo posto. E che, in fondo, forse ha ragione lei.
Così arriviamo al secondo punto, la rivendicazione e l'affermazione di sé. Zia Lydia, al rifiuto che le pone il preside e sua nuova fiamma, reagisce nel solo modo in cui potrebbe reagire una persona abituata da tutta la vita al rifiuto degli altri. Con la violenza e la distruzione. Il mondo esterno non scalfisce la sua granitica certezza di essere nel giusto: Zia Lydia risponde colpo su colpo all'accanimento della vita.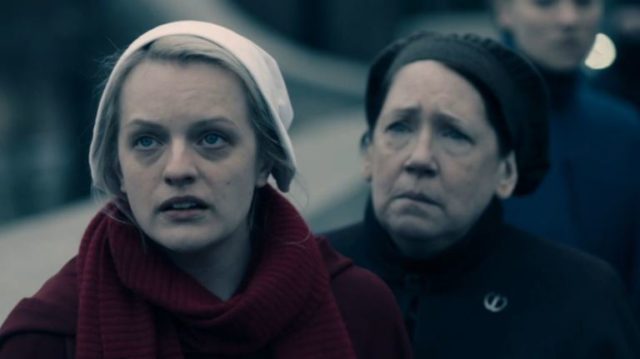 Non potendo però vendicarsi del preside, che ha agito nel rispetto delle leggi di Dio ed è pur sempre un uomo, la sua ira ricade sulla meretrice. Sulla donna single che arriva tardi a prendere il figlio a scuola, impegnata a fornicare con chissà chi. Sulla donna di facili costumi che la spinge sulla via del peccato, regalandole trucchi peccaminosi.
La vendetta di Dio, attraverso le parole di Zia Lydia, diventa realtà. Possiamo vedere la donna come prima vittima della sua visione distopica e integralista, ma in fondo è solo caduta sotto una rivalsa che non ha niente di ideologico. La rivalsa di chi non ha niente, che si scaglia su chi ha tutto, per vedere se riesce almeno a farlo sanguinare. La vecchiaia che si vendica sulla giovinezza, la bruttezza che sfregia la bellezza, il rigore che imprigiona la libertà.
Zia Lydia è proprio come ce l'eravamo immaginata. Una donna arida, vendicativa, felice del suo potere che esercita su donne inermi. Su donne che, nel mondo reale, se la sarebbero mangiata viva. Una donna che trae la sua ragion d'essere nell'umiliare gli altri, piuttosto che nel coltivare sé stessa, che non scende a patti, che non è interessata a comprendere. Solo a cacciare le sue idee e i suoi dogmi giù per la gola di quelle ancelle.
L'antitesi di ogni pensiero femminista. L'anticristo di ogni donna che si rispetti.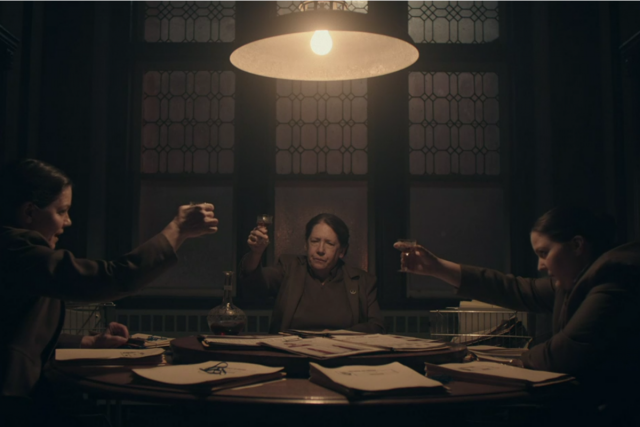 Eppure Zia Lydia non riesce, neanche stavolta, a suscitarci completa antipatia. Una piccola, e vergognosa, parte di noi parteggia per la Lydia del flashback, timida e impaurita dalla vita. Come Serena Joy, anche al massimo della sua follia, ha saputo infonderci pietà per il suo personaggio, anche la Zia più odiata di The Handmaid's Tale è un personaggio capace di smuoverci qualcosa.
Fosse anche solo per la Zia Lydia che non c'è più, un po' di pena la si prova, per questo personaggio. Perché i creatori hanno trovato lo stratagemma giusto per mostrarci la sua storia senza causare reazioni univoche. Hanno scelto di mostrarcela in una veste che, in qualche modo, causasse empatia nello spettatore. Tutti siamo stati smarriti, rifiutati, scherniti, tutti abbiamo fantasticato la vendetta verso chi ci appariva più forte. Tutti abbiamo protetto noi stessi al punto da non distinguere più il volere di Dio dalla nostra volontà.
Zia Lydia ci mostra cosa accade quando le nostre fantasie di rivalsa diventano realtà.
L'orrore funge da alt per il nostro inconscio, che rigetta quello che vede. Rigetta la donna brutta e sgraziata, la Zia crudele e sadica, la maestra elementare calunniatrice. Torniamo, felici, a goderci la storia di tante donne schiavizzate da una signora che con noi non ha proprio niente a che spartire. Convinte che un giorno, quando June trionferà su di lei, anche la piccola parte infame e meschina dentro di noi si sentirà meglio e se ne tornerà a dormire.
LEGGI ANCHE – The Handmaid's Tale 3×08, la recensione