Ogni fan di Sons of Anarchy non ha potuto esimersi dal provare il sentimento più nobile per il caro Wayne. Ammirazione, stima, fiducia sono sentimenti che ci legano indissolubilmente ad uno dei migliori, nonchè singolari, personaggi della fortunatissima serie FX. Wayne Unser è lo sceriffo della caotica e malavitosa Charming, una sorta di terra di nessuno spartita da gang di afroamericani dediti allo spaccio, criminali messicani, fratellanza ariana e anarchici motociclisti trafficanti d'armi. I SoA in quel di Charming hanno un ruolo chiave, rifornire l'uno o l'altro clan criminale, punire un compratore che gioca al ribasso, tutelare un onesto cittadino poco affine e poco grato, alle lente e non sempre risolutorie, metodologie della giustizia.
I Samcro non sono soltanto criminali anarchici consumati, statici nel loro ambiente compromesso, solitari nella loro convinzione ed inclinazione anarchica, uniti nella loro essenza violenta. I Samcro hanno un compito, rispettare un'alleanza non scritta, stipulata con lo stesso sceriffo W. Unser: tener lontano le droghe, le sanguinarie contese relative ai loro anarchici traffici d'armi e le svariate trattative malavitose dai confini dalla giurisdizione della città.
I Sons of Anarchy dettano la legge nel caos, sono l'antitesi della giustizia, incarnano l'ossimoro di una "giustizia anarchica". I Samcro finiscono paradossalmente con il rappresentare la normalità in quel di Charming. Wayne Unser è un anziano sceriffo che ha capito la legge della convivenza con i Sons, un rapporto fondato sul rispetto reciproco con il presidente dell'anarchia Clay Morrow. Una convenienza basata sul tenere fuori da Charming droghe, soggetti fuorvianti della fratellanza ariana e violenze varie. I SoA hanno grazie alla tutela di Wayne il nulla osta per trafficare armi, ma hanno il dovere di mantenere la tranquillità.
Wayne Unser non ha solo una posizione interstiziale e compiacente tra legge e crimine, giustizia e anarchia, Wayne è collocato anche nel bel mezzo di una repressa disputa sentimentale: l'amore per Gemma è solo interiorizzato per non creare problematiche al dispotico Presidente Samcro, Clay Morrow, e per non compromettere quella atipica e simbolica alleanza tra legge e anarchia.
Intrappolato dal romanticismo, fedeltà, generosità e dovere, un soggetto paradossalmente schiavo di nobili sentimenti e buone intenzioni. Sia sentenziato, proferito e ammesso senza pudore o timore:
"Wayne Unser, è uno dei personaggi meglio costruiti dell'intera serialità !"
L'anziano sceriffo che doveva fronteggiare i nemici dei Sons, talvolta alla stregua di uno stesso criminale. Il punto di rottura è rappresentato dal massimo disonore per un uomo di legge, la trappola all'astuta agente Stahl, è la negatività massima di un abuso di potere, il gesto estremo che Wayne deve commettere per la salvaguardia degli accordi con i SoA.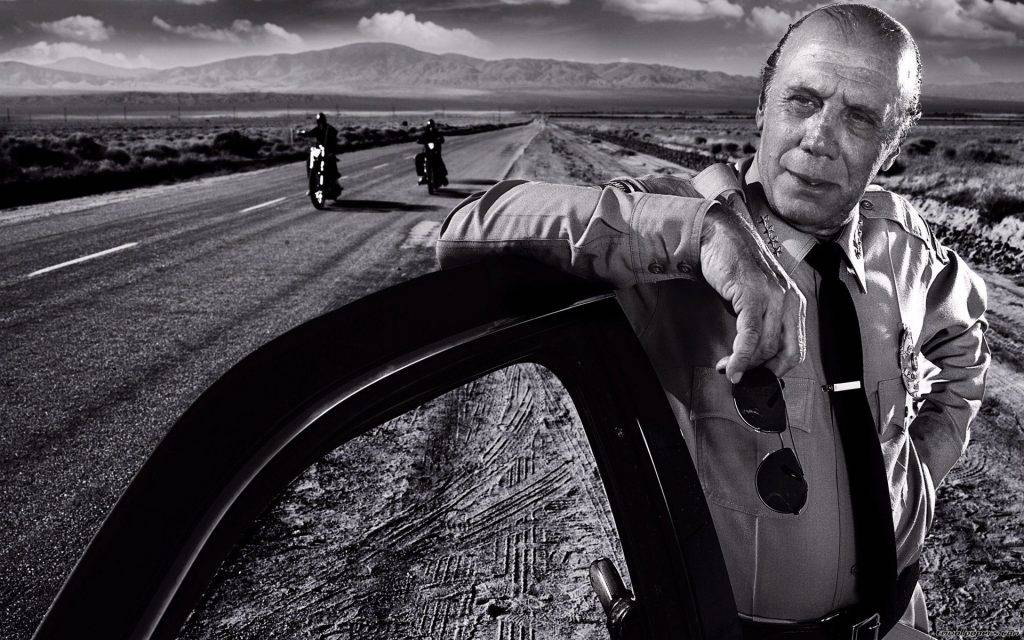 Il gioco delle parti cala il suo peccaminoso sipario. Wayne depone con amarezza, nostalgia, rimpianto e amore quel maledetto distintivo. Simbolo del potere, simbolo della legge, simbolo della convenienza e del compromesso. Simbolo talvolta di abusi e accordi non scritti, simbolo di un arduo lavoro che il buon Wayne tanto amava. Il disonore e l'orgoglio calpestato sono le sensazioni più recondite e bestiali, tali da rigettare i sentimenti più nobili e le buone intenzioni. Il male e la negatività finiscono col sovrastare il bene e i grandi ideali. Qualche dramma sublime, come SoA, riesce a far capire questo immenso contrasto. Molte altre falliscono miseramente, accartocciandosi nella finalità della spasmodica ricerca di un senso di bene o nella presenza della sempiterna morale, astratto senso e ideale che 'ricoprirebbe' (quantomeno, idealmente) ogni mente umana. La vita non è sempre questo, e SoA in tal senso, è un' autentica ed assoluta magister vitae.
Dopo il pensionamento anticipato, Wayne potrà legarsi ancor di più ai Samcro, il suo vecchio camper finirà nello spazio esterno della Teller-Morrow Repair, officina e quartier generale dei SoA.
Quel male nero del cancro, è come se designasse una maligna e programmatica metafora, quella di una pura esistenza macchiata dal rapporto con i criminali dei Sons of Anarchy.
Il sodalizio tra legge e anarchia si sposta dall'atavico accordo, alla nuova condivisione dello stesso ambiente. Wayne, a modo suo, era già uno di famiglia. Dalla tutela per Clay, all'amore celato per Gemma, dai consigli per Jax, all'aiuto dato all'innocente Tara. Wayne dà un tocco di saggezza ad ogni discorso, dona consigli equilibrati. Prova a fare di tutto per placare quel fiume in piena di sangue e menzogne che i SoA continuano ad attraversare impetuosamente. Senza tregua.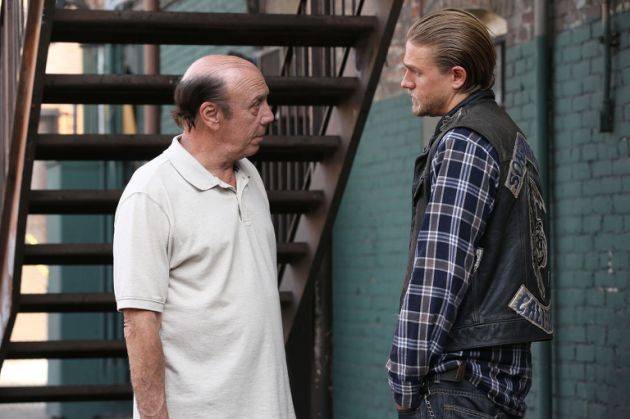 L'uomo che ha curato e coperto il corpo dell'orgogliosa Gemma dopo l'abuso sessuale subito dalla fratellanza ariana. Lo sceriffo legatosi all'anarchico despota Clay Morrow. L'uomo col tumore ai polmoni che decide di vivere nel suo camper nell'avamposto dei Samcro. L'amante cauto e composto della selvaggia e manipolatrice matriarca Gemma. Un consigliere fidato per l'intero club. L'unico che in fin dei conti deporrà un fiore sulla tomba dell'ex Presidente, Clay. Wayne Unser è il coraggio della scelta e la generosità che non chiede nulla.
"This life… It ain't romantic or free. There's no path to anything that makes any sense. It's just dirty and sad and we both know it's only gonna get worse"
"Questa vita… non è romantica, nè libera. Non c'è nessun accordo tra qualcosa che abbia un qualche significato. È solo sporca e triste, ed entrambi sappiamo che può solamente peggiorare"
(Wayne a Gemma)
Wayne Unser è il punto focale lacerato, il fulcro del contrasto sospeso, un personaggio che con l'estremo sacrificio titanico e la grande sensibilità romantica, merita l'eternità.
Leggi anche:
Un ringraziamento speciale ad Andrea Lupo, Chiara Santi, Vincenzo Galdieri, Vincenzo Bellopede e Michael Marcuccio