Chi ha detto che il trash debba essere appannaggio di Serie Tv di bassa lega? Anche un prodotto, curato in ogni dettaglio, del calibro di Sons of Anarchy non disdegna alcuni momenti dal dubbio gusto estetico. È bene mettere in chiaro, naturalmente, che esistono diverse sfumature di ciò che definiamo trash.
In una scala di valori quello emerso dalla Serie di Kurt Sutter è quasi sempre trash nella sua forma più sana, al confine con lo splatter o il genere demenziale. In sostanza nulla a che vedere con alcuni capolavori dell'orrido, nati con quella intenzione, come Scream Queens, di cui abbiamo parlato qui; soltanto qualche licenza poetica di un autore estremamente eclettico.
D'altra parte anche The Shield, talvolta, negli episodi da lui scritti, mette in evidenza tratti esteticamente borderline. Ciò sta a significare che le pennellate di trash nelle sue creazioni rappresentano per Sutter un marchio di fabbrica, un modo di evadere dal crudo realismo che emerge dalle sue opere.
Per questa ragione Sons of Anarchy non è soltanto una Serie Tv improntata a lacerare l'anima di quanti l'hanno apprezzata. Essa ha anche un'incredibile capacità di strappare un sorriso allo spettatore. Persino nei momenti più impensabili. In particolare sono stati individuate 9 occasioni in cui SoA sfocia nel trash. Nove frangenti che, comunque, non scalfiscono di una virgola il valore dell'opera. Semmai la rendono maggiormente sui generis.
1. JUICE ORTIZ IN FASCE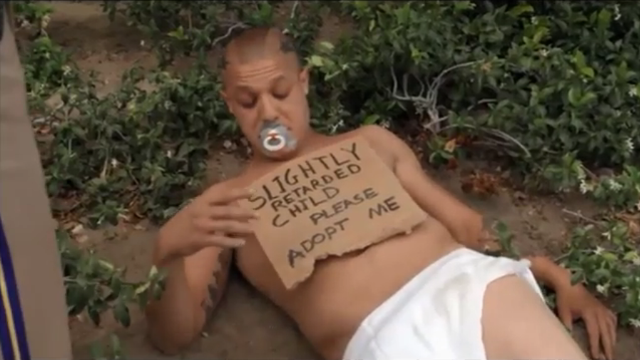 Juice è uno dei personaggi più controversi di Sons of Anarchy, capace di oscillare tra l'amore e l'odio con una devastante facilità. Nelle prime stagioni prevale il primo sentimento, poichè il biker ispanico ci viene presentato come uno dei membri più simpatici del club. Una figura completamente diversa – e soprattutto marginale – rispetto al peso specifico che assumerà nel corso delle stagioni.
Memorabile, in particolare, la scena in cui, dopo aver ingerito per sbaglio del sonnifero, si risveglia in fasce di fronte al commissariato di polizia con un cartello al collo che recita "slightly retarded child, please, adopt me" (Sono un bambino un po' ritardato, per favore, adottatemi).