Attenzione! Il seguente articolo su Gemma Teller contiene spoiler su Sons of Anarchy
Se c'è una cosa che abbiamo capito sin dalle prime scene dell'episodio pilota di Sons of Anarchy, è sicuramente che Gemma Teller non è un personaggio da sottovalutare. La matriarca dei SAMCRO, infatti, si mostra subito per quel che è: una donna fiera, orgogliosa, una madre amorevole che farebbe di tutto – letteralmente – pur di portare suo figlio verso quella che è, suo parere, la retta via. Come ben sappiamo, tuttavia, è proprio questa sua voglia di controllare qualsiasi cosa le accada intorno che la porterà a un epilogo tutt'altro che felice. Ma andiamo per gradi.
Gemma Teller è cresciuta, dopo aver conosciuto JT, tra crimini, affari loschi e gente che non è esattamente "rispettabile": era inevitabile che, crescendo, sarebbe diventata una donna senza troppi scrupoli. Sin dai primi episodi l'abbiamo vista premurosa nei confronti di Jax e del suo nipotino appena nato, il piccolo Abel. Allo stesso modo, tuttavia, non abbiamo potuto fare a meno di notare che la sua "premura" si è trasformata troppo spesso in una rabbia incontenibile verso tutto ciò che, a suo parere, avrebbe potuto nuocere alla sua famiglia. Già nel pilot di Sons of Anarchy capiamo con chi abbiamo a che fare: Gemma promette a Wendy, la madre di Abel e tossicodipendente, che non le farà più vedere suo figlio. Dopo averla minacciata, dunque, le suggerisce di suicidarsi e le dà una siringa già pronta. Sappiamo bene che soltanto qualche stagione dopo la matriarca dei SAMCRO e Wendy diventeranno "alleate", ma già in quest'occasione abbiamo avuto modo di vedere quanto lei fosse influente non soltanto su suo figlio, bensì su tutti coloro che la conoscevano.
Gemma Teller è una donna forte, perché il tempo e le circostanze l'hanno plasmata e l'hanno resa tale. Lo è talmente tanto da riuscire a nascondere a tutti di essere stata rapita, picchiata e stuprata da tre uomini pur di non fare il gioco di quei mostri che volevano soltanto distruggere suo marito. È così forte da arrivare a dire a suo figlio che va bene ucciderla, è pronta a morire: sa che è ciò che la aspetta e non fuggirà più via dal destino che lei stessa si è creata negli anni. Ma la sua forza, come ben sappiamo, è fin troppo spesso tramutata in una rabbia tale da farle commettere delle azioni a dir poco riprovevoli.
Non ha provato rimorso quando ha dato la sua "benedizione" a Clay perché uccidesse JT, il padre dei suoi stessi figli. Allo stesso modo, quando ha capito che Tara stava cercando di allontanare da lei e dal mondo dei SAMCRO Abel e Thomas ha tentato in tutti i modi di metterle i bastoni tra le ruote. Prima ha cercato di "convincerla" a suon di minacce, poi la rabbia ha preso – ancora una volta – il sopravvento: la morte di Tara è probabilmente una delle più struggenti in tutte le sette stagioni di Sons of Anarchy. Oltre a simboleggiare la fine della vita tanto sognata da Jax, il gesto compiuto da Gemma Teller porterà il suo stesso figlio a sprofondare sempre di più nel baratro, fino ad arrivare a un vero e proprio punto di non ritorno. Sarà da questo momento in poi, infatti, che l'animo del Presidente dei SAMCRO sarà così tormentato da non poter più vivere. Letteralmente.
Se le azioni compiute dalla donna sono dunque sicuramente da condannare, lo stesso non possiamo assolutamente dire delle motivazioni che l'hanno spinta ad agire in determinati modi. Tutto ciò che Gemma voleva, fondamentalmente, era tenere "unita" la propria famiglia: non voleva che Tara, con cui non era mai andata particolarmente d'accordo, le portasse via suo figlio e i suoi due adorati nipotini. Dobbiamo anche ricordare che, in fin dei conti, se non fosse stato per Gemma, Jax probabilmente non avrebbe mai cresciuto il piccolo Abel. All'inizio, infatti, il ragazzo era restìo all'idea di poter badare al bambino e aveva timore che potesse capitargli qualcosa di male. È stata sua madre, con non poca veemenza, a metterlo di fronte alla realtà dei fatti: la famiglia viene prima di tutto. Toccava a lui prendersi cura del piccolo Abel e, in seguito, anche di Thomas.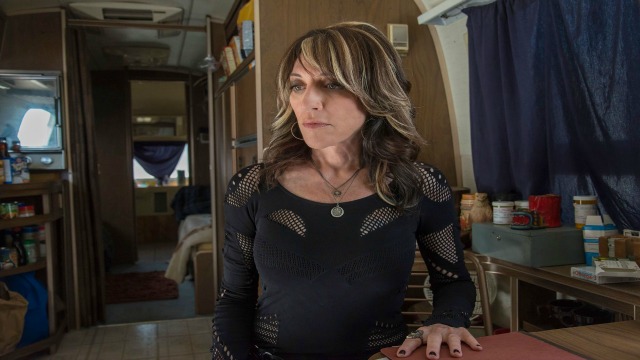 Il problema di fondo è che, come ben sappiamo, esistono diversi tipi di amore. E nonostante Gemma Teller pensasse che il suo affetto nei confronti di suo figlio e dei suoi nipotini fosse puro e incondizionato, la verità è che quello che provava e che l'ha portata a compiere azioni riprovevoli era un sentimento malato ed egoista. E, anche se credeva di "vincere" affrontando Tara una volta per tutte, in fin dei conti è nell'esatto momento in cui ha ucciso sua nuora che ha perso tutto. In quell'istante è scomparsa definitivamente la possibilità di veder crescere i bambini, di poter essere ancora una brava madre agli occhi di suo figlio. E nonostante sia stata sostanzialmente una brava nonna nel corso delle stagioni e abbia sempre fatto di tutto pur di occuparsi (a modo suo, ovviamente) di Jax, i suoi criteri di valutazione sono stati abbastanza discutibili.
Dobbiamo considerare che ciò che spingeva Gemma a portare "i suoi ragazzi" a vivere con e per i Sons of Anarchy, non era cattiveria, tutt'altro: lei pensava davvero che quella fosse la vita a cui erano destinati, la vita che avrebbero dovuto avere e che li avrebbe portati lontani. Il problema di fondo, tuttavia, era la sua incapacità di concepire qualsiasi altra possibilità al di fuori del club: anche quando Jax ha rischiato di morire in molte, moltissime occasioni, lei lo ha sempre spinto a risalire in sella.
La matriarca dei SAMCRO è con molta probabilità uno dei personaggi dell'Universo seriale costruito in maniera migliore. Forte, indipendente, affettuosa a modo suo e sempre pronta a dare consigli "materni" a tutti: dopotutto, come ben sappiamo, l'intero club dei Sons of Anarchy l'ha sempre considerata una mamma.
Una leonessa. E una leonessa, per i suoi cuccioli, farebbe di tutto: persino sbranare eventuali minacce. Esattamente come Gemma Teller.