(DLIN DLON! Comunicazione di servizio. Spoiler livello massimo. Se non conoscete tutta la storia di Clay Morrow, state ben lontani da ciò che segue.)
Tutto questo è a dir poco ironico. Sono qui, sulla tomba di mio padre, e improvvisamente ho sentito il bisogno di scriverti.
L'abitudine di lasciare parole sulla carta l'ho fatta mia già da un po'. È stato John ad insegnarmelo con il suo diario. Ho iniziato a scrivere per lasciare qualcosa ai miei figli, qualcosa che avesse un valore profondo, che ricordasse loro chi ero, cosa ho fatto e, soprattutto, per rammentare loro gli sbagli che non dovranno mai commettere.
Lo so Clay, penserai che per un uomo sia stupido, insulso e frivolo scrivere una lettera, ma a me non interessa. Tu non hai mai adorato questo genere di cose. Ti sei sempre dimostrato un tipo impulsivo, poco razionale, uno che sapeva farci con le pistole e con i pugni, ma molto meno con le parole.
È ancor più beffardo il fatto che tu sia morto. Per mano mia, aggiungerei.
Forse questo è solo uno sfogo, un bisogno di togliermi un peso dal cuore o, quantomeno, di dirti parole che mai ho pronunciato davanti a te. Certo, negli ultimi anni, con i miei gesti e le mie azioni, avrai certamente capito quanto il mio pensiero si fosse allontanato dal tuo. Eravamo due menti che viaggiavano su binari diversi; una alimentata da un amore smisurato per il club, l'altra offuscata dal potere, dalla violenza, dal sangue.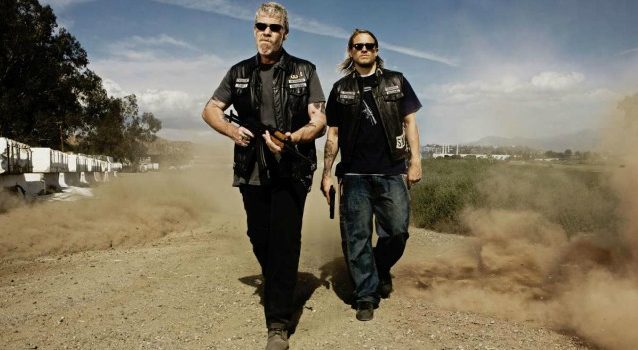 Il club doveva essere una casa, un porto sicuro, fratelli che si amano, che condividono qualcosa. Invece, ho solo visto persone trasformarsi, te compreso.
Abbiamo avuto molti nemici Clay Morrow, combattuto molte battaglie; che siano stati scontri personali o con i nostri rivali poco importa. Le nostre intere vite e le esistenze di chi ci circonda sono da sempre state costellate da lotte per la sopravvivenza.
Ma ciò che ho capito, con il tempo, è che il vero nemico sei sempre stato solo e soltanto tu.
Per lungo tempo siamo stati una famiglia. E il mio esserne stato così innocentemente convinto per tanto tempo, oggi mi fa male. Per me eri un padre, un mentore, qualcuno da cui non dovevo guardarmi le spalle. E, soprattutto, rendevi felice Gemma.
Il fatto che mio padre, il mio vero padre, fosse il tuo migliore amico non era mai stato un problema. Mai avevo pensato al tuo amore per mia madre come un tradimento nei confronti della mia famiglia. Tutto il contrario. Ero convinto, in quella che ora posso definire banale ingenuità, che la tua vicinanza e il tuo amore avessero alleggerito il suo dolore per la morte di John. Che tu fossi stato per lei un'ancora, come Tara lo è stata per me.
So che in una parte di te, piccola, profonda e nascosta, ci sono state briciole d'amore per la tua famiglia. Ricordo, ancora con rabbia, il rapimento di Abel. E altrettanto distintamente ricordo la tua collera e il tuo voler ritrovarlo davvero, costi quel che costi. So anche che c'è stato un tempo in cui il tuo amore per Gemma era vero, sentito, sincero. A lei non hai mai mentito, con lei hai spartito segreti pesanti come macigni. Ve li siete portati dentro insieme e questa condivisione ha alleviato il peso di tutti i fatti inconfessati. Di questo sono certo.
Purtroppo, l'altra faccia della medaglia, quella in cui è disegnata la tua vera natura, è stata ben più grande. Tutto ciò di buono (ed è ben poco) che hai fatto nella tua vita è inevitabilmente stato intorbidito da tutto il resto.
Cristo Santo Clay Morrow, quando ripenso a tutti i tradimenti e all'infedeltà che hai dimostrato nei confronti dei tuoi fratelli, solo per il tuo tornaconto, ancora fatico a crederci.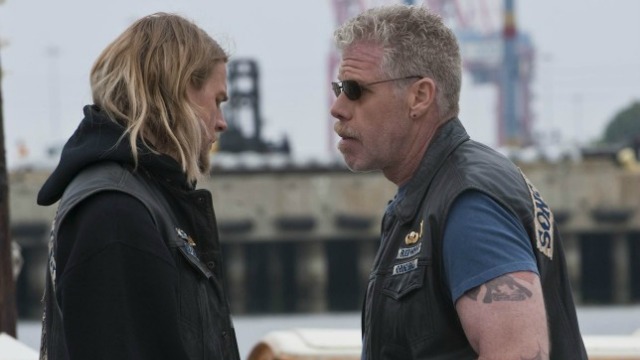 Sei la feccia che ha rovinato i Sons of Anarchy, sei il guasto che ha bloccato gli ingranaggi, il bivio che ha portato i SAMCRO verso la strada sbagliata.
Ti ricordi cosa c'è scritto su quel cartello appeso al club?
"Usa la testa prima della pistola"
Ti ho salvato tante volte da sbagli incalcolabili, rammentandoti quelle parole appese al muro. Ma non è servito. Lo sai, era quello che predicava mio padre o, quantomeno, ciò che avrebbe voluto per tutti noi. Pensare prima di agire. Razionalizzare le idee prima di dare adito all'impulsività. Tu, però, eri diverso da lui. Eri, se vogliamo, il suo completo opposto. E io l'ho capito tardi. Ho aperto gli occhi solo quando il danno era stato fatto.
Ti sei fatto artefice e complice di azioni imperdonabili. La morte di Donna è solo una delle tante ignobili colpe di cui ti sei macchiato. Vedere Opie soffrire e la sua famiglia sgretolarsi è stato un colpo più duro di quanto tu possa mai immaginare. Lui era la parte migliore di me, e lo è ancora. Colpisci lui e colpisci me. So che adesso è in un posto migliore. Migliore di questa terra sporca che calpesto ogni giorno.
Ma come puoi tu capire questo sentimento di amicizia e fratellanza?
Tu non hai mai avuto un Opie. O meglio, l'hai avuto ma non hai mai saputo apprezzarlo. Tutta la tua intera vita è stata guidata dal tuo egoismo, dai tuoi scopi malati e subdoli che non hanno lasciato spazio a quei sentimenti che invece permettono di andare avanti in questa esistenza. Hai ucciso tre membri dei First 9, tre tuoi fratelli: prima John, poi Keith, poi Piney. Proprio tu, Clay Morrow, li hai eliminati. Insieme a loro hai ucciso ciò che di buono rimaneva ai SAMCRO.
So che mio padre, con la morte di Thomas, è cambiato drasticamente, ma adesso so ancor meglio come tu e mia madre abbiate contribuito alla sua trasformazione. Lo avete portato a non aver più fiducia nemmeno nelle persone che amava. Leggere la lettera di Maureen è stato un duro colpo per me. Un pugno allo stomaco. Un tradimento del genere… non potevo immaginarlo. Ha alimentato ancor più la mia collera per te.
Come avrai ben capito sono tanti i motivi per cui ti sono ostile. Ma oggi posso affermare che più di ogni altra cosa odio il fatto che tu, con i tuoi gesti e le tue parole, mi hai portato ad affrontare tutto ciò che un tempo dovette affrontare mio padre.
Già, la storia si ripete. E, di nuovo, per mano tua.
Sto vivendo sulla mia pelle tutta la sua vita. Come lui, provo sfiducia negli altri, provo sfiducia verso tutto ciò in cui credevo. E come lui sono annientato da un senso di inconsapevolezza perenne. Dovrei (e vorrei) scappare da tutta questa violenza ma tu, con i tuoi maledetti accordi e le tue maledette idee, mi hai ineluttabilmente spinto verso ciò da cui avrei voluto allontanarmi. Mi sono a mia volta macchiato di omicidi e inganni. D'altronde la morte è sempre stata protagonista nelle nostre vite.
Ma cos'altro potevo fare? Come potevo risolvere ciò che tu avevi creato? Come potevo dissolvere gli accordi che tu avevi stretto?
Uccidere per guarire. Ammazzare per salvare i Sons of Anarchy da tutta questa merda che ci circonda, mi sembrava un buon compromesso.
Ho ucciso tante persone per questo. E ho ucciso te.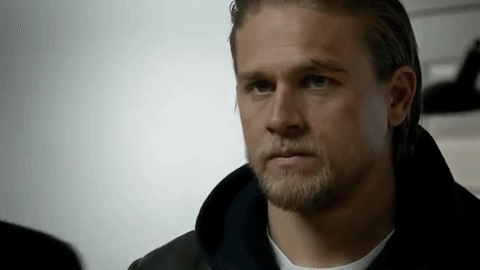 L'ho fatto per salvare quel poco che rimane, per salvare i miei figli e i fratelli che, come me, credono ancora che ci sia qualcosa di buono nei SAMCRO. L'ho fatto per salvare tutti quelli che non sono come te. E, soprattutto, l'ho fatto per mio padre. Per dare fede al suo pensiero, per renderlo fiero, per concludere ciò che lui aveva appena iniziato ma che, per colpa tua, non aveva mai finito.
Alla fine ti ho tenuto in vita quando non avrei dovuto, ti ho usato come una pedina per manovrare le mie strategie. Se per un attimo provo a dimenticare il tuo accordo per uccidere Tara o quello con i nomadi per eliminare me, posso dire che, nel tuo piccolo, hai quasi contribuito al mio piano.
Ma dimenticare è impossibile. So cosa hai fatto e tu stesso sapevi che ti eri spinto troppo oltre. Ne eri pienamente consapevole e, altrettanto consapevolmente, sapevi quale sarebbe stata la tua fine. Le tue azioni erano imperdonabili. Ne sono rimasto prima sconvolto, poi deluso, infine mi sono sentito incapace di salvare qualcosa che ormai non era più salvabile.
Potevo provare a salvare il club, ma non potevo salvare te.
I tuoi obiettivi ti sono sfuggiti dalle mani. Ad un certo punto non sei più stato in grado di controllare le tue azioni e hai perso tutto: l'amore, la famiglia, la fiducia. Hai perso i tuoi fratelli.
Non credo avesse senso vivere in quel modo, non ne valeva la pena.
Perciò si, ti ho ucciso per salvare i Sons of Anarchy, per vendicare le tue colpe. Ma ti ho ucciso anche per salvarti da te stesso.
Mio padre, nel suo diario scrisse:
"La sola libertà che l'uomo vuole davvero è la libertà di stare bene".
Fidati, Clay Morrow. Starai molto meglio dove sei ora. Considerala come la tua libertà.
Io sulla mia sto ancora lavorando.
Jax Teller
Un saluto agli amici di Sons of Anarchy Italia