Scegliere il titolo di una nuova serie tv è un'arte: deve essere memorabile, originale e deve anche esprimere con poche parole quello che lo show vuole comunicare. È come dare un nome a un figlio: è con quello che verrà ricordato per il resto della vita, con quello verrà chiamato… o preso in giro. È un biglietto di presentazione che deve parlare della serie stessa, e se non piace ciò che appare lo si può anche scartare senza dargli alcuna possibilità. Durante il processo creativo, vengono fuori le idee più strampalate e alcune, soprattutto a confronto della decisione finale, sono davvero discutibili. Non solo Friends, ma tante altre serie tv l'hanno scampata bella! Nella maggior parte dei casi forse, avrebbero avuto un destino tutt'altro che felice.
1) Friends
Titolo Iniziale: Insomnia Cafe/Six of One
La celeberrima comedy il cui titolo parla da sé, chiarendo fin da subito come l'amicizia sia il pilastro della vita dei protagonisti e della serie stessa, avrebbe dovuto chiamarsi Six of One. In realtà la storia del titolo di Friends è più complessa di quel che sembra. Originariamente, i due creatori Marta Kauffman e David Crane l'avevano battezzata Insomnia Cafe, che ricorda molto più un film indipendente di Woody Allen che la sitcom che tanto amiamo. Alla NBC però non piacque la loro proposta, ritendendo vincente la scelta Six of One. L'idea forse era quella di richiamare il motto "Tutti per uno e uno per tutti", alludendo alla vicinanza e alla solidarietà tra i sei amici. Alla fine anche questo fu scartato.
Friends non sarebbe stato Friends con un altro nome e chissà se avrebbe riscosso il longevo successo che ha avuto.
2) New Girl
Titolo Iniziale: Chicks and Dicks
Fan di New Girl tirate tutti un profondo sospiro di sollievo: l'originale proposta era Chicks and Dicks. Un titolo orribile, che anche la protagonista Zooey Deschanel ha sperato venisse modificato, come infatti è successo. Addirittura l'interprete di Jess aveva avuto seri dubbi, tanto da scartare inizialmente il copione del pilot. La scelta di questo titolo un po' osceno, che doveva porre l'accento sulla coralità della serie basata sui rapporti tra ragazzi e ragazze, era dettata dalla paura che la comedy potesse essere snobbata dal pubblico maschile. Elizabeth Meriwether, creatrice della serie, aveva paura infatti che il termine Girl nel titolo potesse allontanare una gran fetta di pubblico. Ma la sua proposta inziale era decisamente fuorviante conoscendo lo sviluppo della serie: non solo sfociava nella volgarità becera, ma non rappresentava neanche le relazioni di amicizia e i messaggi positivi che lo show ha fin da subito cercato di trasmettere.
Elizabeth Meriwether ha confessato che non pensava che Chicks and Dicks sarebbe mai stato approvato… per fortuna!
3) Lost
Titolo Iniziale: Nowhere
Anche a Lost era toccato in sorte un titolo diverso: Nowhere. Non così terribile, ma certamente meno incisivo e rischiava di rovinare il finale della serie.
La domanda che ci ha attanagliato, dall'inizio alla fine della serie, è se i protagonisti fossero davvero su un'isola, un luogo reale e tangibile, o se invece fossero finito in una specie di limbo, l'isola come metafora del purgatorio. Il termine Lost allude non solo ai dispersi del disastro aereo del volo 815 della Oceanic Airlines, ma alla perdita della direzione, alla confusione. Nowhere non ha nulla di quella particolarità, ma piuttosto risulta piatto e anche un po' banale, finendo per cancellare l'ambiguità che ci ha accompagnato e che l'ha resa speciale. Dello stesso avviso era anche Lloyd Braun – ex presidente della ABC – che insoddisfatto della proposta affidò il lavoro a J.J. Abrams e Damon Lindelof.
4) Stranger Things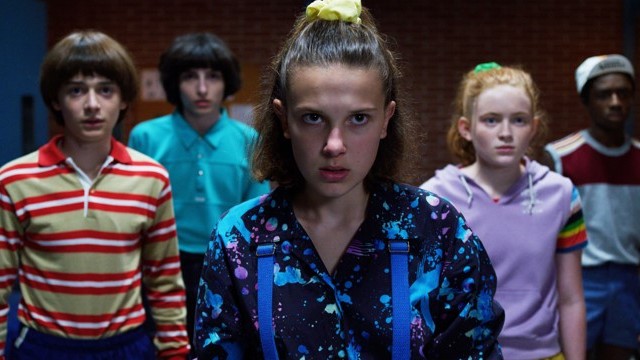 Titolo Iniziale: Montauk
Immaginate la sigla di Stranger Things comporre il titolo Montauk. L'abbiamo visto anche con Friends e New Girl: il primo approccio è fondamentale e chissà se avrebbe avuto la stessa presa.
Non sarebbe stata Hawkins infatti il centro di attrazione di tutte le "cose strane" che accadono ai protagonisti, ma Montauk, cittadina di Long Island. La cosa interessante è che in questo caso il diverso titolo e con esso la diversa ambientazione avrebbe portato anche diversi cambiamenti nei personaggi e nello sviluppo della trama. Primo fra tutti il personaggi di Joyce, madre premurosa e instancabile, avrebbe dovuto parlare con l'accendo di Long Island e sarebbe dovuta essere molto più aggressiva. Certo, un fenomeno mondiale come Stranger Things forse non avrebbe perso colpi solo per qualche modifica, ma chi può dire come sarebbe andata?
5) Hannah Montana
Titolo Iniziale: Alexis Texas
Hannah Montana ha influenzato una generazione, la sua sigla The Best of Both Worlds è ancora nella mente di molti di noi, pronta a riprodursi nella nostra testa. Ma ve l'immaginate se si fosse chiamata Alexis Texas? Abbiamo capito che l'idea era quella di prendere uno stato degli Stati Uniti e accordargli un nome proprio con cui facesse rima… Jane Maine e Mona Arizona erano tra le altre proposte quelle più orecchiabili. Orribile è dir poco e per fortuna il progetto ha avuto una vincente sterzata sul nome Hannah Montana, sempre in rima, ma decisamente più orecchiabile e meno stravagante.
Il motivo per cui Alexis Texas fu bocciato è che esisteva già un'attrice con questo nome, ma essendo protagonista di film per adulti, la Disney ha preferito bocciare la proposta e virare verso un nome originale e meno equivoco.
6) Buffy The Vampire Slayer
Titolo Iniziale: Slayers
Buffy the Vampire Slayer è una serie unica proprio per la sua protagonista: la classica bionda alla moda, la prima a morire in un film horror, è in realtà l'eroina della storia che – con le sue macchie e paure – combatte le forze del male. Ma inizialmente era stato proposto il titolo Slayers. Che l'idea di introdurre Faith e le altre Cacciatrici fosse già stata messa in conto è un mistero, ma – se anche ci fosse stata questa idea dietro la scelta del titolo – avrebbe comunque perso molto del carattere della serie fantasy.
La storia di Buffy L'Ammazzavampiri è lunga, segnata da progetti falliti e altri mai portati a termine. Oltre al film con protagonista una Buffy completamente diversa da quella a cui sia abituati, priva della profondità emotiva che la contraddistingue, il primo sviluppo sarebbe dovuto essere Rhonda the Immortal Waitress, ma per fortuna non andò mai in porto.
7) The Big Bang Theory
Titolo Iniziale: Lenny, Penny and Kenny
The Big Bang Theory è un titolo geniale. Eppure all'inizio si pensava fosse più incisivo Lenny, Penny and Kenny. Esattamente come per Friends, anche The Big Bang Theory avrebbe perso quell'immediatezza e l'originalità che l'ha contraddistinto fin dal titolo. Ma chi sono Lenny e Kenny? Ebbene, pare che i Leonard e Sheldon non fossero nati con questo nome e che avrebbero dovuto omologarsi a quello di Penny, l'unico che è sopravvissuto. Come i creatori di Hannah Montana avranno pensato che la rima e il gioco di parole potesse risultare accattivante e divertente. Ma sembra più che altro uno scioglilingua che non ha nulla a che vedere con la comedy che abbiamo imparato ad amare. E dove sono poi Howard e Raj?
Lenny, Penny and Kenny non avrebbe mai avuto lo stesso impatto di The Big Bang Theory e per fortuna, anche i creatori se ne sono resi conto.
8) Grey's Anatomy
Titolo Iniziale: Surgeons
Il famoso medical drama, che ancora prosegue la sua corsa nonostante le numerose morti premature, avrebbe dovuto avere un nome che ponesse l'accento sulla coralità dei protagonisti: Surgeons. In italiano "Chirurghi" poteva benissimo essere una fiction della Rai o una soap da primo pomeriggio. D'altronde, i drammi non mancano e anzi, andando avanti, nell'ospedale di Seattle va sempre peggio. Il titolo Grey's Anatomy, pone invece l'accento sulla protagonista Meredith Grey, le cui vicissitudini accompagnano i casi clinici, mostrandoci come la vita dentro e fuori la sala operatoria possa essere difficile, ma che nonostante tutto vale la pena continuare a combattere.
Come Shonda Rhimes ha sottolineato in occasione della morte del Dottor Stranamore: "La serie è incentrata su di lei" e quindi il titolo doveva sottolineare la centralità di Meredith.
9) Streghe
Titolo Iniziale: House of Sisters
Streghe (in inglese Charmed) esemplifica perfettamente il tema della serie: la magia, e riesce perfettamente nell'intento di suggestionare lo spettatore. Il nome chiarisce l'argomento e – proprio come un'incantesimo – affascina e cattura.
Eppure ci sono stati dei dubbi circa questo titolo: l'idea originaria era quella di intitolarla House of Sisters. Certo, tutto ha inizio nella casa delle sorelle Halliwell, è nella soffitta della casa della nonna – la stessa in cui sono cresciute, che le ha viste separarsi, ma anche riunirsi – che trovano il Libro delle Ombre ed è lì che inizia la loro nuova vita come streghe bianche. Eppure, il termine ricorda troppo una confraternita di una commedia adolescenziale, perdendo invece quel retrogusto magico che contraddistingue la serie.
Nonostante siano passati anni, Streghe continua a essere un cult e un punto di riferimento per le serie fantasy, come Friends per il genere comedy, e parte del merito è anche dei loro titoli: seducenti ed esplicativi che hanno saputo presentare al meglio prodotti validi e meritevoli del successo ottenuto.